Jun 5, 2013 3:07am
"Toy Insider Mom" Laurie Schacht has a round-up of cool new toys for summer.
Here are the complete product details shown on ABC's "World News Now."
PlasmaBug (PlaSmart)
Sturdy, compact ride-on
Lightweight: 2 lbs., 3 oz.
Four standard wheels, one caster wheel for easy maneuverability and balance
Swivels to navigate small indoor spaces
Front and rear storage compartments
Ages: 18 months and up
MSRP: $59.99
ABC Sand Toys ( Spielstabil)
This colorful set includes all 26 letters of the alphabet
Each mold can be used again and again to create all possible words in the sand or even the snow
Great to learn and to practice the alphabet and spelling
Ages: 1 and up
MSRP:  4.99
Sky Bouncer (Maui Toy)
A new take on the traditional flying disk using the Sky Ball technology
Flies through the air, bounces and floats
Ages: 6 and up
MSRP $9.99
Jumbo Bananagrams
Jumbo Bananagrams is a giant version of the original word game
Jumbo Bananagrams features 144-waterproof, three-inch square tiles packaged in a funky giant yellow banana-shaped tote bag.
Requiring no pencil, paper or board, Jumbo Bananagrams is addictive fun and educational play for kids ages 5 and up.
Players race against each other to build giant crossword grids and use all their letter tiles
Jumbo Bananagrams is perfect for innovative outdoor play in the backyard or on the front lawn, at summer barbecues, at the beach  and on the playground
MSRP:  $44.95
Catcher Set (Brer Rabbit Toys)
Play in the yard or at the beach
Comes in a mesh carry bag that is great for storage and great for the whole family to play
Ages 5 and up
MSRP:  $9.99
Air Hogs Saw Blade (Spin Master)
Helicopter R/C with quick maneuverability
Fly solo or take on an opponent in head-to-head combat
Features a five-disk payload for rapid firing up to 30 feet
Ages 10 and up
MSRP $39.99
NERF SUPER SOAKER SWITCHSHOT Water Blaster (Hasbro)
Intimidate the competition with the SUPER SOAKER SWITCHSHOT water blaster, which allows players to deliver extreme soakage by choosing one of four different spray options!
The  SWITCHSHOT water blaster boasts a 20 fluid ounce detachable banana clip and detachable shoulder stock so fans can tailor their blaster for each water battle.
Ages: 6 and up
MSRP:  $29.99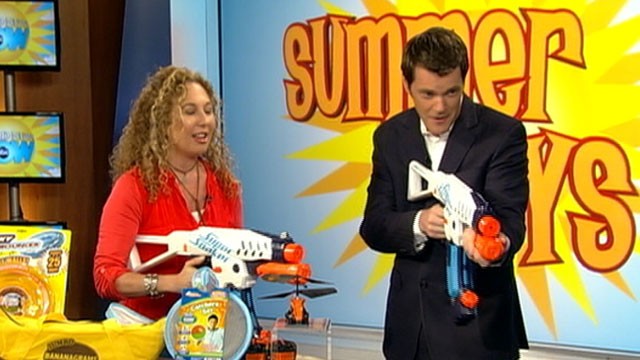 Follow ABC's World News Now on Twitter, Facebook, YouTube, Instagram.