Sep 19, 2013 1:10pm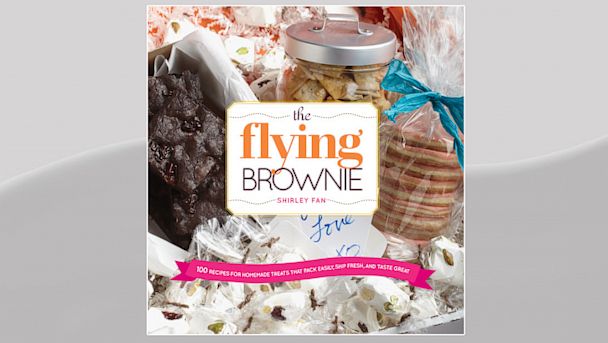 Shirley Fan's house smells like brownies and it's only 9 a.m. We stopped by to learn the art of packing the perfect care package and it looks like we'll be staying for desert.
Fan's new book, "The Flying Brownie," is all about packaging and sending baked goods in boxes. It's not as simple as you think. Pastries go stale, get smashed, and when they are heading to military posts, camps or schools, you want everything to arrive in one piece.
So, around a plate of brownies, Shirley broke it down for us:
Tip #1: Pack Moist or Dense Treats
According to Fan, moist or dense treats travel better because they won't crumble during shipping or go stale right away. Fan highly recommends brownies and cookies.
Tip #2: Pack Treats in Individual Bags
Packing treats in individual bags not only looks nice, but helps seal in freshness. If you think about it, care packages are typically en route for a few days, the last thing you want are stale treats to arrive!
Tip #3: Use Tins and Parchment Paper for Large Batches
If you are sending a large batch of treats, use parchment paper between layers and pack them in a sturdy tin. This will help ensure that during shipping the cookies don't end up sticking to one another and getting crushed.
Tip #4: Use Unexpected Items for Packaging
Fan loves using items like mason jars and cute tins for packing. "Unexpected flourished like this make the whole package that much more enjoyable to receive!"
Tip #5: Leave 2 Inches on all Sides for Padding
This, according to Fan, is the most important tip of all! Leaving 2 inches in-between items and along the sides of the boxes will ensure that no treat gets destroyed during packing. "If you think you've over-padded, think again. There is no such thing as too safe when it comes to shipping food!"
Tip #6: Include a Personalized Note
Fan loves including a personalized note. "Sometimes I send them an inventory of what's in the box as well–it's a great little addition if you are sending more than one treat!"