Sep 20, 2013 12:30pm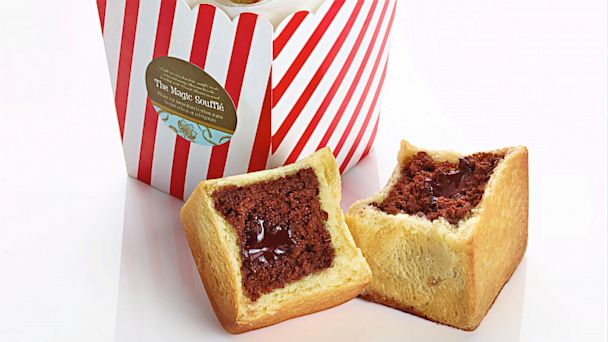 Dominique Ansel is no stranger to attention. Since he released the "cronut" in May, lines outside his bakery have yet to calm and the storm is only getting bigger. Instead of leaning back and letting the cronut tide flow, Ansel has been busy in the kitchen coming up with new pastries.
Ansel's newest creation, the "magic souffle," is already sparking a conversation. What is it? Is it better than the cronut (which, for those not in the know, is a croissant-doughnut hybrid)?
We arrived outside Ansel's, in New York City, at 6:30 a.m. and the line was already around the block. Inside, the bakery was buzzing. While one man stuffed cronuts, another was taking Ansel's new souffles out of the oven. Individual rectangles (not your typical souffle-look) were puffed and crisp.
"I've always loved souffles, but hated the 30-minute waiting period," Ansel said . "When you go to a restaurant and you order a souffle, it's always a big deal. I wanted to be able to sell them in my bakery and be able to give them to people in a matter of minutes."
That's a tall glass order. But it seems Ansel has succeeded.
The magic souffle is a chocolate Grand Marnier souffle wrapped in an orange blossom brioche. The textures vary from a molten soft center to a flaky chocolate cake and an almost crunchy brioche wrap. Unlike the cronut however, this doesn't travel well. Ansel wants his patrons to eat it right away (Looks like he hasn't broken every souffle rule.) If you can't, he has a re-heating  instruction page for you to take home. "Late Night" host Jimmy Fallon got some for his birthday on September 19th.
The orders came in swifly, and, as promised, within two minutes the souffles were in people's hands.
Why is it called "the magic souffle"? "Because it never collapses," said Ansel. He breaks one apart, and the smell is incredible and the taste, worthy of a long line.