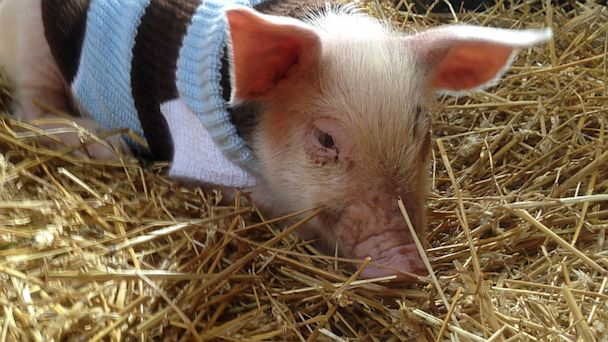 Yoda the little pig had a very close call.
The tiny animal escaped his fate on the dinner plate when he fell off a truck that was taking him and other piglets to be readied for their eventual demise at a slaughterhouse.
Not only did Yoda not end up at a slaughterhouse, he found his way to an animal sanctuary where he'll spend the remainder of his natural life surrounded by other animals who avoided a similar fate.
Brenda Bronfman, the founder of Wishing Well Sanctuary in Bradford, Ontario, said she first learned about the piglet when an animal control officer in Quebec sent her an email describing the animal's plight.
The animal had suffered scrapes and bruises from the fall, but was in good overall physical health, other than being "emotionally traumatized, obviously, from, first of all, from being in the truck with all the pigs that they were on their way to a finishing barn, which is where they fatten them up prior to going to the slaughterhouse," Bronfman said in an interview Wednesday with ABC News.
Disabled Piglet Chris P. Bacon Uses K'nex Wheelchair
"He got very lucky by falling out, that's for sure," she added.
People who were following the trailer that was carrying the pigs "saw the piglet sneak through a hole and fall off the trailer," said Joyce Kemp, the Quebec provincial police spokeswoman, according to a report by the Canadian Broadcasting Corporation.
The CBC said police found the pig wandering on a highway on Sept. 18.
As the little piglet's story spread, it reached Wishing Well. Even though the sanctuary was full, Bronfman consulted with her board and they felt compelled to help. Several people pitched in to drive the pig from Quebec to Ontario.
"We just couldn't let this little piglet either suffer or not find a home," she said. "After all that he'd been through, we wanted to make sure that he had a loving home."
The piglet has taken to his new surroundings and interacts well with his caregivers.
"Oh my God … he's just adorable," said Bronfman, who bought the piglet a sweater to protect him from the chill of fall evenings.
She added that he's become "a hit," and is "loving all the attention" he gets.
"He'll fall asleep in your lap. He just loves to play and cuddle," she said. "He loves to give kisses, too, and he likes to get kisses on the tip of his snout."
Asked to explain how the piglet came to be named Yoda - the iconic character from the "Star Wars" films - Bronfman called it "a group effort."
Twinkie the Mini Pig Gets Official Exemption From Coral Springs, Fla., Law
"He's very teeny, right, and Yoda was, or is," she said. "But we have a strong sense about him. He seems to have a wisdom and he's a little fighter. And we just thought Yoda was serene yet wise, and yet in his little body was very powerful. And we thought it would fit him - plus his ears kind of look a little Yoda-ish."
Now about six weeks old, Yoda weighs 15 pounds, Bronfman said. But when he's fully grown, he'll be huge.
"They often don't get that big," she said. "They go to slaughter before they get to be too enormous."
Although he was running a fever on Thursday night, Bronfman thinks Yoda will be just fine.
"He's come all this way," she said. "He flung himself out of the truck - we sort of, you know, fantasize - knowing that he was going to land up at the Wishing Well Sanctuary and have a life full of love. I mean, he will be loved forever."