Oct 9, 2013 9:03am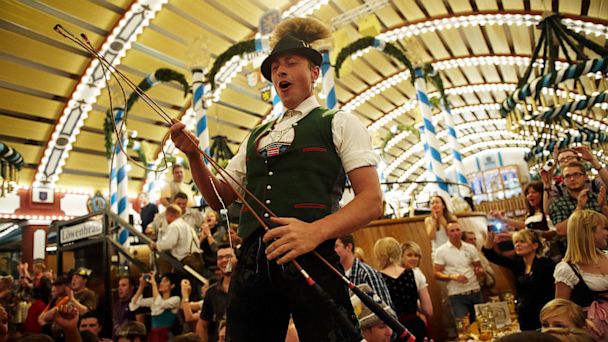 Munich has finished sweeping the streets of Theresienwiese. The bottles have been recycled and the hills cleared of napping festival-goers. Oktoberfest 2013 has come to an end and the numbers are in.
This year, 6.4 million people visited Munich for Oktoberfest, which started Sept. 21 and ended Sunday, Oct. 6. Some 6.7 million liters of beer were consumed, and, at 9.80 Euros per liter, the festival took in about $89 million in beer sales.
The fairground covered a total of 42 acres — that's around 32 football fields. On those 42 acres were 14 massive beer tents with a combined seating capacity of more than 114,000 people at any given time. The largest tent was the Hofbrau tent, with a seating capacity of more than 10,000 people.
The festival had around 8,000 fixed workers and 5,000 temporary workers. Waitresses work for commission and they take a cut of the beer and food they sell, plus tips. On average, a waitress at Oktoberfest takes in several thousand Euros and is in charge of only four tables. Speaking to some at the event, I was told they make around 120 Euros an hour, if you work in the big beer tents. Seems like good money, but don't forget, each full stein weighs about 5 pounds and waitresses are expected to carry up to 10 at a time. And no spilling!
Aside from beer, this year at Oktoberfest, more than 500,000 roast chickens were consumed, 330,000 sausages, 115,000 pork knuckles, 114 oxen and 58 calves. You've got to avoid hunger when you're drinking beer one liter at a time.
The Oktoberfest in 2012 was met with some criticism over the toilets, so this year more than 1,500 toilets were installed, and, as a partaker in the festivities this year, I must say, kudos Oktoberfest, I never once waited in line.
With everyone drinking all day, things are bound to get lost. This year, the Lost and Found had 4,200 items. These included: 1,065 ID cards, 1,200 pieces of clothing, 520 wallets, 400 keys, 320 phones, 300 bags,  100 pieces of jewelry, 50 cameras, 35 umbrellas, 1 Segway, a skateboard and a set of false teeth. I am wondering about this Segway personally.
All in all, a successful year for Oktoberfest. Good weather and no major incidents.
Prost!