Aaron Talmage's grand idea to spell out "Will You Marry Me?" in tea lights on the shores of Myrtle Beach came to him while he was riding one of the resort town's main attractions, a ferris wheel-type ride called the SkyWheel.
"When I got to the top, I looked down at the beach and thought this would be an awesome, awesome proposal," Talmage, 22, said of his revelation last summer.
This past December, when he realized he was ready to propose to his girlfriend of seven years, Ashley Clark, also 22, Talmage thought back to his inspired idea and began to plan the perfect proposal.
"I got her friends to get her to go to Myrtle Beach for spring break," said Talmage, who, like Clark, is a senior at Lander University in Greenwood, S.C. "I told her I was in Washington, D.C. for the break and was sending her pictures from when I visited there over a year ago."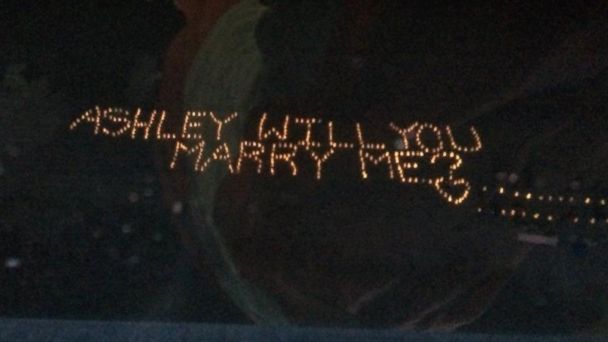 On March 14, as Clark was relaxing in Myrtle Beach, Talmage gathered 20 of his family and friends to help him spell out "Ashley Will You Marry Me?" on the beach below the SkyWheel.
The group was aided by what Talmage estimates were "at least one hundred" strangers who passed by and stopped to help. Their efforts were almost thwarted, however, at the last minute by a police officer who came to enforce the beach's no open flames rule.
"My roommate explained the whole situation and I showed him the ring so he would believe me," Talmage said. "The cop said, 'Technically you're not supposed to have any flames but if you'd have asked me like this, I'd have said yes, so I'm going to drive up the beach.'"
With nothing blocking their way, Talmage and his co-conspirators lit the candles just as Clark reached the top of the SkyWheel with her friends.
When she got off the ride, Talmage was on bended knee with a ring and a question, to which Clark, of course, said yes.
Talmage's brother, Stephen, captured the moment - and the intense preparation - on video and posted it to YouTube last week, where it has already been viewed over 8,000 times.
"It was a one-of-a-kind experience," Talmage said. "One I can never replicate."
Talmage and Clark, who will both graduate college in May, are planning a June 2015 wedding.