Chicken Pot Pie Cone Eliminates Need for Fork and Knife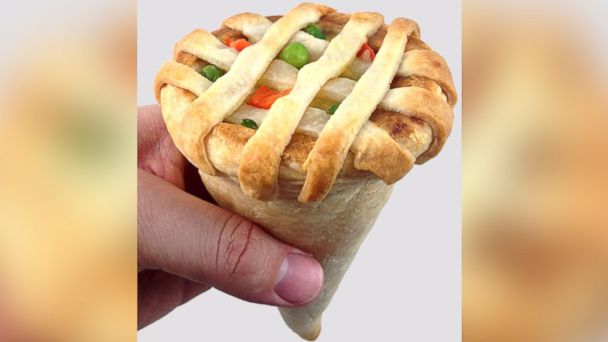 File this under things you definitely don't need but want once you see.
It's a handheld chicken pot pie cone, ready for, you know, all those times when you're on-the-go and simply must have a chicken pot pie or else.
After my Apple Pie Cone turned out way better than I expected there's no way that I wasn't going to follow it up with something similar," Nick Chapman, creator of this culinary innovation on DudeFoods.com, said. "When I got to thinking about other types of pies that I'd like to see in a more portable form, the first one that came to mind was chicken pot pie."
Chapman bought pre-made pie crust, wrapped it around a cone-form and baked it upside in a 400 degree Fahrenheit oven for ten minutes. He then filled it with cooked, diced chicken, sliced carrots, peas and chicken broth before covering it with a lattice cup and placing it right-side up inside of a glass and cooking for another ten minutes.
"With all the chilly weather we've been having here in Wisconsin lately there isn't much that tastes better than a nice warm chicken pot pie," Chapman said.
blog comments powered by