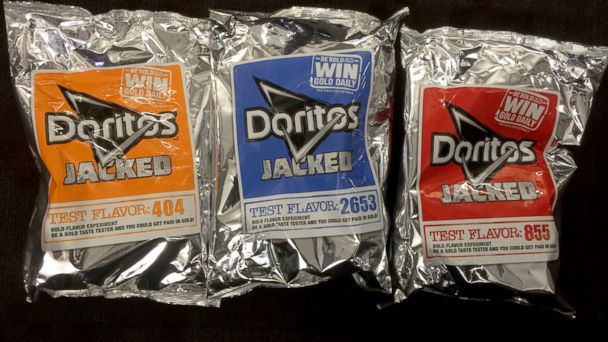 Do you consider yourself bold? Doritos sure hopes so, because they're mounting their latest marketing campaign on a consumer's sense of adventure.
The chip company has released three mystery flavors that started appearing on shelves this week. They're hoping shoppers will try (and therefore buy) all three in the next 60 days before heading to BoldFlavorExperiment.com to vote for their favorite, which will become a permanent flavor come fall.
If that just sounds too risky to you, though, don't worry. The brave editors over at ABC News have tasted, compared and contrasted all three flavors to give you an idea of what to expect.
Test Flavor: 404 (Yellow Bag)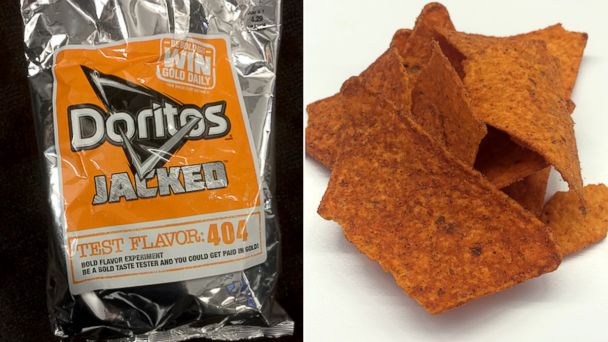 Lime is the overwhelming flavor consensus with this chip, coming in very strong as soon as it hits your mouth. Once the acidic flavor faded a little, tasters detected Indian-leaning spices like cumin, or perhaps cilantro.
"There's a lot of lime flavor at first, but the aftertaste is a little soapy like cilantro," one taster noted.
"Almost like Mexican corn with queso fresco and lime," another added.
Most people thought this was the most "Dorito"-ey of the bunch, with just some lime flavor added, and majority of the tasters (but only by one person) picked this as their favorite.
The key ingredients listed include (among many others) lime juice, and frustratingly, simply "spices."
Flavor guesses: Mexican Corn, Habanero Lime, Spicy Fiesta, Curry Heat
Test Flavor: 2653 (Blue Bag)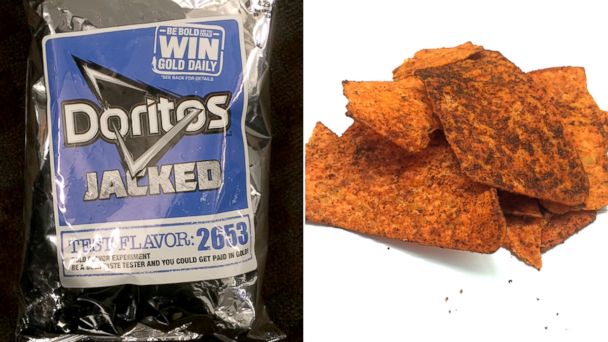 Sorry, blue, but you're not our boy.
"First of all, these are so ugly. It looks like someone took a piece of charcoal and rubbed it all over a chip," one taster immediately said, and everyone else commented on the "unappetizing" dark color as well.
"Eww" or a displeased face was the most common immediate reaction to tasting this flavor, which people described as sweet at first, then fading into a spicy smoky flavor.
"Very initially, I taste chocolate. It's sweet," one described. "I feel like there's more aromatic flavor in its smokiness, like mole."
"Yeah, chocolate for sure-but like cheap chocolate with chili powder," another agreed. "I think that's what they were going for, that's so hot right now, the Chili Chocolate."
No one picked this as their favorite.
The key ingredients listed include (among many others) chocolate liquor, cocoa powder and "natural bacon type flavor and natural smoke flavor," which sounds like a contradiction to us.
Flavor guesses: Chili Chocolate, Mole, BBQ, Sweet Mesquite
Test Flavor: 855 (Red Bag)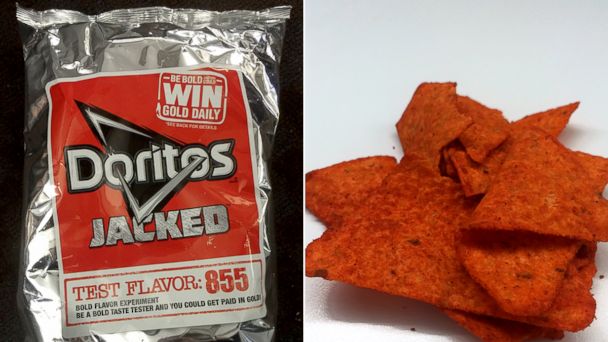 There was no arguing over this one-if this flavor isn't Buffalo Wings, then we are the worst taste testers ever. Participants even went as far as to taste the accompanying blue cheese dip.
"I can get a tang of blue cheese on this, but what's overwhelming to me is the spice. It's hot buffalo wings," one tester declared definitively.
People detected flavors of Frank's Hot Sauce, sour cream, Tabasco and more.
"God, this is really starting to get hot," one finished, and a few minutes later another came back to say her lips were still on fire.
The key ingredients listed include (among many others) sour cream, cayenne pepper sauce and cheddar cheese.
Flavor guesses: Buffalo Wings, Sriracha