Apr 8, 2014 11:57am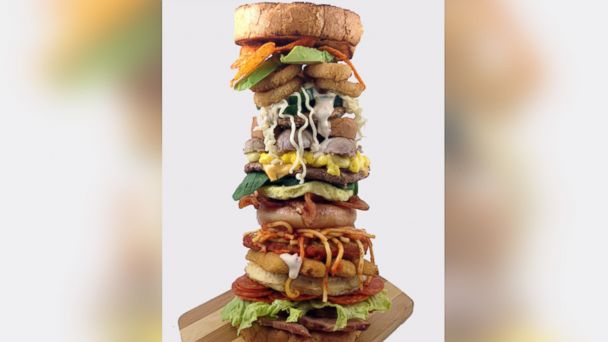 Some compare sandwich making to an art, and Nick Chipman at Dude Foods has taken that instruction pretty seriously. After dreaming up the name "Alphabet Sandwich," Chipman thought the only appropriate fillings for a sub with that title would be one for every letter of the alphabet. Obviously.
So, the sandwich has 26 toppings. Some were no-brainers like avocado, bacon and cheese, but Chapman got particularly stuck on "X."
"Do you realize how difficult it is to find a food that starts with the letter X?," he wrote on his blog. "To solve that issue I eventually settled on xylocarp, which is defined as 'a hard, woody fruit that grows on trees,' or in other words, a coconut."
Chapman valiantly attempted to eat the entire sandwich, but it was just too big.
"It was probably about a foot and a half tall. Believe me though, I definitely tried to take a bite, but it just wasn't happening," he said. "Taste-wise parts of the sandwich were delicious, like the bottom portion which had garlic bread topped with ham, lettuce and pepperoni, but the section that had bratwursts topped with yams and queso blanco dip … not so much."
For a full rundown of the ingredients, check out this list:
Avocado
Bacon
Cheese
Doritos
Egg
Fish sticks
Garlic bread
Ham
Italian sausage patty
Jalapeño peppers
Krispy Kreme doughnut
Lettuce
Macaroni and cheese
Noodles
Onion rings
Pepperoni
Quest blanco dip
Ramen noodles
Spinach
Turkey burger
Usingers bratwurst
Veal Parmesan
Waffle
Xylocarp (coconut)
Yams
Zucchini