Let's be honest: most people don't scrupulously read their receipts. A doughnut shop in Chicago is making it worth it to look twice.
Jon Becker, a shift supervisor at Stan's Donuts & Coffee, was sitting in the office one day going through receipts, when he decided they were boring.
"It just said thank you," Becker said. "I thought, 'Let's put something there,' and I remembered that quote. It was like, 'Oh my god, that's perfect. That's probably the most hilarious thing you could put on a receipt for a doughnut shop.'"
Becker chose a quote from comedian Mitch Hedberg, which reads, "I bought a doughnut and they gave me a receipt for the doughnut. I don't need a receipt for the doughnut. I'll just give you money and you give me the doughnut. End of transaction. We don't need to bring ink and paper into this. I can't imagine a scenario in which I would need to prove that I bought a doughnut."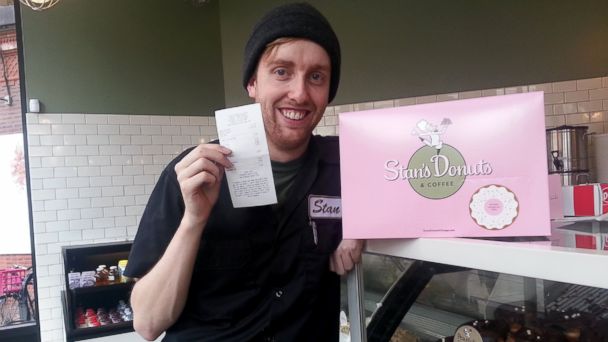 After posting the text, Becker said not many customers really noticed it.
"A couple of people looked at it and were like, 'Ah, that's awesome,'" he said. "But a majority of people don't seem to read receipts very closely."
Until Becker posted a photo of the receipt to Reddit, that is, where it proceeded to go viral.
"It's really hilarious to me that something I did just to see what I could get away with is being picked up nationally," Becker said.