President George Washington's personal copy of the Constitution drew a nearly $10 million winning bid Friday at Christie's auction house in New York, breaking the world record for an American book or historical document.
The copy of the Constitution and Bill of Rights was in a book purchased for $9,826,500 by the Mount Vernon Ladies Association. It is signed by Washington and dates to 1789, his first year in office.
During that time, Washington took notes on the Constitution, drawing in pencil brackets pointing to anecdotes written in margins. In one section focused on Army and Navy treaties, Washington wrote "President" in cursive.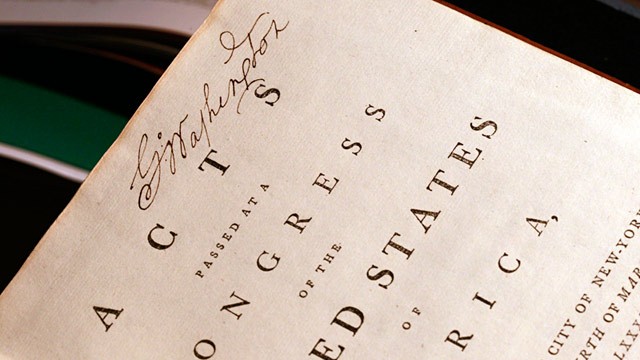 Chris Coover, a senior specialist for books and manuscripts at Christie's, told ABC News that this type of personalization is rare for Washington.
"He annotated very few books," Coover said. "He had a large library, much of which does survive, and very, very few have any kind of marginal notations at all. It just was a habit that he never picked up - which kind of emphasizes the fact that this is a particularly important example where he took the time to annotate, however sparsely and in very condensed form, all the duties of the president."
The last person to possess the document was H. Richard Dietrich Jr., a philanthropist who died in 2007.
"He has one of the most beautiful hands you'll find from that period," Coover said. "He took great care with his penmanship, always."
It's not clear whether the document will be displayed at Washington's Mt. Vernon home. The Mount Vernon Ladies Association didn't immediately return a message seeking comment.
Get more pure politics at ABC News.com/Politics and a lighter take on the news at OTUSNews.com