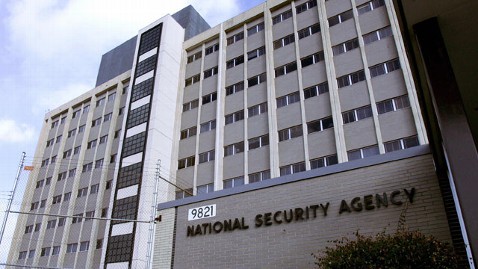 By MICHAEL FALCONE ( @michaelpfalcone )
NOTABLES
NSA TRACKS U.S. VERIZON CALLS: The Obama administration has been quietly collecting millions of telephone records from U.S. Verizon customers under a top-secret court order first obtained in late April, according to British newspaper The Guardian. ABC's DEVIN DWYER reports that a copy of the classified order, posted Wednesday on the paper's website, reveals that Verizon has been required to provide to the National Security Agency on an "ongoing, daily basis" information on all phone calls made through its systems. The order was granted April 25 by the Foreign Intelligence Surveillance Court, which oversees secret government requests for private information that might help identify suspected terrorists or foreign nationals in the United States. It expires July 19. Neither the NSA nor Verizon responded to requests for comment, though neither immediately denied the report. http://abcn.ws/11jsWjK
WHITE HOUSE WEIGHS IN: A senior Obama administration official did not confirm the order, according to ABC's JONATHAN KARL, but defended such data collection as "a critical tool" to protect the country: "The article discusses what purports to be an order issued by the Foreign Intelligence Surveillance Court under a provision of the Foreign Intelligence Surveillance Act that authorizes the production of business records. Orders of the FISA Court are classified. On its face, the order reprinted in the article does not allow the Government to listen in on anyone's telephone calls. The information acquired does not include the content of any communications or the name of any subscriber. It relates exclusively to metadata, such as a telephone number or the length of a call. Information of the sort described in the Guardian article has been a critical tool in protecting the nation from terrorist threats to the United States, as it allows counterterrorism personnel to discover whether known or suspected terrorists have been in contact with other persons who may be engaged in terrorist activities, particularly people located inside the United States."
THE BIG PICTURE: The practice of warrantless wiretapping by the NSA, which also occurred in the aftermath of 9/11 under President George W. Bush, has been controversial, ABC's Dwyer notes. The sweeping nature of the newly revealed secret order is certain to reignite debate about domestic spying. It will also give fodder to critics of the Obama administration who have accused it of infringing on Americans' civil liberties, most recently with the Justice Department's surveillance of some reporters' emails and phone records. Liberal activists responded strongly to the Guardian report. Former Vice President Al Gore called "blanket surveillance obscenely outrageous." The American Civil Liberties Union called the practice "alarming." http://abcn.ws/11jsWjK
HOLDER ON THE HILL: Attorney General Eric Holder will appear on Capitol Hill later today and is likely to face questions from lawmakers on the issue. Holder will come before the Senate Appropriations Committee at 10:45 a.m. ET to discuss the Department of Justice's budget.
THE ROUNDTABLE
ABC's RICK KLEIN: It comes via a leak, no less… The revelation of a blanket court order covering all phone records of Verizon clients exposes the sweeping national security measures most Americans know little to nothing about. This will give the Obama White House a full-scale set of problems to cope with, with an early airing in Attorney General Eric Holder's Capitol Hill testimony today. Like the IRS scandal, this is a story that impacts every American with a telephone, and it's not easy strategy to explain. The tough questions rolling in from the left and the right will only be the start, if this data-collection program is half of what it appears to be.
ABC's SHUSHANNAH WALSHE: There's even more at stake for both sides now in the Massachusetts Senate race. The Monday death of Sen. Frank Lautenberg, D-N.J., created another special election, this time in New Jersey, and it's likely the interim replacement will be a Republican because GOP Gov. Chris Christie will make the appointment. Meanwhile, in Massachusetts, Republican candidate Gabriel Gomez will get some help from a super PAC created by former Mitt Romney campaign adviser Eric Ferhnstrom, according to two state political sources. Massachusetts is a solidly blue state and Gomez has been trying to distance himself from the national Republican Party, giving a speech this week calling himself a "new kind of Republican." But it's not that easy. His face is plastered on the homepage of the National Republican Senatorial Committee website, and Sen. Marco Rubio's political action committee and Senate Minority Leader Mitch McConnell have been fundraising for him, sending letters to their supporters. Neither the Gomez campaign nor the National Republican Senatorial Committee would comment on exactly how much financial help they will be giving to the campaign, but a Gomez aide said that although they are "not going to match Ed Markey for money," the campaign is "confident they will have the money to be competitive." http://abcn.ws/10SMRuo
ABC's TOM SHINE: Maryland's state police say they will enforce the state's new, tough gun law signed into law just last month. But Garrett County Sheriff Rob Corley and local governments in two other Maryland Counties say they won't, according to Michael Dresser, writing in this morning's Baltimore Sun newspaper. State Delegate Kathleen Dumais, who led the effort to pass the law, says the measure gives the state police the power to enforce it including issuing gun licenses and collecting fingerprints. "I don't know how a local sheriff is going to prevent that or turn a blind eye to that," she told the paper.
IN THE NOTE'S INBOX
-DEMOCRATS URGE VIRGINIA REPUBLICANS TO 'BREAKUP' WITH KEN CUCCINELLI. The Democratic Governors Association is out with a new web video this morning with some "relationship" advice for GOP voters in Virginia. The video's message: You're better off without gubernatorial candidate Ken Cuccinelli and lieutenant governor candidate E.W. Jackson, who has drawn media attention in recent weeks for his history of incendiary statements. "The Ken Cuccinelli-E.W. Jackson ticket is dividing the Republican Party with its extreme social agenda-and it's just plain sad," the DGA says. "Breaking up isn't easy. But, trust us, you're better off without them." The nearly two-minute video is the latest attempt by national Democrats to wage a guilt-by-association war on Cuccinelli using some of Jackson's most controversial remarks. The clip was paid for by DGA Action, the DGA's independent expenditure arm, and authorized by the McAuliffe campaign. WATCH: http://bit.ly/13HEv7g
-ALABAMA CONGRESSIONAL CANDIDATE USES SCANDALS IN FIRST CAMPAIGN AD. Alabama Congressional candidate Quin Hillyer, a long-time conservative columnist, is going up with the first television ad of his campaign next week. The ad highlights the recent scandals plaguing the Obama administration, including the IRS's targeting of conservative groups. "Time after time, Obama's government has betrayed our trust. It's time to fight back," the ad's narrator says. "It's time to send a strong conservative Republican to Congress. It's Hillyer Time." Hillyer, a former Congressional leadership aide in the 1990's, is running for Congress in Alabama's first congressional district. The 30-second spot will be broadcast in the Mobile media market, and Hillyer may be among the first of many candidates to capitalize on national scandals in their own districts during the coming midterm election cycle. WATCH: http://bit.ly/11GVZxv
BUZZ
SENATE DEBATE: MARKEY, GOMEZ ATTACK OVER GUNS, BENGHAZI. The first Massachusetts Senate debate for the seat once held by Secretary of State John Kerry took a contentious tone last night and seldom let up as the candidates sparred over gun control, the attack on the embassy in Libya and more, ABC's CHRIS GOOD reports. Gabriel Gomez, the Republican businessman and former Navy SEAL running for Senate in Massachusetts, wants Attorney General Eric Holder to resign over the seizure of Associated Press phone records. Rep. Ed Markey, the 36-year Democratic veteran of the House of Representatives, does not. Gomez opposes a nationwide ban on "assault weapons"; Markey supports one. Gomez wants a no-fly zone over Syria; Markey doesn't. Gomez doesn't like the medical-device tax; Markey defended the Affordable Care Act. Gomez would consider voting for an anti-abortion-rights Supreme Court justice; Markey wouldn't. They even agreed on some things. Both want comprehensive immigration reform: "I'll make it a Gang of Nine," Gomez pledged, referring to the bipartisan group of senators who have worked to craft a broad reform bill. But their clashes onstage Wednesday night weren't so banal. From the moment Markey and Gomez began the first debate of their Massachusetts Senate race to replace Secretary of State John Kerry, the two went at it. "Congressman Markey, after 37 years in D.C., welcome back to Boston," Gomez said, answering the first question. "You're gonna hear a lot from Mr. Gomez about how he is a new kind of Republican, but you're going to hear the same old stale Republican ideas," Markey responded. http://abcn.ws/18ReYMf
ON THE AGENDA: President Obama travels to North Carolina today as part of his "Middle Class Jobs & Opportunity Tour." The president will visit Mooresville Middle School and deliver remarks at 2:55 pm ET on education and the economy. Later, the president travels to San Jose, Calif., where he attends two off-camera Democratic Senatorial Campaign Committee fundraisers.
KEY CONGRESSMAN ABANDONS HOUSE 'GANG OF 8 - IMMIGRATION TALKS. After almost falling apart yesterday, the House "Gang of 8? lives on, as a "Gang of 7." Rep. Raul Labrador, R-Idaho, left the group after saying he could not come to an agreement with the other members on health care, sources within the meeting among the bipartisan group of representatives told ABC's JIM AVILA and SERENA MARSHALL. While the House effort to write a comprehensive immigration bill survives, the loss of Labrador, a tea party Hispanic with ties to House Majority Leader Eric Cantor, is viewed as a critical loss, even by Democrats. Labrador was expected to play a key role in the House, similar to that of Marco Rubio in the Senate. It might be more difficult without him to bring red state conservatives along on a bill. The remaining three Republicans, Reps. John Carter of Texas, Mario Diaz-Balart of Florida and Sam Johnson of Texas agreed to stay because, sources say, they "want a bill" and will continue to "work on a bill." The Democratic members of the House gang are Reps. Xavier Becerra of California, Luis Gutierrez of Illinois, Zoe Lofgren of California and John Yarmuth of Kentucky. http://abcn.ws/18PJFBm
RUBIO'S TIGHTROPE WALK ON IMMIGRATION REFORM. Marco Rubio walked across the Capitol on Wednesday afternoon to sell a large group of skeptical House conservatives on comprehensive immigration reform. But the House Republicans did not emerge from the meeting singing a different tune. Instead, most of them dug in their heels against the Senate's bipartisan immigration reform bill. That leaves Rubio, the Gang of Eight's chief envoy to conservatives, in a difficult bind, FUSION's JORDAN FABIAN notes. Rubio was one of eight authors of the original bill. He's been extremely vocal in selling the proposal on conservative talk radio and to his colleagues in Congress. But now that he's hearing serious resistance to the bill from his fellow conservatives, he's threatening to vote "no" on the very bill he helped write unless changes are made to strengthen the border security provisions. That's quite a reversal for Rubio, whose own website calls the existing language "the toughest border security and enforcement measures in U.S. history." But at the same time, we shouldn't be that surprised about Rubio's latest threat to vote against the bill. He's been building himself a so-called "escape hatch" to exit the talks from the very beginning of the process. "Unless there are real enforcement triggers we are not going to have a bill that moves on the opportunity to apply for a green card," Rubio told Rush Limbaugh in January. "I'm not going to be part of a bidding war to see who can put the most lenient path forward." http://abcn.ws/ZRAKyT
IRS SUSPENDS TWO AFTER PROBE OF LAVISH CONFERENCES. The Internal Revenue Service's new acting commissioner, Danny Werfel, has put two employees on administrative leave after they were accused of inappropriately accepting food and gifts during a 2010 conference, ABC's ABBY PHILLIP reports. "When I came to IRS, part of my job was to hold people accountable," Werfel said in a statement. "There was clearly inappropriate behavior involved in this situation, and immediate action is needed." The two employees were Fred Schindler and Donald Toda, according to a congressional aide. Schindler is now the director of implementation oversight at the IRS Affordable Care Act Office. He works under Sarah Hall Ingram, who was at one time the director of the IRS' tax-exempt office, which admitted to improperly scrutinizing conservative groups who applied for tax-exempt status. Toda is a California-based IRS employee. The IRS has begun the process of removing the employees "pending further review," a statement from the agency said. The suspensions come after a recent IRS inspector general report investigating excessive spending at conferences singled out a 2010 conference in Anaheim, Calif., in which employees spent $4.1 million on the event. http://abcn.ws/16KWIXH
WHAT WE'RE WATCHING
COMEDY OR TRAGEDY? WASHINGTON GOES SHAKESPEAREAN. Washington, oh Washington, art thou a tragedy or a jest? That is the question that hung before Members of Congress and journalists who participated in the Shakespeare Theatre Company's annual " Will on the Hill" play that benefits arts programs for low-income students. Before donning a crown and taking part in the comical play himself, Top Line's RICK KLEIN posed that very question to fellow "Will on the Hill" participant Rep. Charles Rangel (D-NY), who replied: "I don't joke about Washington." "I'm frightened to death for my country," Rangel said. "I've never seen the polarization that exists and a handful of people are committed to destroy or to stop the president and a party doesn't make sense." Top Line also caught up with Sen. Roger Wicker (R-Miss.), who said the "Will on the Hill" event offers a rare opportunity "to get to know members of the other parties." WATCH: http://yhoo.it/13cuBds
WHAT WE'RE READING
"SUSANA MARTINEZ: NO TO PRESIDENCY, DOWN ON IMMIGRATION REFORM," by the National Journal's Reid Wilson. "Gov. Susana Martinez has a one-word answer for anyone who asks whether she'll run for president: No. The first-term Republican, in town for a major fundraiser for her re-election campaign hosted by some of the biggest names in the GOP, says she's happy with her current job, and that she feels she owes it to a very specific segment of her constituency to serve out her two terms. 'As the first Hispanic female governor in the country, I have a lot of little girls who come up to me, and they know who I am. They know that I'm the governor. They get big-eyed and they call me by my first name, and I've got to set an example for them and pave a path for them,' Martinez said in an interview. 'I can't abandon this job and not do it honorably and to the fullest extent possible that benefits them. And so I wouldn't do it because of them.' … Martinez, a border-state governor who has been critical of the Obama administration's efforts to secure the border with Mexico, also said that while she supports some aspects of the immigration, she has concerns with other areas of the bill - notably, the pathway to citizenship that undocumented immigrants currently in the United States would win under the current proposal. 'What I want to see come out is certainly securing our border, because otherwise I think all we do is have the next wave after we find a comprehensive solution,' Martinez said. 'The goal would be legal status for those that are deserving of legal status, not a pathway to citizenship.'" http://bit.ly/15BE5AG
WHO'S TWEETING?
@EamonJavers: After IRS targeting, Obama was compared to Nixon. With NSA surveillance today, he's being compared to Bush. Will Dem base begin to waver?
@hillhulse: Took some real nerve to leak that FISA order in the current climate. Feds will take that seriously.
@thegarance: Anyone who wanted a lower profile for Issa will get their wish today as attention shifts off IRS to NSA/FBI.
@SpeakerBoehner: Reflecting on the courage & heroism of all those who laid down their lives in the name of freedom on this 69th anniversary of D-Day
@ellencarmichael: Great write-up in my hometown paper of the RTCA dinner last night and the important role played by @JayDardenne. http://theadvocate.com/home/6173622-125/national-broadcast-dinner-features-new …