White House Gets Spooky Makeover For Halloween
The White House is gearing up for a spooktacular fright fest, complete with giant spider webs, ghosts and a larger than life Frankenstein.
More than 5,000 people are expected to visit the White House for Halloween this year and the decorations will not disappoint. The South Portico has been draped with giant spider webs and the staircase is adorned with orange and black garland. A massive spider looms over the door and large black cats made of balloons float nearby.
Hay bales and jack-o-lanterns dot the driveway and a group of ghosts are gathered on the edge of the South Lawn. Roaming throughout the festivities will be Frankenstein and his bride, both on stilts, and Glinda the Good Witch, who will float across the grass in a giant plastic bubble.
Later today, the president and first lady will welcome school kids and military families to trick-or-treat at the White House, which will be lit orange for the annual occasion. The Obamas will dole out treats, including White House M&Ms, jelly beans, cookies and dried fruit (which may be more trick than treat).
The First Dogs are also getting in on the fun. A giant topiary of "Sunny" made of ribbon is dressed as a sunflower and a huge "Bo" made of pipecleaners is wearing a pirate costume.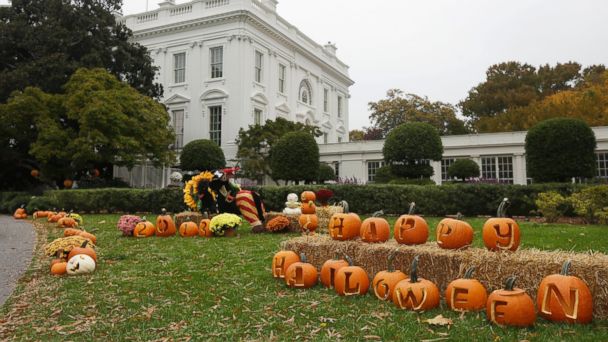 blog comments powered by