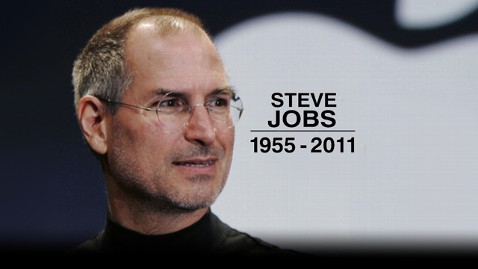 Steve Jobs, the mastermind behind  Apple's iPhone, iPad, iPod, iMac and iTunes, has died, Apple said. Jobs was 56. Jobs died "peacefully" surrounded by family members, his family said in a statement.
Complete coverage on Good Morning America, live at 7:00 a.m. PT.
MORE INFO:
LIVE BLOG:
10:18 a.m. ET- GMA remembers the Apple founder with a special edition of your three words.
9:02 a.m. ET - The health of Apple CEO Steve Jobs was swathed in secrecy for much of the past five years. Here's a timeline of his continuing health problems.
8:43 a.m. ET - @jwmoss: Steve Jobs was born out of wedlock, put up for adoption at birth, dropped out of college, then changed the world.
8:37 a.m. ET- "While others simply accepted the status quo, he saw the true potential in everything he touched." – George Lucas on Steve Jobs
8:26 a.m. ET- FULL ARTICLE: Steve Jobs' Estranged Father Never Got Call He Waited For 
8:04 a.m. ET - This morning on GMA, Bill Weir gave a touching tribute to Steve Jobs.
7:58 a.m. ET- Statement from Bill Werde, editorial director of Billboard Magazine: "Apple's brilliance – and I don't think anyone doubts that this was Steve Jobs' brilliance – was that Apple made it exciting and simple and effortless and fun. Before Steve Jobs, digital music was math class. After, it was recess. People talk about the differences between style and substance but with Jobs, the two were one."
7:54 a.m. ET - @DrRichardBesser: Steve Jobs showed us how to live with cancer. It never defined who he was. Truly inspiring.
7:52 a.m. ET- PHOTOS: Apple Products Since the Beginning
7:49 a.m. ET- FULL STORY: Steve Jobs' Health: A Timeline
7:45 a.m. ET - @GMA: Special  #Your3Words this AM on Steve Jobs will feature @ coldplay's "Every Teardrop is a Waterfall"
7:44 a.m. ET - @SalmanRushdie: I have been in love with the world Steve Jobs made ever since my first Apple Mac. He was one of the great architects of the real. RIP.
7:40 a.m. ET - FULL STORY: Steve Jobs' Death: Apple's Future Without Its Visionary 
7:27 a.m. ET – From ABC News' Andrew Springer: Here's the video from ABC World News Tonight when Apple and Steve Jobs introduced the very first Macintosh computer in 1984. Jobs called it "insanely great," a sentiment echoed in Bill Gates' statement last night: " For those of us lucky enough to get to work with him, it's been an insanely great honor." It wasn't the first computer with a mouse (a graphical user interface), but it was the first one affordable enough for consumers.
7:24 a.m. ET - UK Prime Minister David Cameron (@Number10gov ): "Steve Jobs transformed the way we work and play; a creative genius who will be sorely missed. Our thoughts are with his family."
7:23 a.m. ET- Steve Jobs in 60 seconds:
7:18 a.m. ET - Trending on Twitter: #ThankYouSteve, #iSad, THE Steve Jobs, Think Different
7: 15 a.m. ET - "He really didn't believe in focus groups, you just gotta believe in what's right and what's wrong." -Steve Wozniak says of Jobs on GMA
7:14 a.m. ET - FULL ARTICLE: The world reacts to Steve Jobs' death
7:10 a.m. ET - @BillWeirABC: Apple stock soared more than 7000% since Jobs' return… and that garage startup now has more cash than the U.S. Treasury.
7:08 a.m. ET - "You can't connect the dots looking forward; you can only connect them looking backwards. So you have to trust that the dots will somehow connect in your future. You have to trust in something — your gut, destiny, life, karma, whatever. This approach has never let me down, and it has made all the difference in my life." -Steve Jobs, excerpt from 2005 commencement address at Stanford University
6:56 a.m. ET – Good Morning America is live with the latest on remembering Steve Jobs.
9:43 p.m. ET - @aplusk: We have all surfed on the wake of Steve Jobs ship. Now we must learn to sail, but we will never forget our skipper.
9:20 p.m. ET - Statement from President Obama on the passing of Steve Jobs: "Michelle and I are saddened to learn of the passing of Steve Jobs. Steve was among the greatest of American innovators – brave enough to think differently, bold enough to believe he could change the world, and talented enough to do it … The world has lost a visionary. And there may be no greater tribute to Steve's success than the fact that much of the world learned of his passing on a device he invented."
8:45 p.m. ET - @Starbucks: Thank you Steve Jobs, you made the world a better place. You will be missed.
8: 35 p.m. ET - Statement from Mayor Michael Bloomberg: "Tonight, America lost a genius who will be remembered with Edison and Einstein, and whose ideas will shape the world for generations to come. Again and again over the last four decades, Steve Jobs saw the future and brought it to life long before most people could even see the horizon."
8:16 p.m. ET - Statement from the Jobs family: "Steve died peacefully today surrounded by his family.  In his public life, Steve was known as a visionary; in his private life, he cherished his family. We are thankful to the many people who have shared their wishes and prayers during the last year of Steve's illness; a website will be provided for those who wish to offer tributes and memories. We are grateful for the support and kindness of those who share our feelings for Steve. We know many of you will mourn with us, and we ask that you respect our privacy during our time of grief."
7:45 p.m. ET - Apple announces Steve Jobs' death. The company did not specify a cause. Jobs was 56.