This is a live picture from a helicopter our sister station KO MO. And Seattle Washington this is about two hours north of Seattle portion of the bridge on I five -- -- -- -- root river. Collapse and...
See More

This transcript has been automatically generated and may not be 100% accurate.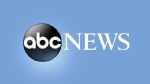 Chef Adam Perry Lang
Chef Adam Perry Lang
For Memorial Day, grill master talks about the magic of a meal done right.