Travel with ABC News to see how this election impacts all corners of the country
With One Exception Since 1904, the Show Me State Has Picked the President
Posted by By IMAEYEN IBANGA April 2, 2009 | 3:50 PM EDT
Missouri may be the ultimate bellwether state. The Show Me State has failed to pick the president only once since 1904. The lone exception was 1956, when Missouri sided with Democrat Adlai Stevenson but the nation chose Republican Dwight Eisenhower.
With those odds, it makes the race in Missouri, which is in a statistical dead heat, even more intriguing. As the quintessential battleground state, the region's current political atmosphere may explain the tightness in the polls.
While Missouri can claim a Republican governor and senator, it has one Democratic senator and in the house its representatives are nearly equally divided between the parties. It has five Republican congressmen and four Democratic ones.
During the primary season both Barack Obama and John McCain captured wins there ??? albeit barely. Each only bested his opponent by 1 percent during the Feb. 5 contests.
It's no wonder Obama and McCain have been putting in a lot of face time in the Midwestern state.
The candidates have drawn in some of their largest crowds in the place where the East meets the West, as its famous gateway archway in St. Louis by the Mississippi River reminds passersby. It also could explain why as Missouri goes, so does the nation ??? or at least for more than a century.
That's likely part of the reason the lone vice presidential debate was held in St. Louis. The showdown between Palin and Biden saw no major gaffes.
But could the state with the most accurate presidential record in history get it wrong on Tuesday? Not according to Missourians.
"It's the Show Me state. So we show them," said one resident.
Yet coming to a conclusion may not be so simple for voters, who tend not to be swayed by certain political hot points.
"It is a moveable state and not anchored by a dominate ideology, not dominated by a particular econ or political interest so it responds to issues that are in the air," said Wayne Fields, who studies Missouri politics.
The most moveable voters lie in the suburbs, in places like St. Charles, and some of them remain undecided.
Reliable Republican Tilt of Colorado Shows Signs of Reversing This Year
Posted by By IMAEYEN IBANGA April 2, 2009 | 3:50 PM EDT
The Centennial State is a major example of what's new in the American West ??? a political makeover. Colorado used to be a solid Republican state. In fact, it has gone for the Republican presidential nominee in every election since 1960, with the exceptions of 1964 and 1992. But this election season gives the state -- which was named after its largest river, named in turn by early Spanish explorers for its red silt ??? a chance to turn blue.
If you want further proof that it's a battleground state, just watch television for 10 minutes, as residents have been inundated with political ads, especially in the race's closing days.
That's in part because of a seismic shift in Colorado. Though President Bush won the state twice, now there's some Bush backlash. That combined with an influx of new residents may make it more favorable this year for Democrats. Colorado has seen tens of thousands of new residents settle annually, bringing with them high ideals and fierce independence.
Now, so many of those unaffiliated newcomers exist that their voters outnumber the rolls of either party.
"People that were unaffiliated used to default Republican. They don't do that anymore," said Colorado Gov. Bill Ritter.
It was a cue for Democrats, who, after years of wandering the political wilderness, pounced on the opportunity presented by the swelling ranks new voters. And Ritter benefited from it.
As a former prosecutor and Catholic, the Democrat could have run his gubernatorial campaign on a law-and-order, anti-abortion platform. Instead, he went with windmills, and snatched the governor's chair two years ago in a landslide with an issue nearly everyone could agree upon.
"We've found a way to govern to the middle. We're largely centrists," Ritter said.
State Senator Joe Rice is an Army colonel and one of the Democrats' rising moderate stars, and he worries his party may get drunk on power and taste its own backlash in two years.
"Whichever party starts to think they have a monopoly on good ideas, they start losing," Rice said.
Vigo Co., Ind., Has an Knack for Picking the Election Winner
Posted by By KATE SNOW and MICHAEL MILBERGER November 1, 2008 | 8:02 AM EDT
You've heard of Joe the Plumber. Well, meet Joe the Boot Seller.
Joe Tanoos has owned Tromp and Tread, a work and sport shoe store, for 30 years. He lives in Vigo County in western Indiana, a place where they somehow always seem to pick a White House winner.
This county has gone with the winning presidential candidate all but two times over the last 100 years, and every time since 1952.
"I think we are probably a microcosm of the country," said Fred Bauer, a lifelong Terre Haute resident. "We've got a rural population, an urban population. And we are Hoosiers, so we are pretty independent."
Democrats outnumber Republicans in Vigo County and Terre Haute, the county's largest city, but even Democrats in this blue collar town tend to be socially conservative.
"The local Democratic label to the national label isn't very good, says Tom Steiger, a professor of sociology at Indiana State University. "So it really forces people here to become independent voters. They can't just sort of vote the ticket."
So it's not party affiliation but issues that rule in Vigo County. And this year, the economy is issue No. 1 for a community hit hard by manufacturing layoffs.
Fewer jobs in town mean less foot traffic at Joe Tanoos' boot store.
"I'm really concerned about my business and my pocketbook," said Tanoos. "I'm in safety footwear, and my factory business has really dropped off, as well as my walk-in business."
Tanoos voted for President Bush in 2004 because of national security issues, but this time around he's going with the Democratic choice.
"I believe we are ready for a change, definitely, a fresh approach, a fresh face. That's why I'm going to vote for Barack Obama," said Tanoos.
Indiana hasn't gone with a Democratic candidate for president since it chose Lyndon Johnson in 1964. And in the 2004 election, George W. Bush defeated Democrat John Kerry by nearly 20 points. Both parties usually bypass this solidly red state, but this election season has been different.
Singer John Mellencamp Shows 'GMA' Around Battleground Indiana
Posted by By KATE SNOW and COURTNEY CHAPMAN November 1, 2008 | 7:38 AM EDT
Sometimes the best way to see a state is with a local. So when ABC News' 50 states in 50 days project rolled into Indiana, we called up favorite son, singer John Mellencamp.
We all know he was born in a small town (Seymour, Ind., to be exact), and while chart-topping songs have helped him realize the American dream, he hasn't left the heartland behind. He and his third wife, former supermodel Elaine Irwin, now call Bloomington, Ind., home.
He can be stopped driving around in his 1956 Chevy Nomad. He says there's an authenticity to these back roads that you don't find in the big city, even if he disagrees vehemently with most of his neighbors.
"I never did really want to fit in, " Mellencamp said. "I enjoy being the outsider. You know I'm a loud talker and always have been even before I had a guitar and record deals and hit records."
He calls himself a political outcast in his home state. But he has never been shy about voicing, or singing, his politics.
"If I was to vote my interest I'd be a Republican. I don't vote my interest. I vote for what I think would be the best and most compassionate for the country," said Mellencamp. "You know, America used to be a great place. It's not now, and we will be again, but right now it's not a great place."
Mellencamp's career has spanned 32 years and 23 albums. And while he still writes a lot about changing tradition, he no longer cares what other people say.
"I'm an old man. I'm long past worrying when I sit down to write a song what people are going to think of it."
The lyrics to one of Mellencamp's most memorable tunes, "Jack and Diane," were inspired by his experiences growing up in Seymour, Ind. And while the line "suckin on a chili dog outside the Tastee Freeze" lives on, the actual Tastee Freeze is long gone.
"I see small towns across America going out of business," he said. "The town I grew up in, there's no stores in there anymore. Corporate America moved in and put all those stores out of business. I don't like the fact that we're now all the same."
Nevada's 'Biggest Little City' in Heart of Electoral Battleground
Posted by DAN HARRIS October 30, 2008 | 8:07 PM EDT
Reno, Nev., which calls itself the "The Biggest Little City in the World," is hurting.
"It's not like it used to be," said Jean Weiss, manager of a local souvenir shop. "It's not like the good old days."
The economic slump has driven down tourism and pushed casinos out of business. Some tourist stops see days or nights with few customers.
"We have several of those nights," said Cory Hurrle, comptroller of a casino called the Nugget on Reno's main drag.
Even Reno's fabled wedding chapels are gasping for air.
Watch World News with Charles Gibson TONIGHT at 6:30 p.m. ET for the full story.
"I am a tough old bird," said Mary Van Dusseldorf, owner of the Antique Angel Chapel. "When business gets tough the tough get going."
Reno may be in a bad way, but it's enjoying a moment right now at the center of the most crucial county in one of the most crucial states in this election. Nevada is the westernmost battleground state and has gone for the winning presidential candidate in almost every election in the last century.
While the area around Las Vegas is reliably Democrat, the rural areas normally votes Republican, leaving Washoe country, home to Reno, the key battleground for the state.
Washoe County voted for George W. Bush in 2000 and 2004, but it's not flooded with social conservatives. This is, after all, a place where prostitution is legal, making this state's Republican party different from others around the country.
"One of our best volunteers used to be a madam," said a representative of Nevada 's Republican party. "This is an all-inclusive party."
The county has become more liberal with nearly 50,000 Californians, mostly Democrats, moving in, in recent years. While Sen. Hillary Clinton won Nevada's Democratic caucus, the economic slump in Reno has also made more locals receptive to Sen. Barack Obama's campaign.
"Obama has done an excellent job," said Dr. Eric Herzik, professor of political science at University of Nevada, Reno. "[John] McCain's campaign has really lagged."
Local Republicans told ABC News that they'll mount a last- minute push.
If McCain doesn't carry the struggling streets of the "Biggest Little City in the World," he probably won't win the most powerful office in the land.
Same-Sex Marriage Proposition Spurs Emotions on All Sides of Issue
Posted by DAN HARRIS August 15, 2010 | 9:41 PM EDT
In a room on the top floor of an evangelical church in San Diego, dozens of Christians are engaged in 40 days of round-the-clock praying and fasting. They are asking God to stop gay marriage in California.
California's ballot sparks heated debate over gay marriage.
"We believe it's a defining moment in American history," said Lou Engel of the evangelical group, The Call. "As California goes, so goes the whole nation. And in many ways, California is a leadership state for not just America but the whole world."
At a Unitarian church across town, Jan Garbosky and Bonny Russell, both retired educators, tied the knot after 20 years of partnership just a few weeks ago.
"We thought this would never happen in our lifetime, at our age," Garbosky said.
Religious groups across the nation -- including evangelicals, Catholics and Mormons -- have mobilized in support of Proposition 8, a ballot initiative that would overturn California's Supreme Court decision to legalize gay marriage.
If passed, the proposition would change the state's constitution, redefining marriage as exclusively between a man and a woman.
Since the Supreme Court's May decision, gay couples eagerly flew to California. Massachusetts and Connecticut also have legalized same-sex marriage.
The fight over California's Proposition 8 has become one of the most expensive campaigns in the country -- second only to the presidential race.
Groups on both sides of the issue have thrown millions into the race. Supporters include Focus on the Family, the Knights of Columbus and members of the Mormon church. Opponents include Hollywood celebrity donors like Brad Pitt, Stephen Spielberg and Ellen DeGeneres.
At least one prominent evangelical has been quoted as saying that the Proposition 8 campaign is more important than the presidential race.
Many Christians believe that scripture prohibits homosexuality. If gay marriage is allowed to stand, some evangelicals suggest, it would force churches to marry gays, force schools to teach gay marriage, settling off a snowball effect and opening the door to pedophilia and bestiality.
Bill Sizemore, 'Ballot-ician,' Proposes Ballot Initiatives
Posted by By DAN HARRIS October 28, 2008 | 7:43 PM EDT
With his business casual attire and slightly shaggy hair, Bill Sizemore looks like a regular guy. But he is the focus of a multimillion dollar campaign of negative attack ads -- and he's not even a politician.
Sizemore is what's called a "ballot-ician." Over the past 14 years, the former businessman has filed more than a hundred ballot initiatives, on everything from property taxes to education to home construction.
As he showed me stacks paper containing rows of petition signatures neatly piled up on desk, I asked him, "Do you sit around the house and dream this stuff up and then write it?"
"Yes," he said. "That's how it happens."
Sizemore had five initiatives on the ballot during the election, including one that would lower state taxes, one that would give merit pay to teachers and one that would allow homeowners to do $35,000 worth of renovations to their homes without getting a permit.
"I have strong convictions about basic issues," he said. "Things like property rights, lower taxes. I think issues like that are moral issues."
In his attempt to change Oregon's laws, however, Sizemore -- who's a self-described conservative -- has made a powerful and diverse coalition of enemies. Their basic argument is that Sizemore's initiatives may sound good at first glance but are usually so vaguely worded and ill-conceived that they would have enormously negative consequences.
This year, as they do every year, Sizemore's opponents -- led by the state public employee unions -- mounted a multimillion dollar campaign against Sizemore's initiatives, including television ads and an anti-Sizemore Web site.
Members of the Oregon teachers' union said Sizemore's education initiatives would hurt students.
"He has no experience in education," public school teacher Jen Murray said. "He writes these initiatives where he doesn't have to deal with the consequences, whereas all Oregonians in public school will."
Sizemore's critics say he's motivated not only by his conservative philosophy but also by money.
Washington's Race for Governor Plays Into National Republican Unpopularity
Posted by By DAN HARRIS October 27, 2008 | 8:09 PM EDT
Washington, especially Seattle, is a state so blue that "Republicans for Obama" bumper stickers are common. At Halloween costume stores this season, Barack Obama is easily outselling John McCain.
One customer told us, "I'm going as an endangered species -- a Republican."
It's a challenging environment for Republican Dino Rossi, who's decided to run for governor under the label GOP instead of Republican.
GOP, short for the Grand Old Party, has been a nickname for the Republican Party since the 1800s. Rossi is using GOP in his campaign ads, and on the ballot.
While the term is well-entrenched, many people believe his decision is an effort to distance himself from the damaged brand of the Republican Party, something Rossi himself disputes.
"That's sheer silliness," he told ABC News. "Every speech I give, I talk about me being a Republican. That's no secret."
Democratic Gov. Christine Gregoire, who beat Rossi by 133 votes in 2004, disagrees. She sued, unsuccessfully, to force Rossi to put "Republican" next to his name on the ballot.
He "says he's 'GOP'... knowing full well people don't know what that stands for," Gregoire said. "And knowing full well that if they're confused, they might think he's a Democrat."
Rossi denied that the move to GOP was intended to "confuse" Democratic voters into voting Republican.
"Well, most everyone I know knows GOP means Republican," he said.
One polls shows 25 percent of Washington voters, including 18 percent of Washington Republicans, didn't know what GOP means.
"That's a good question," said one Lakewood voter. "I actually don't know the answer to that."
Republicans across the country are resorting to extraordinary measures to distance themselves from a party weighed down by an unpopular president.
In Oregon, Republican Sen. Gordon Smith is running ads linking himself to Obama in hopes of gaining appeal.
Whatever Rossi's motives may be, many believe that using GOP, instead of Republican on the ballot, could give him an edge in what is expected to be another tight race.
Posted by William M. Welch, USA TODAY October 27, 2008 | 12:12 PM EDT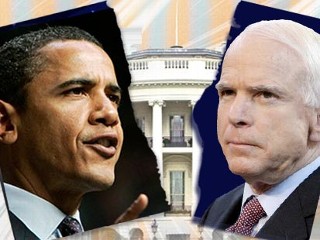 An increasingly blue state on the national electoral map, Washington hasn't voted for a Republican for president since Ronald Reagan in 1984.
(ABC News Photo Illustration)
If this election is about change, as Barack Obama and John McCain say, Democrats here in Washington state are asking voters not to go too far.
An increasingly blue state on the national electoral map, Washington hasn't voted for a Republican for president since Ronald Reagan in 1984.
Posted by JOHN FRITZE, USA TODAY October 23, 2008 | 2:24 PM EDT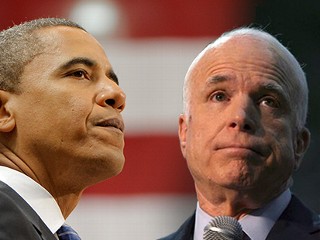 New Mexico teams effort a get out the vote push ahead of the November 4 general election.
(ABC News Photo Illustration)
In this battleground state, Jennifer Chadwell-Feld is already at war.
Chadwell-Feld, 58, dials voters from a small warehouse, gauging support for Republican presidential nominee John McCain and reminding them a vote Nov. 4 could be crucial in one of the nation's tightest swing states.
"Since you support McCain, would you be willing to volunteer for the campaign?" the volunteer says and records the answers, which will be entered into a computer. "Can we get you a yard sign?"