Travel with ABC News to see how this election impacts all corners of the country
Posted by RICK JERVIS, USA TODAY on
Wednesday, October 22, 2008 at 11:55:43 AM EDT
Ron Booth voted Republican in the presidential election four years ago.
In the staunchly Republican state of Texas, home to President Bush, that's not much of a surprise. Booth says, however, that in November, he'll cast his vote for the Democratic presidential candidate, Sen. Barack Obama.
"You can't do the things of the past to solve the problems of the future," says Booth, 45, a finance manager, as he lunched recently at an outdoor cafe in downtown Houston. "We need change. That's Obama, clearly."
Posted by JEFFREY KOFMAN on
Monday, October 20, 2008 at 4:26:00 PM EDT
He is the Crusading Sheriff.
Despite criticism, 'America's Toughest Sheriff' expects to be re-elected.
Joe Arpaio, who likes to be known as Sheriff Joe, is determined to get rid of every illegal immigrant in Maricopa County, no matter what the cost.
"I'm an equal opportunity law enforcement and incarcerator -- I lock everybody up," he said.
With his ever-present angry growl, the man who has been called "America's Toughest Sheriff" speaks for a good number of frustrated Americans when the issue is illegal immigration. But he has also drawn fire for his aggressive pursuit of illegal immigrants, casting a wide net by raiding local business in search of illegal employees and using traffic violations as excuses to search the vehicles of anyone whom he thinks shouldn't be here.
Using traffic stops and raids around the county, Sheriff's Deputies have sent thousands of illegal immigrants to Maricopa County jails, and it has made Sheriff Joe a local hero to many in the Phoenix area. Which is why he is confident he will win re-election for a fifth term next month. But he has also become a target, for what his critics see as unconstitutional abuses of power.
Posted by JOHN DONVAN on
Monday, October 20, 2008 at 2:55:00 PM EDT
San Antonio, Texas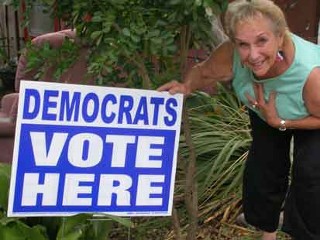 Texan Terralita Maverick is an Obama supporter, but her family is responsible for the word that Sen. John McCain and Gov. Sarah Palin have adopted as part of their campaign.
(Courtesy Terralita Maverick)
Sen. John McCain and Gov. Sarah Palin have laid claim to the term "maverick," a word that was on our minds as "Nightline" headed to the Texas range in a trusty red rental car as part of ABC News' "50 States in 50 Days" series.
We'd heard that the term "maverick" originally had something to do with cows. Actually, not cows -- cattle. There is a difference -- cows are female cattle, as opposed to bulls and steers.
Outside San Antonio we came to the home of one Terralita Maverick, age 82. Terralita lives in a converted trolley car festooned with family history, because the word maverick -- as used today -- comes from her great grandfather, cattle rancher Samuel Augustus Maverick.
Traditionally, cattle was branded to tell who owned it, but something happened with rancher Samuel Maverick's herd.
"My great-grandfather didn't have time to brand his cattle, he gave it to his help, to the cowboys to do, and they did not do it," Terralita said, blaming their negligence on "drunkenness."
And so maverick came to mean unbranded, and from that, a label for standing apart from the crowd. Teams took the name, and Tom Cruise in the movie "Top Gun," and a car and a wine and a weapons system -- the maverick missile.
And of course, two Republican candidates, which Terralita Maverick isn't too happy about.
"I get mad," she said. "First of all, [McCain] cannot be a maverick in upper case or lower case because he's not related to me and he's not independent of his voting record or of the Republican Party."
Watch the story tonight on "Nightline" at 11:35 p.m. ET
Posted by JOHN DONVAN on
Monday, October 20, 2008 at 2:55:00 PM EDT
El Dorado, Kansas--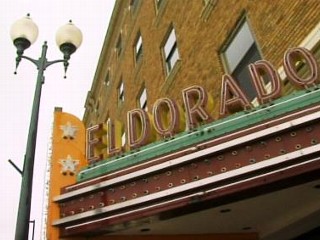 As Election Day approaches in El Dorado, Kansas, it's evident that this always solidly Republican...

(ABC News)
Though Barack Obama came here, he didn't quite conquer. The town that was home for several years to Obama's maternal -- and white -- grandfather enjoyed a brief moment in the limelight earlier in this campaign season, when the Democratic candidate spent part of a day here highlighting his connections with the community.
But with Election Day near at hand and things settled down in El Dorado, it's appears that this always solidly Republican community will go, once again, to the Republican candidate for president. "Nightline" visited the town as part of ABC News' "50 States in 50 Days" series.
Watch the story tonight on "Nightline" at 11:35 p.m. ET
Republican Mike Cooper was unimpressed by Obama and did not attend his rally last winter. "I felt he wasn't the candidate for me and it wasn't worth my time," explained Cooper, who works in a farm equipment dealership. "And honestly I had several customers that I had talked with who lived in the area and three or four of them said anybody with the name Barack Hussein Obama shouldn't even be here."
Posted by JOHN STOSSEL and CATHERINE BROSSEAU on
Friday, October 17, 2008 at 10:08:22 AM EDT
Every year, politicians promise that they are going to save the family farm. But government farm subsidies don't always mean good news for farmers.
This year, Congress passed another $300 billion farm bill. Sen. John McCain opposed it, calling it "bloated legislation that will do more harm than good." But Sen. Barack Obama supported it.
Obama wouldn't talk to "20/20" about the farm bill. Neither would 69 members of Congress who voted for it. Finally, Randy Kuhl, R-N.Y., and Sheila Jackson Lee, D-Texas, agreed to speak.
Kuhl said farm subsidies help to keep rural communities alive, and without them people would move elsewhere and be forced to find different jobs. That's why he voted for the farm bill.
Palin's Hunting Backyard Gives Republicans an Edge Here
Posted by By IMAEYEN IBANGA on
Thursday, October 16, 2008 at 7:15:24 AM EDT
For some Wyoming residents, guns are as much a part of life as the wildlife that inhabits much of the state's landscape. Firearms are an indelible part of the culture in places like Jackson Hole, where the buffalo don't just roam, they block traffic.
And for families like the Allans, Second Amendment concerns help mold their presidential picks. Because guns aren't just a political issue, they are a way of life.
"Guns are just part of our life," said Clark Allan, who added, "I have a chainsaw by the door, I have a shovel I have a gun and we use 'em all the time. Living in a big city they probably don't have chainsaws and shovels by the door either."
The family owns somewhere between 20 and 25 guns, but thinks it needs more.
Sen. Tim Johnson battles for re-election in GOP dominated state.
Posted by JEFF MARTIN, USA TODAY on
Wednesday, October 15, 2008 at 9:40:38 AM EDT
Sen. Tim Johnson has come through emergency brain surgery, a coma and a grueling recovery.
Now, Johnson, a 61-year-old Democrat who battled back from a December 2006 brain hemorrhage, is running for re-election in a GOP-dominated state where President Bush won 60% of the vote in 2000 and 2004.
It may turn out to be the easiest thing he's done in two years.
Johnson, running against Republican state lawmaker Joel Dykstra, was comfortably ahead 60% to 35% in a July Rasmussen Reports poll, the most recent statewide poll on this year's race.
Anxieties About the Economy, Obama Have Created an Unpredictable Dynamic in Keystone State
Posted by By Kathy Kiely, USA TODAY on
Tuesday, October 14, 2008 at 1:28:40 PM EDT
At Rep. Mike Doyle's annual picnic here in this Pittsburgh suburb, Janet Keane recalled coming home during the Depression, when "honest to God, there was nothing to eat."
Keane, 85, a longtime friend of the Democratic congressman, said last week that she's looking for someone who will spare her grandchildren that experience as she tries to decide between Democrat Barack Obama and Republican John McCain in the presidential election Nov. 4.
"I like McCain," she said. "But I don't like that he's a Bush man."
Barack Obama Might Want to Be President, but James Akahi Wants to Be King (of Hawaii)
Posted by DREW MILLHON and LEE FERRAN on
Friday, October 10, 2008 at 6:46:35 PM EDT
Sometimes being a journalist is a tough, tireless and, at times, dangerous job.
But then sometimes you get an assignment to cover a story that sends you to beautiful tropical islands where you trade shoes for sandals, monitor glare for sunshine and hurried showers for dips in the clear blue ocean.
If you are "Good Morning America Weekend's" Bill Weir that is.
Somehow Bill managed to nab the most coveted assignment on ABCNews' 50 States in 50 Days project: Hawaii.
But all is not surf and sun in Barack Obama's home state. While there, Bill found that Hawaii boasts a complex and proud history and is watching closely as one of its own attempts to change the future.
It has been more than a century since American sugar plantation owners led an overthrow of the Queen of Hawaii. By the time statehood arrived almost a half century ago, there were so many American "haolies" that any Hawaiian protest was drowned out by parties in the street.
But after years of development, the natives got restless, and this summer a simmering movement made news when a group of radical secessionists broke into the Iolani Palace in Honolulu.
James and Grace Akahi claim that their bloodline makes them the rightful King and Queen of Hawaii. They travel on their own homemade passports and they are suing the government for $100 trillion.
But such secessionist vigor is balanced on the islands by an equally fierce patriotism and belief in democracy. It is a land of contradictions, where minority opinions compete because everyone is a minority. Hawaii has the highest mixed-race population of any state.
And it is here that a half-black, half-white kid named "Barry" came of age before the world knew him as Barack Obama.
The Obama camp is so confident that Obama's statesmen will vote in his favor, they don't run ads on the island.
Brian Schatz, chairman of the Democratic Party in Hawaii, told "Good Morning America" that the numbers speak for themselves.
"We went from 2-3,000 people normally showing up to our caucuses to 38,000 people," Schatz said.
Long Winter Nights, Short Letters to Battleground States
Posted by KATE SNOW, MATT FRUCCI and LEE FERRAN on
Friday, October 10, 2008 at 6:46:35 PM EDT
Alaskan resident Ryan Kopiasz, 27, is passionate about organizing for Barack Obama.
"I think the Obama campaign and their strategy -- that every vote matters, every voter matters, every community matters -- resonates really well with a lot of Alaskans," Kopiasz told ABC News.
But the young organizer is fighting an uphill battle; Alaska has not gone for a Democrat in a presidential election since Lyndon Johnson defeated Barry Goldwater in 1964.
Back in the summer, when the nights were bright, the Obama team thought they might have a chance in the northernmost state. The FBI went after Republican lawmakers for corruption, while the state's senior GOP senator, Ted Stevens, was indicted for corruption.
"For the first time in years and years and years and years, the three Alaska electoral votes were in play for the Democrats against Republicans," Prof. Stephen Haycos of the University of Alaska told "Good Morning America." "That was the case for a little while."
But then, the political earth shifted under Alaska's feet when GOP presidential candidate John McCain chose Alaska Gov. Sarah Palin as his running mate.
"A lot of Republicans might not have gone to the polls," Haycox said. "They didn't want to vote against Republicans, but they didn't particularly want to vote for a Democrat. So they might have stayed home. But now, everybody is going to come out for Sarah Palin."
The governor is extremely popular in her state, Alaska GOP chairman Randy Ruedich said.
"The governor has been overwhelmingly successful in maintaining a positive image here," Ruedich told "Good Morning America." "Popular is a soft understatement."
And though there are anti-Palin rallies in Alaska, polls are projecting a Republican victory in the state by double digits.
As the nights grow long again and winter looms closer, Obama supporters in Alaska have shifted their focus away from their own state. Instead, they write postcards to battleground states. Some Republicans are responding in kind, sending their own postcards to the same battleground states.