Travel with ABC News to see how this election impacts all corners of the country
Posted by NITYA VENKATARAMAN on
Thursday, October 9, 2008 at 3:10:22 PM EDT
A North Carolina parking lot owner says supporters of the Democratic presidential candidate are no longer welcome to park their cars.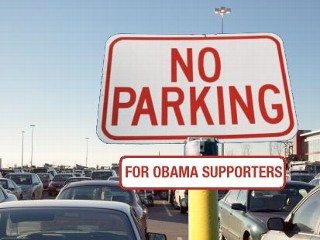 North Carolina parking lot owner says Obama supporters and those driving cars with Obama stickers are not welcome to park.
(ABC News Photo Illustration)
WFMY reports Tim Henderson, who owns a parking lot in Gibsonville, N.C., "put up "no parking" signs targeting Barack Obama supporters."
The lot owner tells WFMY that his message is clear: He's posted two signs discouraging Obama supporters or those in cars with Obama stickers displayed on them from parking there.
"I don't know how many ways you can interpret it. If you're an Obama supporter, you've got an Obama sticker on your car, you're not welcome to park here," Henderson told the Greensboro CBS affiliate station.
Posted by BEN JONES, USA TODAY on
Thursday, October 9, 2008 at 7:46:31 AM EDT
There's a campaign going on in this village of 6,444 in the northeast region of this battleground state.
Lawn signs line the sidewalks and organizers talk on cellphones in a temporary office.
The signs are not part of a political campaign. They carry slogans such as "World class work force" and "Save U.S. Jobs" and are part of an effort to save a paper mill, and maybe a town.
Should Uninformed Voters Be Casting Their Vote on Nov. 4?
Posted by By JOHN STOSSEL on
Wednesday, October 8, 2008 at 1:09:54 PM EDT
We keep hearing how important it is for everyone to vote and that voting is our civic duty.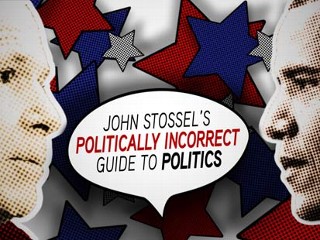 Unconventional political wisdom from John Stossel Friday on "20/20" at 10 p.m. ET.
(ABC)
Celebrities like Christina Aguilera, Leonardo DiCaprio, Diddy and Dave Matthews urge everyone to get out and vote. And to help people vote, voter registration groups such as HeadCount deploy volunteers to sign people up.
Watch John Stossel's "Politically Incorrect Guide to Politics" at 10 p.m. on Friday, Oct. 17.
HeadCount focuses on registering young people at rock concerts and music festivals around the country. During the concerts, famous musicians such as Eddie Vedder and Jack Johnson implore their fans to sign up to vote. Marc Brownstein, the bassist for the band The Disco Biscuits and a co-founder of HeadCount, tells fans to "please participate this year by casting your vote!"
Brownstein and a friend, Andy Bernstein, co-founded HeadCount in 2004.
"We do this because we want the kids to be a part of the political process," Brownstein said.
Bernstein added, "We registered over 100,000 people. ... It is so imperative that this generation's voice is heard. And they are being heard."
But are these get-out-the-vote drives entirely a good thing? "20/20" asked some newly registered young people some basic questions about our government.
Some people were knowledgeable. "There are two senators from each state, making a total of 100," one young voter said. Another knew that "the Bill of Rights is the first 10 amendments to the Constitution."
But many of the young voters didn't seem very informed. Some didn't know how many states are in the U.S. or how many senators there are. Few could explain Roe v. Wade, the landmark Supreme Court ruling upholding abortion rights.
"Roe v. Wade is segregation maybe?" one new voter guessed.
Another asked: "Was Roe v. Wade where we declared bankruptcy?" And still another wondered, "That was about a black person and a white person?"
Brownstein said, "There's a lot of uninformed voters out there."
So should those uninformed voters just stay home?
Conservative Evangelical Vote Still the Republican Party's to Lose
Posted by CLAY CAREY, USA TODAY on
Tuesday, October 7, 2008 at 6:46:43 AM EDT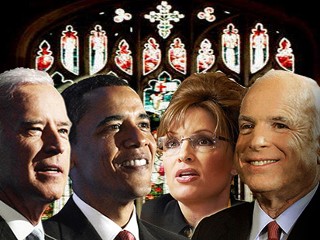 (ABC News Photo Illustration)
Dennis Barbee cares about low taxes. He also wants a strong economy and solid national security.
Above all else, the registered nurse from Spring Hill, Tenn., is basing his vote this November on moral issues.
"Making sure human beings have a right to live is important to me," Barbee says. He isn't yet sure who he'll vote for, but the candidate he backs will be "a godly person that definitely has Jesus Christ as their savior," he says.
Posted by TOM NAGORSKI on
Monday, October 6, 2008 at 11:57:49 AM EDT
"World News" is road-tripping this week through some hotly contested battleground states. Senior producer Tom Nagorski blogs from our bus while driving through Ohio: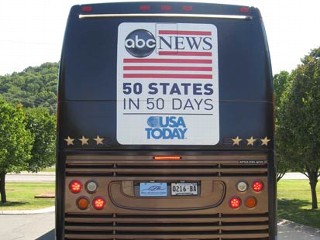 "World News with Charles Gibson" kicked off the Great American Battleground Bus Tour in the weeks leading up to the presidential election, reporting from battleground states that will play a pivotal role in determining the election's outcome.
The word "battleground" may be overused, but there is no question that the state of Ohio once again fits the bill better than any other. No GOP nominee has gone to the White House without winning here, and it's one of the tightest states at the moment.
Folks here know all this -- they are being bombarded with ads, and as one Dayton native told us, "Don't know how we do it, but we always seem to get it right." Meaning: How Ohio goes, so goes the nation.
Ohio is also ground zero for an assault on manufacturing jobs -- nearly 17 percent of those jobs have left the state since 2001. We met four men who had worked for between 10 and 15 years for General Motors, only to learn just last week that their plant in Moraine is shutting down. These men have poured their lives into GM -- three had fathers and two had grandfathers who worked on the GM lines as well.
One is for McCain, two are for Obama and one is leaning McCain but not certain. Interestingly, one of the Obama supporters has never voted for a Democrat for president, and the other borrowed a McCain slogan to say, "Country first -- I'm voting for the Democrats."
The four men agree on this much: The economy overwhelms all else, and they have faith in themselves and their country to bounce back.
One view from the battleground.
Posted by By SHARYN ALFONSI on
Monday, October 6, 2008 at 8:28:40 AM EDT
For a while it seemed the good times would roll forever, but now luck might be running out for Connecticut's two largest casinos.
Foxwoods is laying off 700 workers this month. A $700 million expansion at Mohegan Sun has stopped cold, putting the brakes on 2,000 new jobs. For the first time in 15 years, the casino business is slow.
Reissa Mello, a casino bartender, said, "So what do you see happening to the tip jar? We see we're getting 30 percent less at the end of the week and that adds up. Scary? Very scary."
Mohegan Sun executives say the slowdown is across the board, from high rollers to retirees.
State Forced to Postpone Bridge Repairs, Limit School and Shelter Funding
Posted by DAN HARRIS on
Friday, October 3, 2008 at 2:00:25 PM EDT
If you want to get a sense of how your state government may look soon, check out Rhode Island.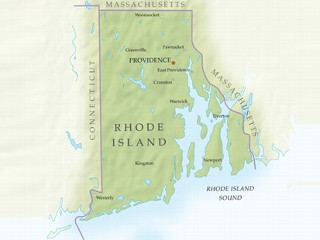 Rhode Island's governor and state legislature were forced to make budget cuts that are impacting nearly every aspect of life.
The governor and state legislature were forced to make budget cuts that are affecting nearly every aspect of life.
From postponing bridge repairs -- about half of bridges are considered deficient -- to cutting back hours at the Department of Motor Vehicles, to raising fees at senior citizen centers.
The state has also been unable to provide additional funding for struggling public schools.
At the University of Rhode Island, experienced professors were encouraged to retire in exchange for less experienced, less expensive faculty.
The budget cuts have affected the school "in every way possible," said Brenna McCabe, editor in chief of the Good Five Cent Cigar, the University of Rhode Island's student newspaper.
"I think they're under the impression that the quality of education here is decreasing," McCabe said.
Rhode Island may be a canary in the coal mine. This state, which has the second highest unemployment rates in the nation, was hit hard by the housing bubble, went into recession and had to make significant budget cuts. Hundreds of city and state workers have had their benefits cut. Now other states are catching up.
Virginia laid off 570 state workers; Missouri is delaying plans to fix its main airport; Minnesota scrapped a plan to expand its 911 system. And California said it might have to ask the Federal Reserve System for a loan to cover expenses at schools, police stations and nursing homes.
As often happens when budgets are cut, it is Rhode Island's poor who suffer the most.
The main food bank has seen its state funding slashed by half -- at a time when it's seeing a flood of new clients.
There is "more need and more people who are really desperate for help," said Andrew Schiff, executive director of Rhode Island Community Food Bank. "And that's what we're really concerned about. It's not even winter."
At the state's largest homeless shelter, which is also dealing with big budget cuts, the living room has turned into a makeshift bedroom for 16 women. At night, the chairs double as beds.
Charlie Gibson Talks to Iowans About Finance, Fear and 401ks
on
Friday, October 3, 2008 at 2:00:25 PM EDT
The "World News" Battleground Bus Tour's first stop was Dixon, Ill., to see Ronald Reagan's boyhood home. We were just curious about it really -- but we were visiting at the point the market was down 700 points this morning, so we stopped off to meet the local broker.
"We're trying to encourage people to, one, to make sure they're diversified properly and, two, if it's not money you need right away, you just need to stick to it," said Kim Pettigrove, financial advisor with Edward Jones. "I am booked throughout the day, and I have a stack of phone messages I keep trying to get back to."
Across the street in the local book store, four retirees made appointments to see Pettigrove.
"Like everyone else I got that quarterly [retirement savings] report a week ago and went, 'Oh, my God'; it was just really scary," said Marilyn Coffey. "I had a total of $125,000. It was down $17,000 in three months."
Coffey's husband was more optimistic.
"I think the bottom is close and I think it will start rebounding," said Tom Coffey. "But my fear, again, is that when you retire, your needs are more immediate. So hopefully, it will rebound faster than when I run out."
Next, the bus tour was off to a family farm in Eldridge, Iowa.
Neal Keppy and his brother run a 1,900-acre family farm. They grow corn and soybeans, and raise 7,000 pigs each year for market. For them, times are pretty good.
"It's kind of like the stock market," Keppy said. "It's more volatile now than any time in history before. The market now can move up and down 30 cents a day for corn -- whereas when my brother and I first started farming corn in 2000 ... if it moved 30 cents in a year that was a big move."
Overwhelming Effort to Get Out the Vote in Georgia
Posted by By STEVE OSUNSAMI on
Friday, October 3, 2008 at 2:00:25 PM EDT
It's a Friday night in Valdosta, Georgia, and what looks like the whole town is in the football stadium stands, cheering for the home team. Shouts of "Come on defense" and "Go Wildcats" ring out across the field.
But it's not just football that's happening there. In this election year, the local stadium is one of the many places across town where they're registering voters.
"I went to a high school football game, to watch the high school band primarily, and as I walked up there was a table there registering people to vote," said Deb Cox, the director of the Board of Elections. "It would be difficult to not register if you weren't registered to vote in Loude's county."
At the grocery store, at restaurants, even on the street corners, there's someone there, registering voters. In the last two weeks alone, 4,000 new voters have signed up.
Watch the story tonight on "World News" at 6:30 p.m. ET
According to Ricky Rowe, whose son is the quarterback, people in Valdosta are worried about higher gas prices and lower home prices.
"I think the economic issues have taken the forefront of this election, and we've really not heard -- I've not heard from either side -- how to solve the issues," he said.
Voters Worried About Fate of Small Business and Retirement
Posted by JEFFREY KOFMAN on
Thursday, October 2, 2008 at 6:11:41 PM EDT
In the swing state with the biggest electoral prize in the country, Interstate 4 could be the road to victory.
I-4 cuts across Central Florida from Tampa to Daytona. It divides the reliably Republican north and west from the heavily Democratic Miami area.
I-4 is the battleground.
"We are the fastest growing region in Florida," said Aubrey Jewett, an associate professor of political science at the University of Central Florida. "And because we have so many newcomers, they are not always necessarily so set in their political ways."
Unlike parts of the state with older voters who've generally got their minds made up, Central Florida is made up of many young groups who aren't registered with either party. The combination of demographics and new voters makes the area especially volatile.
There are 2 million new voters in Florida since the 2000 election, many of whom are spooked by the Wall Street meltdown.
The fastest growing demographic of new voters in Florida is Hispanic. Puerto Ricans, who compose a large part of the Central Florida mix, have tended to lean Democratic. But many have been swayed in recent elections, making them a crucial swing vote. "One other issue, of course, that Hispanics care a great deal about in Central Florida is immigration. For a while, earlier this year, that was a burning issue," Jewett said. "That's kind of faded as the economy and the war in Iraq and other things seemed to be the big issues."
Polls show that Florida voters now are most concerned about the economy.
At the Tomato Express Supermarket, which specializes in products from South America, business from last year has fallen 35 percent.
Stella Siracuza, the supermarket's owner for 17 years, says that as her customers face financial stress and cut back on purchases, she feels the strain of rising costs and lower profits.
"It's very, very real for me and very real for my customers," Siracuza said. "Something has got to be done and I just don't see that's happening fast enough. I'm feeling the economy go down. I'm feeling it in sales. I feel it in my customers and I don't see anything happening fast enough."