Election 2016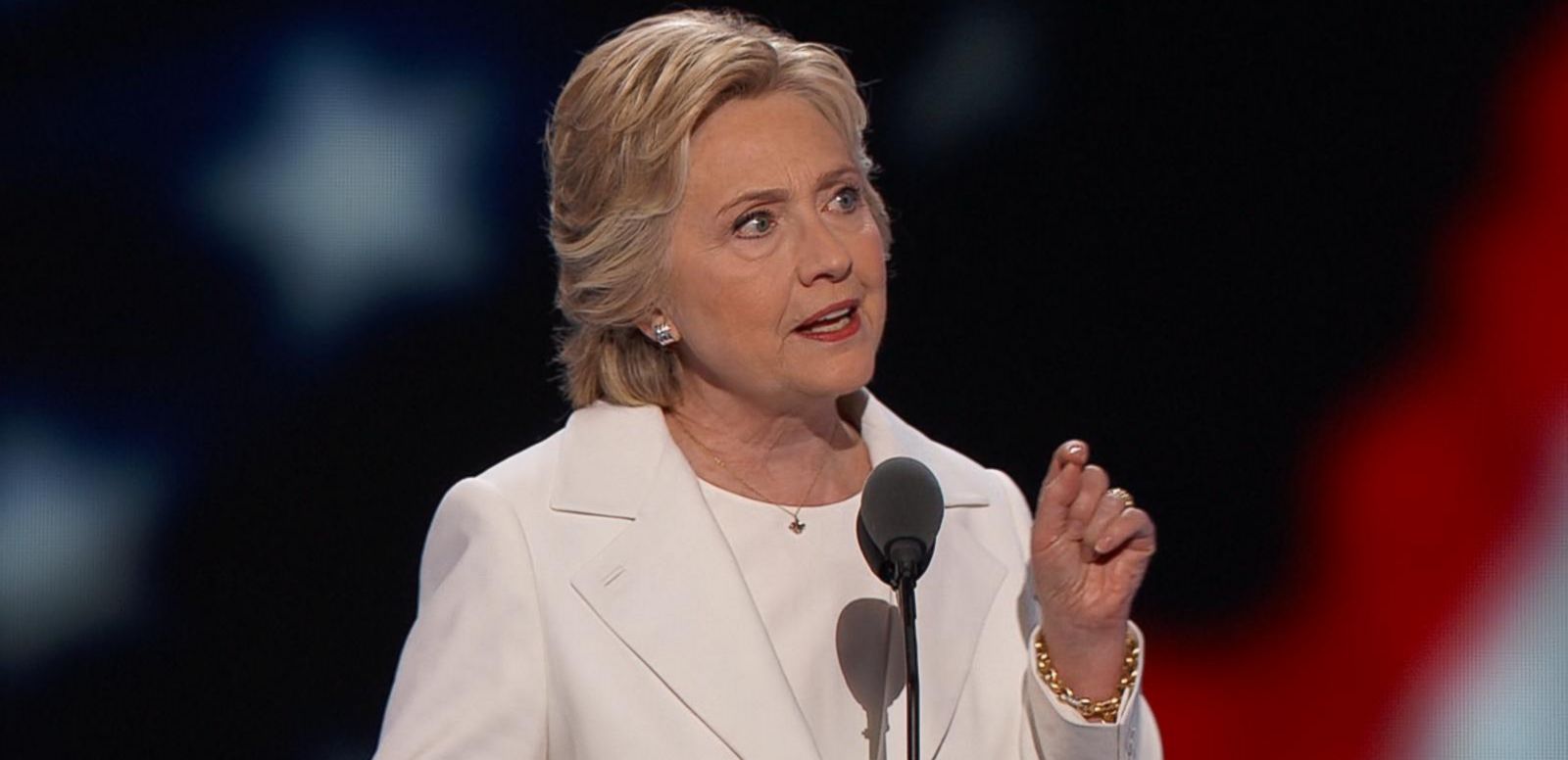 2016 Interactive Electoral Map: Forecast Who Will Win -- Clinton or Trump
Each state is allotted a certain number of electoral votes based on the number of members of Congress that represent that state.
A candidate needs 270 electoral votes out of 538 to win the presidency. Get started to make your own forecast.
1.
Hillary's Night at the DNC
Hillary Clinton has accepted the Democratic Party's presidential nomination last night in Philadelphia, making history as the first woman to be chosen to run for the highest office in the land by a major party in the United States, ABC's MEGHAN KENEALLY, LIZ KREUTZ and JOSH HASKELL report. "Today, we've reached a milestone in our nation's march toward a more perfect union: The first time that a major party has nominated a woman for President," Clinton said. "Standing here as my mother's daughter's, and my daughter's mother, I'm so happy this day has come." http://abcn.ws/2auyZ3H FULL TEXT: http://abcn.ws/2a8DL4o
3.
The wild week of the Democratic National Convention brought anger and unpredictability, loud disagreements and flashes of patriotism and a party exposing its divisions and anxieties for the nation to see, ABC's RICK KLEIN writes. In other words, it revealed America. And when Hillary Clinton made it all official, accepting the Democratic nomination Thursday night, she presided over a party that looked stronger, and potentially bigger, than it did just a few days ago. "Powerful forces are threatening to pull us apart," Clinton said. "And just as with our Founders, there are no guarantees. It's truly is up to us. We have to decide whether we will all work together so we can all rise together." Hillary Clinton used her convention to stage-manage a reintroduction. http://abcn.ws/2aOry6n
4.
George Stephanopoulos goes one-on-one with Republican presidential nominee Donald Trump, in his first interview since the Democratic convention, Sunday on "This Week." Plus, Vice President Joe Biden opens up about his relationship with the president, and life after the White House. Then, Retired Marine General John Allen explains why he's endorsing Democratic presidential nominee Hillary Clinton. And, the Powerhouse Roundtable debates the week in politics with ABC News Chief White House Correspondent Jonathan Karl, Washington Examiner columnist and Republican strategist and pollster Kristen Soltis Anderson, Fox News anchor Greta Van Susteren, The Young Turks host Cenk Uguyr, and The Atlantic senior editor Alex Wagner.
5.
Red, white, blue and gigantic star-spotted balloons showered the convention floor of Wells Fargo arena Thursday night to usher in the historic nomination of Hillary Clinton, the first female nominee for president of any major US political party. Watch in full 360 video here or in VR with the Littlstar app for iOS, Android, Samsung Gear and Apple tvOS, courtesy of ABC's RONNIE POLIDORO and MICHAEL HAYDEN: http://abcn.ws/2ahOVn7
6.
The Donald Trump campaign said Hillary Clinton's Democratic National Convention speech was "delivered from a fantasy universe," in a scathing rebuke against the newly-minted Democratic presidential nominee, ABC's BRIAN MCBRIDE notes. "Clinton's speech was an insulting collection of clichés and recycled rhetoric," Trump's Senior Policy Advisor, Stephen Miller, said late Thursday night. "She spent the evening talking down to the American people she's looked down on her whole life." Earlier in the evening, Clinton spoke before thousands at the Wells Fargo Arena in Philadelphia to formally accept her party's nomination. Shortly after Clinton spoke, Trump fired off a series of Tweets, one of which blasted his election rival for "corruption" and said "devastation" follows her wherever she goes. http://abcn.ws/2a45p71 TRUMP VS. CLINTON: COMPARING THE SPEECHES, ABC's ADAM KELSEY takes a closer look at the acceptance speeches by the two nominees: http://abcn.ws/2a4H5Sq
7.
Two days after the candidacy of Bernie Sanders officially came to an end, supporters of the Vermont senator made their displeasure known on the final night of the Democratic National Convention – holding up signs saying "liar" and chanting "no more war" during speeches. Across the Wells Fargo Center, many Sanders' delegates also wore neon yellow, glow-in-the-dark t-shirts with the words, "Enough is Enough" written on them. However, Sanders delegates received a text message from the Sanders organization asking them to be respectful throughout the evening. Despite the message, the delegation from California unfurled a large banner that said "Wikileaks" -- in reference to the DNC email leak scandal -- during a video introduction of Clinton. During Clinton's speech there was sporadic shouting from the crowd that was quickly drowned out by chants of "Hillary." ABC's SHUSHANNAH WALSHE, ADAM KELSEY, MARYALICE PARKS and BRAD MIELKE have more. http://abcn.ws/2auNPaE
Best of the 2016 Primary Debates
Inside the Republican National Convention
Republican National Convention Speeches
In Depth: The Latest ABC News-Washington Post Polls