Iran News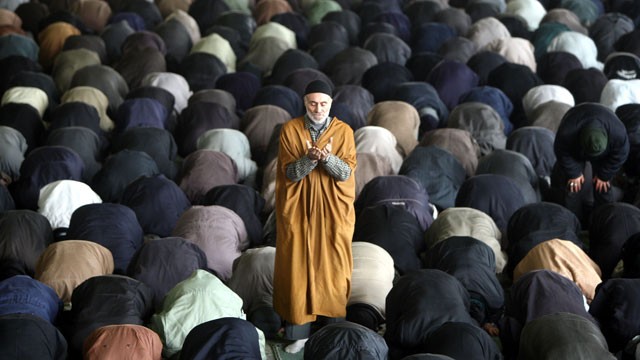 About Iran
Iran is a country located in the Middle East and borders Armenia, Azerbaijan, Afghanistan, Pakistan, Iraq, Turkey and Turkmenistan. It currently has a population of 78 million according the CIA World Factbook. Tehran is the capital and the official language is Persian.
Mother of Jailed Former US Marine in Iran Pleads With Obama

The mother of a U.S.-born former Marine accused of espionage in Iran recently pleaded with President Obama "not to forget" her son's plight as the U.S. continues tense, high-level negotiations over Iran 's nuclear program. "Amir [Hekmati] was taken from me nearly three years ago, falsely...

US Open To Cooperating With Iran on Iraq, Kerry Says

The United States and Iran may find themselves unlikely allies in the fight against Sunni extremists in Iraq, Secretary of State John Kerry indicated today. Kerry said the United States would be willing to work with Iran on ways to stem the progress of ISIS,...

Iranian Journalist Denounced as 'Whore' Amid Women's Rights Campaign

Mere weeks after sparking the "Stealthy Freedoms" social movement, creator and London-based Iranian journalist Masih Alinejad is finding herself in the center of the story, and in the eye of the storm. As ABC News previously reported, "Stealthy Freedoms of Iranian Women" is a social...

Iraq, Iran Top World's Unhappiest Countries List

Do you live in one of the world's unhappiest places? A new study released this week by Gallup cited Iran as the country with the highest negative emotions — a close second behind Iraq. Just last month, six Iranians were arrested in the country for...

'Stealthy Freedoms of Iranian Women' Campaign Gains Steam

Freedom comes in all shapes and sizes — it can be as monumental as the Declaration of Independence, as American as apple pie, or as simple as letting your hair flutter in the breeze. London-based journalist Masih Alinejad is at the center of a social...

Pharrell, Iranian President React to Tehran 'Happy' Arrests

Singer Pharrell Williams and Iranian President Hassan Rouhani both took to Twitter to react to the news that six young Iranians were arrested after they posted a video of themselves last month dancing to Pharrell's hit song "Happy." Pharrell linked to a New York Times...

Hillary Revising History of Her Iran Sanctions Role, Senator Claims

Hillary Clinton is exaggerating her role in imposing sanctions on Iran when she was Secretary of State in what one Republican said today was a "blatant revision of history." Sen. Mark Kirk, R-Ill., made the accusation a day after Clinton told the American Jewish Committee...