Kate Middleton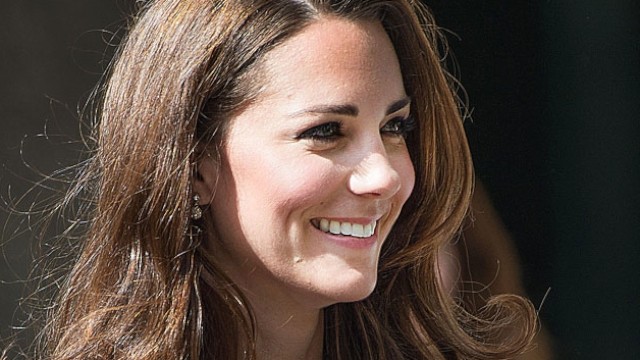 About Kate Middleton
Kate Middleton, now known as Catherine, Duchess of Cambridge, is the wife of Britain's Prince William. Prince William asked Middleton, to marry him while the two were on vacation in Kenya in 2010. They married on April 29, 2011 at Westminster Abbey. Middleton comes from a family of commoners. William and Kate broke up briefly in 2007 but were back together within months. Prince William is second in line for the throne, after his father Charles, Prince of Wales. Prince William's mother was Diana, Princess of Wales, who died in an auto accident in 1997.
Featured Blog
Kate Middleton Spills Pregnancy Secrets

Duchess of Cambridge Kate Middleton has mostly stayed mum on becoming a new mom, until now. The duchess, 31, revealed, first, that she is just like any any pregnancy, picking a baby's name. PHOTOS: The Life and Times of Kate Middleton "My friends keep texting me names," Middleton said Thursday during a visit to a homeless shelter in Glasgow, Scotland, with her husband, Prince William . Perhaps clearing up, or purposely diverting, rumors that the royal heir-to-be is a girl after her slip of the tongue last her slip of the tongue last month , Middleton said she and Prince William have a "short list of names for both [a boy and a girl] " but stopped short of giving any more clues.
Latest Kate Middleton News
News
Prince Harry to See NJ Storm Damage, Visit NYC

partnership with the Royal Foundation of the Duke and Duchess of Cambridge and Prince Harry. The foundation bills itself as the of Prince Harry and his brother and sister-in-law, Prince William and Kate . On Tuesday evening, the prince is the honored guest

Royal Baby Could Arrive During Queen's Party

this summer, according to a report. A friend of the Duke and Duchess and Cambridge told the Mail on Sunday that Kate Middleton 's official due date is July 13. If true, that means the future king or queen would be born the middle of the Queen

Kate and William Poach Housekeeper From the Queen

The Duke and Duchess of Cambridge placed an been hired by Prince William and Duchess Kate to oversee READ MORE: Kate Middleton 's (Lookalike's and Times of Kate Middleton The roughly RELATED: Kate Middleton 's Pregnant

Partum Shots: 9 Months of Diet Advice

told to avoid eating them because they up their child's risk of peanut allergies. The idea is so pervasive that Kate Middleton sparked pregnancy rumors back in 2011 when she politely declined to sample a bite of peanut paste during a visit to

Kate Middleton's (Lookalike's!) Baby Shower

USA) Just because Kate Middleton won't have an actual striking resemblance to Kate Middleton toasts her baby and gifts. To see all of Kate Middleton 's maternity looks However, in real life, Prince William , 30, and his wife

Kristen Stewart Voted 'Best Dressed'

nod to her personal rock-chick style." The 23-year-old "Twilight" star beat out actress Emma Watson and Kate Middleton , among others, for the crown - and she has said in the past that she doesn't care if you disagree. "I just so

The Note: Obama Faces Mexican Headwinds

neckline. The app's creator, Helen Barclay, is also the brain behind Kate 's Style List, a similar app for British style icon and Duchess of Cambridge Kate Middleton . WHAT WE'RE READING "COURT DEALS BLOW TO PLAINTIFFS IN CHEVRON CASE
More »