An out-of-the-box film ("Slumdog Millionaire"), an oft-nominated, seldom-victorious actress (Kate Winslet) and an underrated show ("30 Rock") took home many of the major Golden Globes Sunday night.
Hollywood's first all-out awards show of 2009 was marked by earnest speeches and laugh-out-loud interludes. Winslet started off the night with one of the former, breathlessly taking hold of her best supporting actress award for "The Reader" and apologizing, "You have to forgive me because I have a habit of not winning things." The British actress has been nominated for five Oscars and seven Golden Globes, but had yet to win any before Sunday.
Kate Winslet Shines
Backstage, she said, "You know, I feel like the kid who came in first in the running race on sports day at school, which I also never won."
Presenter Ricky Gervais took to the podium not long after Winslet, beer in hand, wit ready to whip. The "Office" creator and comedian shushed the crowd and rebuked the Hollywood Foreign Press Association for not nominating him this year before pointing to the nearby Winslet to quip, "Well done, Winslet. I told you, do a Holocaust movie, the awards will come, didn't I?"
Afterward, backstage, Gervais joked that someone may have poured "a little bit of crack" in his glass along with the beer.
Remembering Heath Ledger
The audience got serious when Heath Ledger was posthumously awarded a Globe for his scene-stealing role as the Joker in "The Dark Knight." The Australian actor died in January 2008 at the age of 28 after an accidental prescription drug overdose.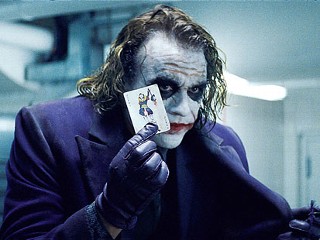 "All of us who worked with Heath on 'The Dark Knight' accept this with an awful mixture of sadness but incredible pride," said director Christopher Nolan, who accepted the statue on behalf of Ledger. "After Heath passed on, you saw a hole ripped in the future of cinema. But with the extraordinary response to his work that we've seen all over the world, I, for one, start to be able to look a bit less at that gap in the future and a little bit more at the incredible place in the history of cinema that he built for himself."
'30 Rock,' 'John Adams,' 'Mad Men' Win TV Golden Globes
"30 Rock" ruled the television category. The NBC sitcom that critics shower with praise but audiences hesitate to adopt won Golden Globes for best comedy series, best actress in a comedy (Tina Fey) and best actor in a comedy (Alec Baldwin). Co-star Tracy Morgan, who plays comedian Tracy Jordan, a thinly veiled version of his real persona, took the liberty of accepting the series award.
"Tina Fey and I had an agreement that if Barack Obama won, I would speak for the show from now on," Morgan said. "Welcome to postracial America. I'm the face of postracial America -- deal with it Cate Blanchett."
Fey later used her best actress acceptance speech to tell her Internet critics to "suck it." Backstage, she took a more serious tone.
Tina Fey in the Spotlight
"Hopefully these things just help us, help the show stay on the air and help us continue to make the show," Fey said.
HBO's "John Adams" swept the miniseries categories and AMC's "Mad Men" won best drama for the second year in a row.
Fittingly, "Borat" comedian Sacha Baron Cohen delivered what appeared to be the only joke the Globes' crowd of Hollywood insiders didn't find funny. Before presenting the award for best motion picture, comedy or musical, Cohen riffed on the failing economy.
blog comments powered by

Robert Cohen/St. Louis Post-Dispatch/AP Photo

Stephanie Zollshan/The Berkshire Eagle/AP Photo

Official White House Photo by Pete Souza