Home
>
GMA
>
Recipes Home
>
Gail Simmon's Bourbon Nectarine Ice Cream Sundaes with Pound Cake Croutons
Gail Simmon's Bourbon Nectarine Ice Cream Sundaes with Pound Cake Croutons
A Sweet Summery Sundae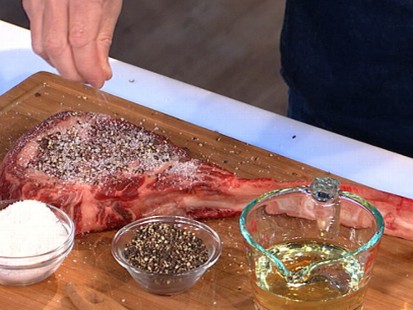 Josh Elliott helps prepare a feast perfect for spring season.
From the kitchen of Gail Simmons
|
WHAT IS THE AUSTIN FOOD & WINE FESTIVAL?
Austin Food & Wine Festival (April 27-29) celebrates the talent, innovation and unique flavors of Texas while featuring renowned chefs, sommeliers, cocktail experts, culinary personalities, rising stars, and live musical acts, like Lucinda Williams, Mayer Hawthorne & The County, and more.
Austin Food & Wine Festival will offer more than 40 events over three days (April 27-29, 2012), including grand tasting tents, hands-on cooking demos, wine and cocktail tastings, book signings, live musical acts and more.
Where can I get tickets? http://www.austinfoodandwinefestival.com/
Ingredients
4 tablespoons unsalted butter
8 ounces all-butter pound cake, cut into 1/2-inch cubes
6 firm, ripe yellow nectarines, cut into thin wedges
1/2 cup light brown sugar
1/3 cup bourbon
1 tablespoon fresh lemon juice
2 pints vanilla ice cream
Cooking Directions
Preheat the oven to 375??. In a large skillet, melt 1 tablespoon of the butter. Add the pound cake and toss to coat. Spread the cubes on a baking sheet and bake for 15 minutes, until toasted.
Meanwhile, wipe out the skillet. Add the remaining 3 tablespoons of butter and the nectarines and cook over high heat, stirring occasionally, until the nectarines are slightly softened, about 5 minutes. Add the brown sugar and stir to melt. Remove the skillet from the heat. Add the bourbon and lemon juice. Tilt the pan slightly and carefully ignite the alcohol. Cook over moderate heat until the nectarines are softened and the sauce is slightly thickened, about 10 minutes.
Scoop the ice cream into bowls and spoon the nectarines and sauce on top. Garnish with the croutons and serve right away.
Recipe courtesy Gail Simmons.
This recipe was styled by chef Karen Pickus for Good Morning America.
Other Recipes That You Might Like