Diane Henderiks' Tomato and Spinach Stuffed Chicken Roulade
Seven Ingredients for One Great Meal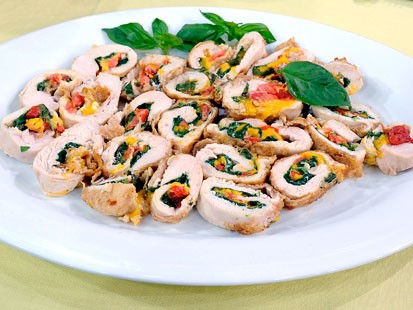 From the kitchen of Diane Henderiks
|
Before you start, hit the grocery store:
3 3/4lb skinless, boneless chicken breast
14 large tomatoes
2 whole ripe pineapples or 3 ??? 14oz cans of juice-packed pineapple chunks
1 1/2dozen eggs
17 ounces fresh baby spinach
10ounces lowfat cheddar cheese in block or 2 1/2cups shredded
1pound whole wheat penne pasta
Pantry items
Black pepper
Salt
Chicken or vegetable broth; low sodium
Dijon mustard
Flour
Garlic
Herbs; fresh or dried
Olive oil
Red wine vinegar
Soy sauce; low sodium
Ingredients
4 (6-ounce) boneless chicken breasts; pounded thin
1C fresh baby spinach
1C shredded low fat cheddar cheese
1 large tomato cut into 4 slices
6 egg whites
1/4C low sodium chicken or vegetable broth
1/2 cup whole wheat flour plus more if needed
1T olive oil
For the topping
1C diced tomato
1/2C chopped spinach
2T red wine vinegar
1/2C low sodium chicken or vegetable broth
Fresh or dried basil (or any herb you like)
Salt and freshly ground black pepper to taste
Cooking Directions
Preheat the oven to 325??. Place 1 chicken breast on work surface smooth side down. Top with 1/4C baby spinach, 1/4C of cheese and 1 slice of tomato. Fold in each end and roll tightly. Place seam side down on a platter. Repeat with remaining chicken. Whisk together egg whites and broth.
Divide flour onto 2 large plates. Coat rolled chicken with flour, dip into egg, then back into flour. Shake off any excess flour. Set chicken on baking sheet lined with wax paper. In large saute pan, heat oil over medium heat. Brown each roulade then place on unlined baking sheet. Bake for 20 minutes.
While chicken is baking, prepare topping. In small saucepan combine tomato, chopped spinach, vinegar broth and herbs. Bring to a boil and cook for 2 minutes. Season to taste with salt and pepper. Slice each roulade horizontally in 1" slices and place on plate. Top each portion with warm tomato mixture and serve.
Other Recipes That You Might Like