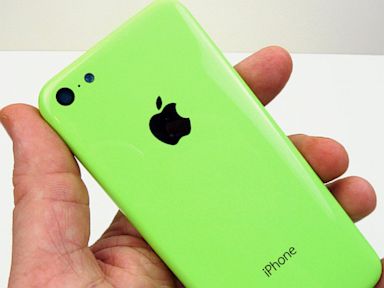 The iPhone 5C
But that's not all we're going to hear about colors. There is speculation that there will be another, more affordable iPhone: the iPhone 5C. The C is said to stand not for cheap but for colors. According to various leaked photos, the iPhone 5C is made of plastic and will come in various hues, including green, pink, white, blue and yellow.
Australian blogger Sonny Dickson
has published a number of photos of the purported back shell of the phone.
Because the phone is made of plastic, versus the aluminum and metal materials used for the iPhone 5 (or 5S), it is expected that the phone will be more affordable than the 5S, which will presumably start at $199 with a two-year contract. Apple experts, including John Gruber of Daring Fireball, have suggested that the 5C will replace the lower-cost iPhones on the market, such as the iPhone 4 or 4S. (Apple usually drops prices on older phones when a new model is released.)
The Software
Apple has not commented on any of the aforementioned hardware rumors, but it has mentioned something that is coming to the iPhone:
iOS 7
. In June, Apple showed off the completely revamped version of its iPhone and iPad operating system. The software has been given a complete face-lift, with new icons, animations and features.
Specifically there is a new Control Center area, finally making it easier to get to frequently used settings, including Wi-Fi and screen brightness. The multitasking view is also new, with a card view that lets you swipe to close apps.
We've highlighted a few more of the new features coming to iOS 7 here. And don't just swipe away the importance of the software this year. Even if you don't buy a new iPhone, the new version of iOS will change the look and feel of older models.
The Release Date
"When is the next iPhone coming out?"
Ah yes, the big question I have been asked for months. According to AllThingsD, Apple is planning to hold an event on Sept. 10. If all follows Apple's past scheduling, that would put the iPhone on shelves a week and a half later, around Sept. 20. The Wall Street Journal also reported that Apple was on schedule to ship a "new high-end and low-end iPhone in early September."
But, of course, until Apple takes the stage most of this is just rumor and speculation. Apple CEO Tim Cook and Apple's Senior Vice President of Design Jony Ive have the real answers to the flood of iPhone questions I get every year, but I'm confident in saying this: A new iPhone is coming and, yes, you should wait.