For Tom and Sue Teeple of Parkersburg, Iowa, May 25, 2008, was a day like any other -- until a massive tornado hit the small town of 1,900 in America's heartland.
Tom and Sue Teeple were fixtures in the community. Tom, 62, had been the local barber for 44 years at Tom's Barber Shop in downtown Parkerburg, where locals came for a haircut and good conversation. Sue worked right beside him, styling hair.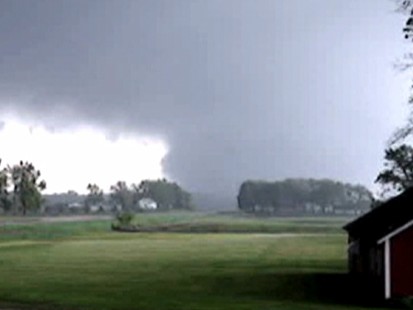 "Everybody knows Tom. They come to the barber shop to talk over the ball games, to just talk with the other farmers," Sue said.
Besides being a hair stylist, Sue was also known for her public battle with multiple sclerosis an autoimmune disease that attacks the central nervous system and left her forced to use a walker.
On that day, the Teeples recall watching car races on TV and debating whether they should head to Dubuque County Speedway to see stock car races that night.
Watch "20/20" Friday at 10 pm ET to see the storm
"My husband and I are big race fans. We were going to go to the races in Dubuque. It was real dark, icky-like, outside. We decided to stay home, there was another race after that on TV," Sue said.
Tom soon noticed his neighbors gathering outside. When he walked out of his house, he said he saw the dark, ominous clouds approaching from the west.
"It was really, really crazy out. ... And kind of an icky looking gray," Tom said. "Nothing was moving the whole day and it was just like you were outside and sitting inside with a wool blanket over you. It was just that kind of gray. ... But little did I know that in ess than an hour and a half we'd have nothing."
Unbeknown to them, an EF5 tornado, the strongest and most dangerous type of tornado on the planet, had barreled toward Parkersburg.
Suddenly, Tom spotted it. Tom rushed inside to try to maneuver Sue safely into the basement. Though she is normally confined to a walker, in stressful situations Sue's multiple sclerosis makes her body tense up. Tom had difficulty moving her down the basement stairs to safety.
"When times get tough and there's some tension, she doesn't move," Tom said. "Unfortunately, it was that way this time, but we had two little steps leading down to our basement. And I got her down those two steps, but I couldn't get her any farther."
With the help of a neighbor, Tom managed to get Sue down the first set of steps of the basement just as the storm approached.
"I heard it coming in. I heard the freight train coming," he said. "Our house started to shake, and I looked up and the roof was going and ... all sorts of things were flying around."
Tom threw a quilt over Sue and tried to protect his wife and another neighbor with his own body. Peaking out from beneath the quilt, Sue saw a terrifying sight -- the wind ripped the roof off their home.
"My stomach was just like a tight knot. I was scared," she said. "I was praying and I was hoping that Tom is OK, because he was right above us, and right out in the middle of it all and I was hoping that the glass didn't hit him."
With the winds raging, Tom was almost sucked out of their basement stairwell. He said that as he was holding onto the stair handrails for his life, he felt like Superman.
"I was holding on to these [handrails] like Superman. I literally was. I mean, I was off the ground. And it was sucking me back to the east," Tom said. "I'm going to fly out of here. I'm gonna go. And ... I did, for a little while. But thankfully, I held on long enough. And ... it wasn't my time to go. I had one more race to go to."
Though he was nearly sucked out of his home, Tom Teeple miraculously survived the tornado's wrath. Stunned, when he regained consciousness, he realized he was separated from his wife. After a few moments, he found Sue -- also alive.
"All I could do was ... was pray to God to help keep us in his hands, to God ... hold everybody in his hands," Sue said.
But their home was destroyed. Friends and neighbors helped the couple sort through the remains. And they were not the only ones. More than 250 homes were leveled by the tornado.
"We came back and saw the devastation of our house. There was hardly anything left at all. But we knew that we could make it, because God's with us," Sue said.
The Teeples lived in a church parsonage in the nearby town of Ackley as the rebuilding effort took place. In March, the couple made it into a new home with a handicapped ramp, which has made it easier for Sue to move around.
"I can't tell you what it's like just to be able to go home. Just to go in and come in that door and ... have her cooking supper or sitting down in your chair and ... hear people honking and going by and waving and kind of back, back to normal," Tom said.