After hearing Kevin Haggerty's hair-raising story about his runaway Toyota on ABC News, Haggerty's local Hyundai dealer made him an offer he couldn't refuse: bring us your 2007 Toyota Avalon, and we'll give you a free 2010 Hyundai Sonata in exchange.
Haggerty, who stopped driving his Avalon after a random acceleration incident detailed in a recent Nightline segment, was happy to accept. On Friday, Leonard and Richard Datello, the owners of Flemington Hyundai in Flemington, New Jersey, handed Haggerty the keys to his new car. The dealership will assume responsibility for his Avalon, including the transfer of the title and paying off around $10,000 in loans.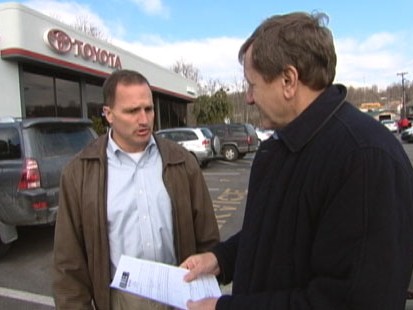 CLICK HERE TO SEE HAGGERTY DESCRIBE THE INCIDENT
"I saw 'Nightline' and thought, you know, I could help this guy," said Leonard Datello. "Nobody should have to drive a car around and feel unsafe like that."
Haggerty says his Avalon began having acceleration problems in mid 2009. In November, he took the car to his local Toyota dealer, but he says the mechanics couldn't explain why the sudden acceleration was occurring.
By then, Haggerty had seen ABC News reports on unintended acceleration, and had also watched a video on the Blotter about how to control an accelerating car.
On December 28, Haggerty was traveling east on Interstate 78, heading to work, when he says the car started accelerating again. Soon the car had revved itself up to 65 miles per hour.
As he started to panic, he thought back to the video. "I remembered the safest thing to do is to go into neutral and control the car, and that's what I did."
After getting the car under control, Haggerty called the dealership on his cell phone. They told him to bring the car in.
The car kept trying to accelerate, but switching from neutral to drive and back again as needed allowed Haggerty to steer the car onto an off ramp and the three miles to the dealership.
When he reached the dealership, the brakes and the tires were smoking. Haggerty put the car in neutral, but the engine was still revving. The service manager called a Toyota representative.
Toyota Driver: ABC News Videos Helped Save My Life
According to Haggerty, the representative told the service manager to replace the gas pedal and the throttle and their sensors.
"After I got out of the car at the dealership, the first thing I thought about was my family," said Haggerty. "And if they were in the car, if my wife was driving – you know, I'm not sure if she would have panicked and kept hitting the brake pedal and known enough to put it into neutral."
Even though he hasn't experienced any further incidents of sudden acceleration, after the December 28 incident, Haggerty used the car as little as possible.
"I was a little uneasy still driving the Avalon because I'm not sure if [Toyota] knows exactly what the problems were or if they know what the fix is," Haggerty told ABC News.
In January, Toyota recalled 2.3 million vehicles to fix sticky accelerator pedals. Last fall Toyota recalled 4.2 million vehicles because of poorly fitting floor mats. Haggerty says he did not have a stick accelerator pedal, and that he was able to show the service manager in December that he did not have an ill-fitting floor mat either.
Leonard Datello says his dealership will keep Haggerty's old Avalon in storage with plans to resell it at a later date, should the automaker find an adequate fix for the sudden acceleration problem. If Toyota does not find what he considers an adequate fix, said Datello, he will "junk the car."