Two days after Toyota suspended sales of eight popular car models while sometimes fatal sticking gas pedals are investigated, and a day after it announced the recall of 1.1 million more cars, there are now questions surrounding how long the company took to investigate the problem while accidents continued.
Documents filed with the federal government by Toyota show the company first received field reports of the sticking gas pedals more than two years ago and, by last October, saw a growing problem.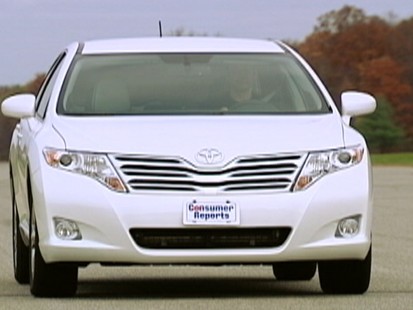 CLICK HERE FOR MORE ON THE RUNAWAY TOYOTAS.
"Starting in March 2007, Toyota received field technical information regarding reports of accelerator pedals demonstrating symptoms such as rough operation or being slow to return to the idea position," a letter sent from Toyota to the National Highway Traffic Safety Administration (NHTSA) Jan. 21 says.
Click here to read the letter Toyota sent to the NHTSA.
U.S. Transportation Secretary Ray LaHood said Wednesday that when his agency discovered the gas pedals on some models of Toyotas were sticking "we immediately told Toyota that they should recall those cars."
Speaking on a Chicago radio program, LaHood said a fatal accident in September led his agency to demand a meeting with the car manufacturer.
"The truth is, the reason Toyota decided to do the recall and to stop manufacturing is because we asked them to," LaHood told WGN Radio.
NHTSA Administrator David Strickland said the agency "informed Toyota of their obligations and they complied with the law. Their decision to halt sales was legally and morally the right thing to do."
Toyota to Meet with Federal Highway Safety Officials This Week
Rep. Bart Stupak (D-MI) said Congress is taking "a hard look" at how Toyota is handling the situation. He said House Oversight staff met with Toyota officials Wednesday and were told the company is still looking at different options for fixing the problem.
"I think they're still trying to get ideas together, but they're not 100 percent sure yet what's causing it," Stupak said. "They've told us what they're doing. They are concerned about the safety. We're keeping on top of it."
Stupak said Toyota executives will be meeting with federal highway safety officials again on Thursday.
Toyota announced Tuesday that it was suspending the sale of eight car models. Late Wednesday the company, which has already announced two major recalls since the fall, revealed it was recalling 1.1 million more cars. Wednesday's recall involves the 2009 and 2010 Corolla, Venza and Matrix, the 2008-2010 Highlander, and the 2009-2010 Pontiac Vibe, which was made at a California factory jointly run by Toyota and GM.
The total number of Toyotas now recalled is close to 6 million.
The country's major rental car companies have also announced that they will suspend rentals of Toyotas and the Pontiac Vibe. Enterpise Holdings, operators of Enteprise, National and Alamo, joined Hertz and Avis Budget Group in pulling the cars from their rental fleets.