In the wake of a continuing sexual misconduct scandal at USA Swimming, another swim coach previously banned by the swimming organization has been charged with four federal counts of receiving and possessing child pornography.
Timothy S. Kelly, 39, who was a swimming coach at the local YMCA and high school in North Attleboro, MA, "knowingly received" and "knowingly possessed visual depictions of minors engaging in sexually explicit conduct" on two occasions in 2006 and 2009, according to U.S. Attorney Carmen Ortiz.
"Santaslilstripper017" and "!!7 girl suck" were two of the images allegedly found in Kelly's possession, according to the criminal indictment.
The charges were brought as part of the Project Safe Childhood initiative with the U.S. Immigration and Custom Enforcement's Homeland Security Investigations, which aims to "locate, apprehend, and prosecute individuals who exploit children via the Internet."
Kelly's attorney Richard Silva Jr. did not respond to request for comment. He was released on electronic monitoring and is allowed only to leave his home to report to his job as a truck driver, the U.S. Attorney's office said.
When USA Swimming released its list of 36 swim coaches banned for life from the organization because of allegations of sexual misconduct, Kelly was named.
In 2009, he pleaded not guilty to state charges of possessing child pornography charges, before the charges were raised to the federal level. At the time, his lawyer told local media that Kelly was cooperating with authorities.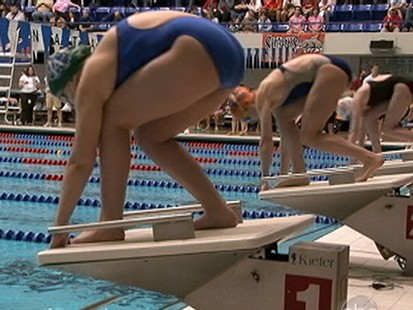 If convicted, he faces up to 20 years behind bars for each count of receiving child pornography and up to 10 years for possessing it.
In April, Kelly was one of 36 USA Swimming coaches that a 20/20 investigation revealed had been banned by the organization, which governs the sport of swimming in the U.S., for sexual misconduct allegations.
WATCH PART 1 of the 20/20 investigation.
WATCH PART 2 of the 20/20 investigation.
USA Swimming Passes Athlete Protection Policies
Last weekend after coming under fire for not doing enough to protect its athletes, USA Swimming officially passed new regulations that implement athlete protection policies, expand background checks, and enact mandatory reporting of credible information of sexual abuse.
The House of Delegates, the group in charge of passing USA Swimming bylaws, voted on the new measures by overwhelming majority, which also included enacting new education efforts to inform members of USA Swimming about the issue of sexual misconduct. The measures had been put forth by the group's Board of Directors.
New athlete protection policies now prohibit rubdowns or massages by coaches, audio or visual recordings in locker rooms, and shared hotel rooms between athletes and coaches at swim meets, among others.
Click here to read the full list of expanded USA Swimming Athlete Protection Measures and Best Practice Guidelines.
CLICK HERE TO FOLLOW THE FULL INVESTIGATION.
Effective January 1, 2011, the expanded criminal background check program will be updated on a "continual basis, to avoid any gap in information," USA Swimming announced. Previously, the checks were only be updated every two years since being implemented in 2006.
In the past, the criminal background check program did not check all predators.
San Jose swimming coach Andy King, 62, was sentenced to 40 years in prison in January after authorities discovered a pattern of sexual abuse that stretched over three decades up and down the West Coast and involved more than a dozen teen female victims. Despite allegations against him and a police investigation, as he had never been charged or convicted of a crime, the USA Swimming background screening came back clean in 2008.
CONTACT THE ABC NEWS INVESTIGATIVE TEAM IF YOU HAVE A STORY TO ADD TO THIS INVESTIGATION.