The filing of a fifth lawsuit claiming USA Swimming failed to protect young swimmers from alleged sexual misconduct by coaches is bringing calls for new leadership at the organization that critics say has fostered a culture of covering up abuse.
"It is now clear USA Swimming is more interested in protecting its images and its coaches…than in protecting children from molestation," said Robert Allard, an attorney now representing two former swimmers in suits against USA Swimming, the governing body of the sport in the U.S.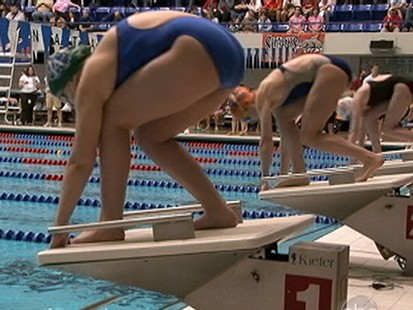 Jancy Thompson, a former Olympic hopeful who alleges that her former swim coach Norm Havercroft at West Valley swim club in San Jose, CA began sexually molesting her when she was 15-years-old, spoke out publicly for the first time yesterday, inspired, she said, by a 14-year-old victim who came forward in an ABC News "20/20" investigation earlier this year.
"I am here today in hopes that USA Swimming will retain new leadership and clean up its program," said Thompson, now 28. "Get rid of abusive swim coaches and create a safe environment for young swimmers."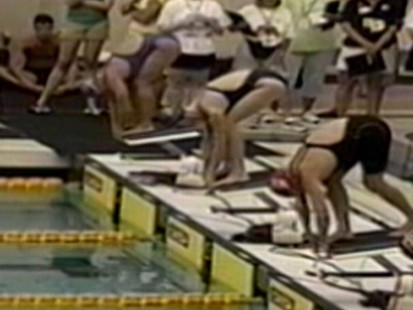 Since an April "20/20" investigation that revealed 36 USA Swimming coaches had been quietly banned for life from the organization for alleged sexual misconduct, USA Swimming has promised to enact new child protection measures.
CLICK HERE TO FOLLOW THE FULL INVESTIGATION.
WATCH PART 1 of the 20/20 investigation.
WATCH PART 2 of the 20/20 investigation.
Its board of directors has approved new reforms to protect young swimmers across the country, including an athlete protection policy, additional screening of coaches and background checks for coaches, club employees, board members and volunteers, and mandatory reporting of sexual misconduct accusations by a minor to local law enforcement. However, these measures have yet to be implemented because USA Swimming says they must be voted on by the USA Swimming House of Delegates during its national convention in September. USA Swimming did not return multiple requests for comment. Attempts to reach Havercroft were unsuccessful.
"It has now been over three months since USA Swimming was under intense national pressure to clean up this mess, and nothing has been done," Allard said. "We are hereby calling for new leadership at USA Swimming - a leadership that does not bend over backwards to protect pedophile swim coaches and does everything it can to eradicate sexual molestation from this great sport of swimming."
Alleged Sexual Abuse by USA Swimming Coaches
Allard, who is part of a team of attorneys across the country representing alleged victims of sexual abuse by their swimming coaches, said Thompson's case is further evidence that USA Swimming had knowledge of sexual misconduct by a swimming coach and continued to allow him to coach children.
"At least two parents of swimmers contacted USA Swimming and/or Pacific Swimming [after hearing] about Havercroft's inappropriate behavior," Allard said. "They were told that USA Swimming was aware of him, that they had a file on him, but that there was nothing they could do about him."
Sources say that USA Swimming attorneys and insurance brokers attended a mediation session with another alleged victim of Havercroft's in 2002, which ended in a confidential civil settlement with Havercroft. Documentation obtained by ABC News shows two mediation sessions in the case held that year. In a discovery document from a 2009 sexual abuse lawsuit against USA swimming involving another coach, the organization denied having any knowledge that Havercroft had "inappropriate relations" with any swimmers.
"This is a black eye for America, this is a black eye for the good coaches in swimming, this is a black eye for a great sport," said Allard.
It's a sport, said Thompson, that despite getting her a partial scholarship to Arizona State, is now forever marred.
"[My coach] destroyed my dreams, my hopes and my life," said Thompson, who became a San Jose police officer after quitting swimming and now works in the area of gang prevention in a California community program.
"What I've gone through has been absolute hell, and I don't want any young swimmer to go through this," she said.
CLICK HERE to follow the ABC News Investigative Team's coverage on Twitter.
CONTACT THE ABC NEWS INVESTIGATIVE TEAM IF YOU HAVE A STORY TO ADD TO THIS INVESTIGATION.