The Transportation Security Administration's secret airport screening manual may have been posted online by a government contract employee or even a temp – and once it had happened, someone tried to black out evidence that it was secret.
Members of the House Homeland Security Committee will be probing Transportation Security Administration Acting Administrator Gale Rossides Wednesday about who was in charge and how such a massive mistake could have been made. The document included information of potential value to terrorists, like the shortcomings of X-ray machines, details about screening procedures, and sample identification for CIA agents.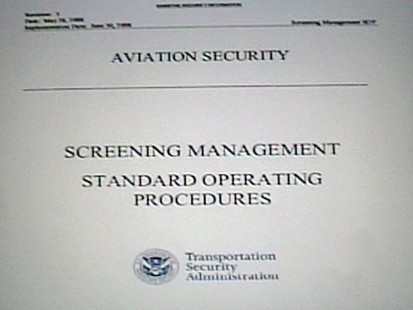 "The events from last week serve as a reminder of how critical it is to have accountability at the
Department of Homeland Security
," said Bennie Thompson, D-Miss., chair of the committee.
When asked at an oversight hearing of the Senate Judiciary Committee last week if the individual who posted the document online was a contractor, DHS Secretary Janet Napolitano said yes, but also noted that "some of the supervisors ultimately were TSA."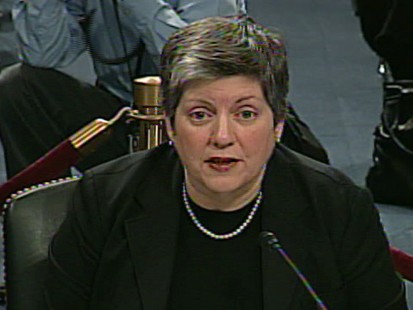 Current TSA employees who wish not to be named say that all Information Technology work at TSA is outsourced, and that most likely the faulty redaction and posting of the manual was done by a contracted employee or temp worker.
A TSA spokesperson claimed that only a federal employee can actually upload documents like the Standard Operating Procedures screening manual, and said that the office that performs the redaction is separate from the office that performs the posting.
'Sensitive Security Information'
The improperly redacted manual was first posted on the Federal Business Opportunity web site on Mar. 3, but the person who redacted the document forgot to black out the marking "Sensitive Security Information."
A cached version of the Federal Business Opportunity website shows that someone noticed the mistake nearly two weeks later. Someone posted a new version of the SOP on Mar. 16th and blacked out "Sensitive Security Information."
Yet this person still didn't realize that all the document's redactions had been done improperly, and that all the blacked-out portions could be easily uncovered by computer savvy online readers. Bloggers discovered the glitch, and began posting secret information from the manual, like the fact that only 20 percent of checked bags are to be hand-searched for explosives.
Thompson and other members of Congress at Wednesday's hearing will be asking specifically whether there is a manual for training employees on how to post such information. Staffers say they want to know the role of contract employees in the handling and disseminating of Sensitive Security Information and if there is sufficient training for contract employees.
A spokesperson for the Transportation Security Administration denied to ABC News that Francine Kerner, TSA lead counsel, should have been the person to sign off on all such redactions and postings.
In a letter to TSA employees sent out last week Rossides thanked her underlings for the "service to our country" and "support for one another." She reassured employees that "post-incident analysis has determined that our systems are secure and that screening protocols have not been compromised and remain strong."
TSA released a statement saying that once the agency was made aware that the improperly redacted document was on line, it was immediately taken down from the Federal Business Opportunity site and a full review by TSA's Office of Inspection was initiated.
TSA said the document was outdated and had been updated six times since the posting.
Thompson called for a third party to investigate last week, the same day that DHS Secretary Napolitano said that her department's Inspector General would launch an investigation.