The Dodge Caliber hatchback has plenty of room to pack your stuff for a quick getaway, but these days it is going nowhere fast. American car dealers are taking an average of 223 days to clear the Caliber off their lots. That's more than seven months -- a longer sales period than any other major-selling car on the market today.
The Caliber is joined by a host of other American-made vehicles at the top of a list of cars American drivers have little intrest in buying, including: the Dodge Avenger, Pontiac G6 and the Chevrolet Cobalt. In fact, 12 of the 15 slowest selling cars on a list prepared by Edmunds for ABC News are American made. On the foreign side only the Kia Optima, and Spectra and the Hyundai Sonata were the on models on the list of automotive dogs.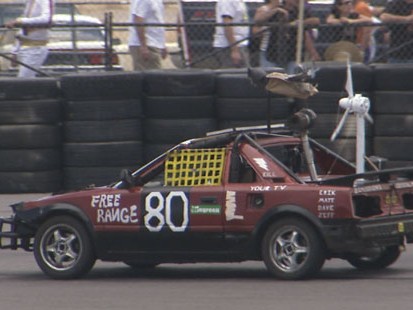 Jessica Caldwell, an industry analyst at Edmunds.com, said that part of the problem is a lack of customer demand and part is an overproduction by American automakers.
"It's really a reflection of a misstep of the American automakers," Caldwell said.
General Motors and Chrysler dominated the list. Ford only had one vehicle on it: the venerable Mustang.
Edmunds looked at cars sold by dealerships in May and how long they had been on the lots. Only models with 2,000 or more sales were included in the list to filter out lesser-known and obscure models. A healthy day supply number is about 60 days.
Pontiac's G6, Dodge's Charger, Jeep's Patriot, Chevrolet's Cobalt and Colorado and Ford's Mustang rounded up the top 10 worst performing models in May -- all with day supplies higher than 145 days.
Models that are doing relatively well in the market are those with a good fuel economy, quality reputations and reasonable prices, said Joe Phillippi, of AutoTrends Consulting.
Chrysler's Dodge Caliber is particularly inept seller at 223 days. The car features a lot of cargo room, but Edmunds.com called the car "one of the least appealing small hatchbacks or wagons on the market" pointing to the Caliber's meager 172 horsepower engine that delivers "sluggish acceleration" and they noted the "unimpressive build quality." Despite its reasonable price, Car and Driver magazine says the Caliber's "vague steering" and "heavy ride" may make the vehicle seem more like a truck than a compact vehicle.
America's 10 Worst Selling Cars
The Dodge Avenger is far from the meanest selling car on the lot. Its 211 day supply is surpassed only by its relative, the Dodge Caliber. Because of the car's "polarizing styling, budget interior materials and tepid driving dynamics," Edmunds.com says it's no surprise when consumers pass over the Avenger for a different midsized all-wheel drive model.
Pontiac G6's 211 day supply is indicative of the gloomy fate for the soon-to-be terminated Pontiac brand. The G6 is available in three body styles as a coupe, a convertible or a sedan, but Edmunds.com says all three are "far from being class leaders." TheCarConnection.com gives the line a 6.8 out of 10 rating, highlighting the vehicle's "iffy safety" and cheap-looking interior materials.
The Kia Optima is the slowest selling car from a foreign automaker on the list with a 166 day supply. Autoguide.com said the model has a nice exterior re-design but said the Optima "rides far too loosely on its suspension" and use "less-than-pleasing material" for its seating.
Despite its aggresive name, the Dodge Charger takes 163 days to creep off the lot. The reincarnated muscle car offers V8 performance and has a good amount of space for families on-the-go. But for drivers looking for a large sedan, Edmunds.com writes that competitors like the Ford Taurus and Honda Accord are "more practical choices."
The Jeep Patriot, another Chrysler brand, fails to get much of a salute from reviewers. This SUV-like model has good fuel economy and durable off-road features and a 163 day supply. But unless you're expecting to go trail-blazing through the Kalahari, Edmunds.com says that with its cheap interior design and lackluster engine power, the Patriot "should be near the bottom of your list."
At a 156 day supply, the Kia Spectra has some good qualities. The model is one of the lowest-priced small cars on the market with ample cargo room and good cabin quality. But when it comes to handling and safety, especially with the brakes, the Spectra may not be the car for you. "It's better than some, but not as good as many," Edmunds.com says of Spectra.
The Chevrolet Cobalt is a sporty vehicle that Edmunds.com said is "an example of America's ability to built a decent compact automobile." Decent. Ouch. Others weren't so nice. Car and Driver described the Cobalt as "less refined than competitors, bucket-of-bolts start-up noises, the last hurrah of an old design, anonymous looks." Its safety features are a "mixed bag," according to Edmunds. The Cobalt is popular with some folks, however. Consumer Reports declared in 2009 the Cobalt is the No. 1 stolen car in America. Get 'em while they're hot. There's only a 152 day supply of them left.
The Chevrolet Colorado is considered a compact pickup, but one problem is it has little pickup. Automotive reviews complain of a weak engine, with such tepid compliments as "competent handling." More damaging to sales is the old Chevy complaint, voiced by Edmunds.com, of an "abundance of hard plastics in its cabin, inconsistent build quality and a near absence of style." JD Powers and Associates gave the Colorado only a mediocre reliability rating. America listened. There is a 148 day supply of Colorados waiting to be sold.
The Ford Mustang has been one of America's most popular cars since it was first introduced in 1964, and Ford appears to have eased the original pony car back into drivers' good graces with a retro '60s look and a solidly built vehicle. Motor Trend gave the 2009 Mustang four out of five stars. But a muscle car reputation, a price tag that can top $30,000 and a recession has left an 147 day inventory coralled on dealers' lots.