The chief executive officer of General Motors has resigned following a request from the Obama administration, a White House official told ABC News.
The resignation of GM CEO Richard Wagoner is part of the administration's plans to restructure the nation's beleaugered auto industry, which President Obama is expected to unveil Monday, the official said.
GM did not provide official comment.
Wagoner was told on Friday, during a meeting with Obama's Auto Task Force, that he needed to resign and he agreed, ABC News has learned.
Citing two people familiar with the Obama plan who requested anonymity because they were not authorized to discuss it, The Associated Press reported late today that administration plans to give GM enough government aid to restructure over the next 60 days.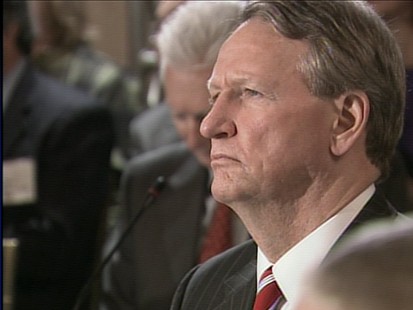 Wagoner, who has led GM for more than eight years, and his fellow auto company CEOs stirred furor three months ago after flying to Congress in private jets to seek billions in government aid.
A month later they returned, this time travelling to the capital in fuel-efficient hybrid cars.
Wagoner, 56, began his career at GM in 1977, working as an analyst for its New York treasurer's office. Wagoner was promoted to several positions within the company, including managerial roles in Europe and South America, before being named CEO in 2000.
Wagoner's succesor has not been announced but GM President and Chief Operating Officer Frederick Henderson may be among those in line for the position.
The resignation announcement has already been met with some criticism: Rep. Thaddeus McCotter, R-Mich., called the resignation a "political offering."
"Mr. Wagoner has been asked to resign as a political offering despite his having led GM's painful restructuring to date. Mr. Wagoner has honorably resigned for the sake of his company's working families," McCotter said in a statement issued this evening. "When will the Wall Street CEOs receiving TARP funds summon the honor to resign? Will this White House ever bother to raise the issue? I doubt it."
The president and Treasury Secretary Timothy Geithner spoke briefly about plans to reorganize the auto industry in interviews this weekend but did not mention Wagoner's resignation.
"We think we can have a successful U.S. auto industry. But it's got to be one that's realistically designed to weather this storm and to emerge at the other end much more lean, mean and competitive than it currently is," President Obama said in a taped interview broadcast today on CBS' "Face the Nation."
Since late last year, General Motors and Chrysler, the No. 1 and No. 3 automakers in the country, respectively, have received more than $17 billion total in aid as the two companies struggled to stay afloat amid plummeting auto sales and a difficult credit market. Last month, GM and Chrysler requested an additional $22 billion.
The two companies made their requests after submitting "viability plans" reporting the steps they had taken to improve their prospects for success, including negotiations to reduce their debts and slimming down their operations by selling brands and laying off thousands of workers.
The Bush administration required that the companies reduce their debts and win labor union concessions as part of the conditions for their original loans. Under December's loan agreements, the companies had until this Tuesday to show they had met those conditions.
Obama said that the companies still have more to do.
Geithner: We Want 'Stronger' Auto Industry
"They're not quite there yet," he said.
Making the industry successful, the president said, is "going to mean a set of sacrifices from all parties involved, management, labor, shareholders, creditors, suppliers, dealers."
Geithner echoed some of the president's comments on ABC's "This Week" this morning.
"We want [the auto industry] to emerge from this period of challenge stronger. That's going to require a lot of restructuring," he said. "We're prepared as a government to help that process if we believe it's going to provide the basis for a stronger industry in the future that's not going to rely on government support."
The government's plans for the auto industry are being devised by a presidential task force that includes Steven Rattner, a former investment banker, and Ron Bloom, a restructuring expert who has worked with both labor unions and banks.
The government's efforts extend beyond the automakers themselves. Earlier this month, the Treasury Department announced a program providing $5 billion to help struggling auto suppliers pay their employees and cover their expenses.
"The Supplier Support Program will help stabilize a critical component of the American auto industry during the difficult period of restructuring the lies ahead," Geithner said in a written statement.
ABC News' Charles Herman and Bianna Golodryga contributed to this report.