Stock markets soared at the end of trading Tuesday, reversing two days of sell-offs, despite more bad economic news.
The Dow Jones rocketed up 889.35 points, the second-largest point gain on record. The blue chip index closed at 9,065.12, up nearly 11 percent for the day. The Nasdaq closed up at 1,649.47, gaining 143.57 points or about 9.5 percent, while the S&P 500 ended the day at 940.51, up 91.59 points or nearly 11 percent.
The good news on Wall Street came even as there was more bad news for Main Street. Home prices dropped nearly 17 percent, according to the Case-Shiller survey of 20 of the nation's largest metropolitan areas. Whirlpool announced it would eliminate 5,000 jobs in 2009 due to the continuing downturn in the housing market. And not surprisingly, a consumer confidence survey released this morning during trading fell more than expected.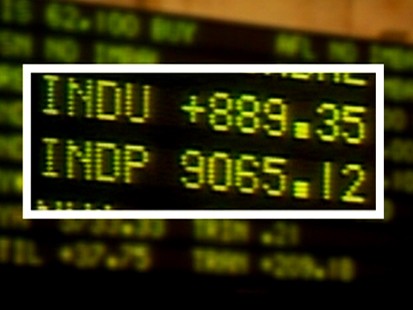 But today, investors appeared optimistic.
"I think we bounced because we sold too far, more than anything I could point to specifically," said Janna Sampson, co-chief investment officer with Oak Brook Investments.
The rise was not completely unexpected as traders jumped back into the market in advance of the Federal Reserve's eagerly awaited decision on interest rates to be announced Wednesday. Market watchers and economists expect the nation's central bank to cut interest rates by as much as half a percentage point in order to keep thawing the credit markets.
Today's discouraging housing news comes on the heels of better news from the housing sector: Larger-than-expected home sales were announced last Friday and Monday. Stocks, however, fell on both days.
"Markets don't go straight down or straight up," Sampson said.