With gas prices hitting $5 per gallon, and some analysts predicting prices upward of $7 per gallon within the next two years, it's no surprise that more Americans are on a mission to find the cheapest gas. And in the extreme Southwest, some have found it; a fuel nirvana of sorts, where gasoline and diesel prices are slashed in half: Mexico.
Kerry Manchego, a construction contractor who lives east of San Diego is one of these Americans traveling south for cheaper fuel. With the housing slump, business is down and the economic downturn has hit him hard.
"A lot of people under 40 have never experienced a slow time in San Diego," said Manchego. "We've had a 15-year boom. And they're wondering what's going on. But I've been there before."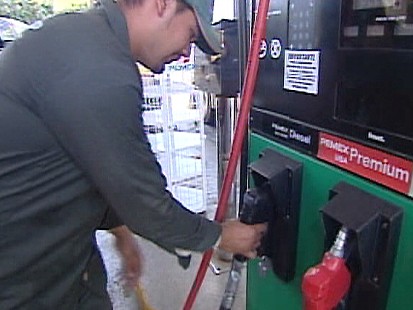 To find work, he's had to expand where he travels. "We have to drive farther," he said while behind the wheel of his pickup truck. "There's less jobs. The work is where the money is."
Extra Tanks Rise in Popularity
The surge in the price of gasoline takes a big bite out of profits. His pickup truck runs on diesel and it costs him nearly $200 to fill its 38-gallon tank.
For Manchego, desperate times have lead to desperate measures. Finally, he went to an auto shop and for $1,300 had a second tank installed in his truck. The tank holds an additional 40 gallons of fuel.
Auto shop owner Scott Young says these tanks have suddenly become very popular. He sells what are called transfer flow fuel tanks. They come in a variety of sizes.
James Blue, a manager at Young's Express Performance Center, said the tanks are flying off the shelves. "I'd say last year we moved maybe 10 the whole year. This month alone I've done 12."
Why the sudden surge in popularity? Cheap gas is one reason. Plus, Border Control won't allow drivers to fill up gasoline canisters and bring them back to the states. Americans are taking these super-size tanks and heading south of the border to Mexico.
Traveling the Distance
"A lot of people don't live right on the border so it's not like a 15-minute trip," said Blue. "It's a good hour, hour and a half trip. So they don't want to go down there every three days. They want to get a lot more, bring it back, and go down there once a week, every two weeks."
"Its $1,500 installed," said one customer, Rick Pericich. He said it's worth it. Why? There's is a glaring difference in the price of gas between the United States and Mexico.
This weekend "Nightline" followed Kerry Manchego to Tecate in Baja, Calif. It's a scenic ride and a little out of the way.
"Here we are coming into Tecate," he explained as he drove through Mexico. "It's $4.89 for No. 2 diesel and we're about a block from the border… It's going to be $2.20 three blocks away from here."
Actually, diesel was $2.15, and this weekend, gasoline was only $2.95 a gallon. In Mexico, he filled the two tanks in his truck and paid less than that $175 for 78 gallons. That's twice as much gas for nearly the same cost, with some change left over.
Service With a Smile
There have been reports that some Mexicans are outraged at Americans entering the country to buy gas. There are rumors that some stations have refused to sell gas to Americans crossing the border. That has not been Manchego's experience.
"I say, Hey guys what's happening? Nice to see you again and fill me up," he said, while pumping fuel into his tank. "So they'll fill this tank first and then I'll open the top and they'll fill that one." Attendants even wash the windshield."
Americans seemed overjoyed with the deals they were pumping. "If I buy it here then I'm going to be able to save about 75 bucks," said one excited man.
"They have the oil here and it can be $2 a gallon or whatever it is," said another woman. "I don't know what it translates to as opposed to ours."
"I fill up my tank two times a week, so I'm getting a free tank of gas every week," said another.
Will the Bubble Burst?
Unfazed by accusations that some Mexican stations water down fuel or bilk customers by rigging pumps and undaunted by the growing, murderous gang violence along the border, American tourists keep coming.
Manchego said he does have reservations about going to Mexico because of the violence, but the low cost of gas makes the risk acceptable.
The data is mixed on how much gas sales have increased along Mexico's northern border. Mexican analysts believe this is mainly because people who live in Mexico but work in the United States now fill up only in Mexico.
Mexican gasoline is cheaper, because all stations are government owned. The cost of gas and diesel fuel is subsidized to the tune of $20 billion a year. That keeps prices artificially low. Some analysts wonder how long that can continue.
Critics said that money that should be spent on other things like schools, and that sooner or later the bubble will burst.
If it does, Kerry Manchego hopes it's much later. He will actually pay for the cost of his spare tank in four more runs to Tecate.
"Everybody's behavior has changed because of high gas prices," said Monchego. "I mean, normally I would never be here."
But he is, and with that change he had left over, Manchego grabbed a bite to eat. "The tacos are great," he said. "You can't get these any where else."
Of course, he will burn off some of his savings in that 2½-hour line heading back across the border..