As leaders from around the globe congregate in London this week to address the financial crisis, Treasury Secretary Timothy Geithner said any differences between the United States and other major countries are "dramatically exaggerated," with world cooperation at its highest levels since World War II.
Geithner downplayed reports of bickering among America's allies that included the Czech president's claiming that the U.S. rescue plan was a "road to hell" and French President Nicolas Sarkozy's threatening to walk out of the summit if President Obama doesn't agree to his demands for tougher controls for corporate giants.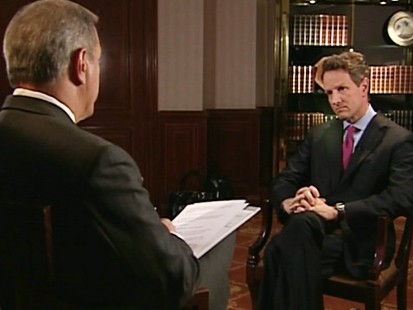 Watch "World News With Charles Gibson" Tonight at 6:30 p.m. ET for the full interview.
The allies have also resisted America's suggestions that the Europeans spend more to bail out their economies.
Geithner said the "scale of commitments" made by various governments to restore fiscal health is "very very powerful."
"Each of our actions are going to be more powerful if we're moving together," Geithner said.
"I think the world is with the president on this," he added. "I think there is very broad support for it. I think the differences you've seen are dramatically exaggerated. … I think this is the strongest moment of cooperation globally you've seen since the Second World War."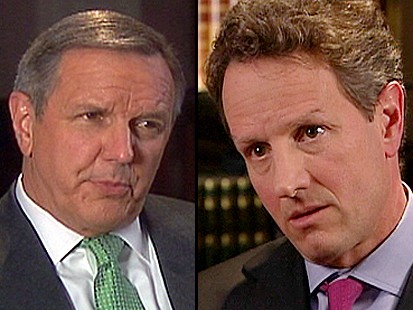 In the days and weeks before the
G-20
, some
European countries had challenged Obama's push for sustained stimulus measures
, with the
Czech Republic's Prime Minister Mirek Topolanek
calling the American financial rescue plan "a road to hell."
But today, Geithner said there was "very, very broad support" for the administration's agenda, citing examples of other countries already moving forward with stimulus programs.
"Look at the actions we're already taking," Geithner said. "Again, in Germany, in France, across continental Europe, in Japan, in China, India, very, very strong stimulus already."
Even though these countries' stimulus plans pale in comparison to the United States' $787 billion package, Geithner cautioned that all efforts must be viewed in the context of the size of a country's overall economy.
"You want to look against the relative size of their economy," he suggested. "You look in the context of their existing programs in place for unemployment insurance, how those actually work. If you add them together, there is more policy support for growth in the pipeline now getting traction than you have seen in decades."
'Strong Support' for Regulatory Reform
There is also broad international agreement, Geithner said, for financial regulatory reform and an avoidance of protectionist policies.
"We're going to see very strong support around that table tomorrow, in the next two days, very strong support around the world, to put in place the kind of reforms around the overall international financial system that will deliver a more stable, more sustainable, more balanced growth for the world economy, so that's the most important thing. Countries share that basic objective," he said.
Asked about protectionist measures adopted by certain countries, Geithner downplayed it, saying, "There's always a few exceptions to these kind of things, but the commitment is very strong."
Although this week's focus is on the global summit in England, Geithner still must contend with a series of domestic issues, such as claims that the administration had a double standard for the auto industry after Obama's auto task force asked General Motors' CEO Rick Wagoner to step down from his post.
Geithner Defends Govt.'s Management of TARP
"If you look at where the government has already acted, if you look at AIG, look at Fannie and Freddie, where we've had to do exceptional things, we've made sure that that comes with the kind of changes in management or the board necessary to make sure these banks, these financial institutions, emerge stronger," he said. "That's our basic test."
Another pending domestic battle is Obama's budget, which has been fiercely criticized by Republicans for spending, taxing and borrowing too much. But Geithner today defended the administration's proposals, such as its proposed overhaul of the health care system.
"Our basic responsibility and obligation, not just to Americans but to countries around the world, is to make sure we're not moving aggressively just to bring recovery back, but at the same time, we lay out a path so that we're ... going to move back to the point where we're living within our means of the country. Now, that's going to require some very hard choices," he warned.
"The president's budget laid out how we would make those choices. Congress is going to have to make those choices along with us," Geithner said.
On Tuesday, oversight officials testified before Congress that the Treasury Department had not done enough to increase the transparency and accountability of the Troubled Asset Relief Program, claims that Geithner rejected today.
"Unfair," he said bluntly. "We put in place very strong reforms to make sure there is much more transparency and accountability across all these programs."
The Treasury boss also reiterated that there was $135 billion remaining in the program after these watchdogs told Congress that the actual amount left was closer to $32 billion.
"The true number is roughly $135 billion. Now, that includes an estimate ... about what we might expect banks to repay over the next several quarters. So that number, we think it's a conservative estimate, but it does include a rough estimate of what money we expect to come back over this program."