Heather, a sales professional in the health insurance industry, got the mother of all accidental e-mails last year.
"A representative from HR accidentally cc'd me in a letter discussing plans for my termination," the San Diego resident said. "Within moments of sending the e-mail she tried to recall it, but that only drew more attention to it. The cat was out of the bag."
For Doug, a financial analyst from Greensboro, N.C., the tipoff was finding his own position listed online. For Eric, an advertising professional in Phoenix, it was stumbling upon a new seating chart his boss had left in the copier -- minus Eric's name. And Valerie, a social media marketing professional in Denver, received a premature note of condolence from a friend of her manager -- on Twitter.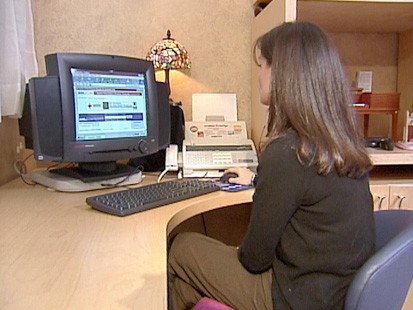 Looking for career advice? Click here to send Michelle your questions and they might end up as a topic for her next column.
There aren't any statistics on the number of employees who've been subject to such sloppy information leaks since the recession began. But I didn't have to look far to find workers who'd learned of their impending layoff from an errant e-mail, ill-timed job listing or confidential document mistakenly left in a public printer.
Just last month, this kind of "soft firing" happened to two friends of mine at two different companies. Last September, it happened to the entire staff of a prominent ad agency.
Shocking and upsetting as it may be, there's a right way and a wrong way to deal with a soft firing like this. So let's talk about what you should do, who you should tell and what you should fight for if you find yourself on the losing end of such a bean spilling.
Losing Your Job? Forget Pride -- Fight for It
Take some time to compose yourself, but don't wait too long. To keep your job, you have to act quickly, said Cynthia Shapiro, author of "Corporate Confidential" and "What Does Somebody Have to Do to Get a Job Around Here?"
"You can negotiate your way through this," said Shapiro, a former human resources executive who's now a business and career consultant. "I've helped people get their job back even two weeks after the layoff."
Her advice? Go to the person who sent the e-mail or left the document in the printer and say, "I couldn't help but notice this. Is there anything that can be done to change the outcome?"
If the person you're speaking with wasn't the decision maker, ask who was and speak to them. And if you don't know who left the telltale doc in the color copier, talk to your boss.
Diplomacy will get you far. So will remaining calm. Hysteria has no place in this discussion.
"You want to say that it's because you love the company and you want to stay, not because you need the job and don't want to be unemployed," Shapiro said.
You also want to have this conversation in a private setting, as discretion is key.
"You need to let them know you're not going to tell anyone else about this," Shapiro said.
Suggest a Pay Cut
Because it's easier to find a job when you already have one, see if you can buy yourself a little time at your existing job. Shapiro suggests negotiating a 20 percent pay cut or a four-day workweek.
"Companies don't necessarily want to say that they're giving employees a 20 percent pay cut because they're afraid of what that's going to do to morale," Shapiro said. But if you're the one making the suggestion, they just might bite.
For the person already interested in a reduced work schedule, word of an impending layoff can be a blessing in disguise. During a department-wide downsizing, two full-time employees I know who wanted to spend more time with their families negotiated a job share. Both went down to 24 hours a week. Their salaries shrunk too, but not their benefits.
Losing Your Job? Try Negotiating
"Sometimes you can even negotiate going to half-time for the next two or three months," Shapiro said. "That way, you still have the job while you're looking for another."
Of course, not all managers will cut you a deal. Some won't even be truthful.
Doug's boss lied about fishing for his replacement online, until Doug showed him a printout of the job listing. Valerie's boss refused to cop to the layoff Valerie had learned of on Twitter and then promptly called the rest of the department to a meeting and laid them all off.
"I didn't use that foreknowledge for any kind of leverage because honestly, who would want to continue working for a company after being lied to like that?" Valerie said.
Negotiate the Terms of Your Layoff
If the powers that be don't go for your suggestions or you're so disgusted with the company nothing could convince you to stay, it's time to talk severance pay.
In return for signing any termination agreement your employer puts in front of you, capitalize on their embarrassment over the information leak and ask them to make some concessions.
Heather, the sales rep, negotiated six weeks of severance on top of what her employer initially offered -- plus a confidentiality clause that prevented her employer from disclosing the specifics of her termination to anyone else.
"I didn't want them sullying my name," she said.
But severance and confidentiality aren't the only requests you can make.
"You can ask them to pay for your COBRA coverage. You can ask to stay on the books as an unpaid employee so you have a job on your resume for three additional months," Shapiro said.
If you have four weeks of vacation coming, you can ask to remain an employee while you spend the month job hunting, she added.
Doug, the financial analyst, convinced his employer to keep him on staff for three months while he interviewed for other positions at the company. He also negotiated six months of outplacement services and several months of severance pay in the event that he didn't find a new job during those three months.
Negotiate Your Own Layoff
So exactly what should you say when negotiating the terms of your departure? Tell your employer, "I'm happy to sign this document if you'd be willing to consider [insert concessions here]," Shapiro advised.
"They need you to sign that agreement," she said. "If you don't, that's a lawsuit that they're not sure won't happen."
This work is the opinion of the columnist and in no way reflects the opinion of ABC News.
Michelle Goodman is a freelance journalist, author and former cubicle dweller. Her books — "My So-Called Freelance Life: How to Survive and Thrive as a Creative Professional for Hire" and "The Anti 9-to-5 Guide: Practical Career Advice for Women Who Think Outside the Cube" -- offer an irreverent take on the traditional career guide. More tips on career change, flex work and the freelance life can be found on her blog, Anti9to5Guide.com.