Going fast helps Akio Toyoda get to know cars.
An amateur racer, the embattled president of Toyota Motor Corp. once told reporters that he suits up for competitions like the 24-hour endurance contest in Nurburg, Germany because racing "has a lot to do with the development of cars."
But on his racing blog, the grandson of Toyota founder Kiichiro Toyoda -- who uses the pseudonym Morizo -- gets a little more personal.
"An escape from reality? A hobby? I, Morizo, know many things have been said about my racing. But I have simply loved cars since I was little," he wrote last July.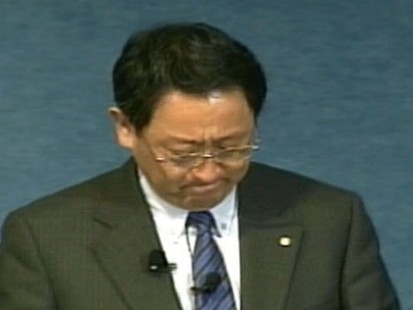 Wondering about the name change from Toyoda to Toyota? Click here.
Toyoda's intense love of the automobile -- his blog sometimes devolves into rambling posts on the beauty of cars -- thus far hasn't saved him from the hate coming his company's way as Toyota struggles to emerge from a cloud of recalls and fatal crashes blamed on defects in some of the brand's top models.
Americans "have grown up in an atmosphere that we had a great deal of faith in something that was stamped 'Made in Japan' -- that it was of the highest reliability," Rep. Paul E. Kanjorski, D-Pa., said Wednesday at a congressional hearing on the Toyota recalls. "You've injured that thought process in the American public."
At an event later in the day at the National Press Club in Washington, D.C., Toyoda received a considerably warmer reception as he addressed U.S. Toyota executives, dealers and employees, who gave him a standing ovation.
Choking back tears, Toyoda thanked them for their support, saying "words don't express my gratitude."
At the congressional hearing hours earlier, the Japanese scion was more reserved as he reiterated apologies for the defects and the accidents they allegedy caused. The company, he said, grew too quickly.
"We pursued growth over the speed at which we were able to develop our people and our organization, and we should sincerely be mindful of that," he said. "I regret that this has resulted in the safety issues described in the recalls we face today, and I am deeply sorry for any accidents that Toyota drivers have experienced."
But Toyoda may have been apologizing for problems that weren't his fault, said Peter De Lorenzo, the author of "The United States of Toyota: How Detroit Squandered Its Legacy and Enabled Toyota to Become America's Car Company."
Toyoda's American Education
Toyoda joined the family business in 1984 and worked his way up the ranks before being named president last summer. But he likely wasn't responsible for the decisions that led to the company's rapid expansion several years ago, De Lorenzo said. That, he said, happened under Toyoda's predecessor, Katsuaki Watanabe.
"Under Watanabe, they added plants under breakneck pace to increase volume," De Lorenzo said.
Somewhere along the way, company lost some of its emphasis on reliability, quality and careful, incremental changes.
"Things were falling through the cracks," he said.
The appointment of Toyoda, 53, may have been prompted by a desire to return the company to its glory days under family rule. Before he took the reins, the last Toyoda family member to lead the automaker was Toyoda's uncle, Tatsuro Toyoda, who stepped down from the president's post in 1995. Before him, Akio Toyoda's father, Shoichiro Toyoda, ran the company for a decade.
Akio Toyoda "took the helm of Toyota at a time when Toyota was having very extreme downturn," said Emily Parker, a senior fellow at the New York-based Asia Society. "Part of motivation for bringing him in was perhaps to send the message that Toyota was going back to basics, to send this message that Toyota was going back to the family."
But Toyoda's value to the company also came from his Western experience, she said. He earned an MBA from an American school -- Babson College in Massachusetts -- and spent years working in the United States.
It's been noted that his personal style contradicts that of the staid, stereotypical Japanese businessman. At a 2004 auto show in China, Toyoda reportedly donned a white silk suit.
"He could be seen as merging this Western experience with more traditional Japanese values," Parker said.
Not that Toyoda is flamboyant. Indeed, a former grad school classmate, Mike Crehan, remembered him as friendly but unassuming.
"I think people knew him because of his name, but he wasn't a big man on campus," he said. "He wasn't treated like a rock star and he didn't act like one either."
Perhaps the one way Toyoda did stand out was through his car, which was always, of course, a Toyota model.
"He usually had the nicest car," Crehan said, "but you can't damn someone for that."