A few days after the BP-operated Deepwater Horizon drilling rig blew up and began leaking oil into the Gulf of Mexico in April, Eli Achi braced for the backlash.
But Achi, a native of Lebanon who independently owns and operates a BP service station in Arlington, Mass., never thought the disaster would last this long, or that his business would suffer this badly.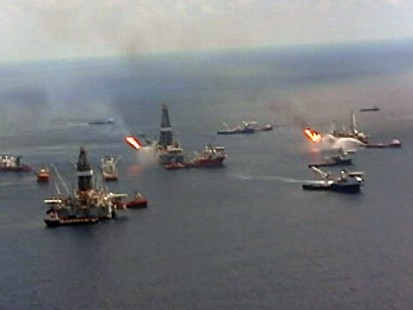 "Business is way, way down," he said. "People don't want to buy gas from me. And it just keeps getting worse. BP has done nothing to help."
That soon could change.
Wholesale Price Breaks
Starting this week, BP plans to roll out a series of initiatives aimed at helping the independent retailers of its gasoline, including a program that will allow regional BP gas distributors to offer some selected retailers a discount, according to John Kleine, executive director of the BP Amoco Marketers Association. Amoco, as well as Arco, are owned by BP.
Kleine said that money will also be available for targeted marketing campaigns, but only for those gas station owners hardest hit.
"This is not a one-size-fits-all initiative," Kleine said. "Each situation is different."
The plan, which follows a meeting last week between BP marketing officials and distributors, who are also hurting, is going to be aimed at distributors and will begin to be communicated to them this week, Kleine said. Some 475 BP gasoline distributors deliver product by tanker to some 10,000 BP fill-up stations/convenience stores, most of which are independently owned. The distributors, who buy from terminals, will get a break on prices, and, in turn, will have discretion to give discounts to individual station owners.
"Some store owners need help more than others," Kleine said. "This is a dynamic problem that requires flexibility, but relief is coming."
BP boycotts began to accelerate at the end of May. At least two liberal-leaning organizations, including the Washington, D.C.-based Public Citizen, the consumer watchdog group founded by Ralph Nader; and Democracy for America, a Burlington, Vermont-based political action committee; have begun anti-BP campaigns. Democracy for America is asking its one million members to boycott BP stations in a campaign that started last month and features bumper stickers that read "AnyoneButBP." Additionally, a Facebook page dedicated to promoting a BP boycott garnered 800,000 followers, but, according to reports that surfaced early Tuesday, has now disappeared from the popular website.
Stations See Sales Down 20 Percent
Like many station owners under contract to sell BP gas under the BP banner, Achi said he has been looking to the oil company for help offsetting a sharp decline in business as a result of formal boycotts and negative public perceptions.
But, as with the disaster in the Gulf, relief has been slow to come, and patience is almost on empty. Last week, independent station owners and distributors, who are also feeling the effects of the boycotting, began to press the company for financial relief. Scott Dean, a BP spokesman, also confirmed that the company is set to make an announcement about some measures that would be aimed at helping independent gas station owners.
Jeff Lenard, a spokesman for the National Association of Convenience Stores, which counts hundreds of BP gas station owners as members, applauded the effort. He confirmed that the situation is getting difficult, primarily in Florida where some retailers report sales off as much as 20 percent. BP does not operate many stores directly in Gulf states such as Louisiana and Alabama.
Razor-Thin Margins
"What retailers have told me is that BP has been very supportive of the businesses affected in the Gulf – fishermen, etc. – but they haven't been as aggressive in supporting the BP-branded retailers that are also hurting," Lenard said. "BP needed to step it up to help these businesses. It looks like they got the message."
Apart from giving out some independent operators free signs that say "this store is independently owned and operated," BP has not done much to help, store owners said.
"I have not heard a word from them, except for one lousy e-mail that spelled out how to handle customers," Achi said. "My regional BP wholesaling representative used to check in here every few weeks, in person. I have not seen him in two months."
Ramesh Chhabra, who owns a BP station in Madison, Wisconsin, said business is down. He also lamented lack of help from BP. "A break of gas prices would be a big help," he said.
With the BP oil leak disaster now well into its third month, many owners of BP stations, such as Achi, are starting to wonder if they are going to be able to survive. Currently, Achi says he makes about 6 cents per every gallon of gas he sells. He is paying a wholesale price of about 6.5 cents, meaning that unless he gets some relief -- he has no room to lower prices to entice customers who otherwise inclined to make a protest. If regional wholesalers were able to give stores a price break on BP product that would help, Achi said.
Distributors, also known in the industry as "jobbers," often do more more than sell BP product, operating fleets of tankers that load up at shared, industry-run supply terminals, of which there are hundreds around the country.
Because of the way the gasoline industry works – retailers buying from wholesalers supplied by shared supply terminals loaded with gasoline supplied via pipeline by various refineries, which themselves are operated by big oil companies – it's often difficult to distinguish which gas came from which oil company. In other words, BP's Dean explained, there are non-BP stations selling product that was refined by BP, and BP stations selling product that was refined by companies other than BP. That's not a message that can be easily relayed to customers.
"One guy, just now, he pulls in, sees our sign and realizes that he's at a BP and then he pulls away," Achi says. "What can I tell him? That I have three kids I have to feed? That my mechanic also has three kids? Too late. The customer, he yelled soemthing at me and drove off."
Whether any of the aid BP can offer gas station owners will actually be of any help remains to be seen. Fishermen and tourism industy members, meanwhile, began filing claims against a superfund that the oil company set up with a push from President Obama. As for pelicans and other assorted sea creatures in the Gulf -- most are still waiting for relief.
John Wetenhall contributed to this report.