The coronavirus pandemic has quickly evolved from a health care crisis to a financial one, shuttering businesses, upending industries and sending financial markets reeling.
Here's the latest news on how the COVID-19 crisis is affecting the economy. For more on financial resources available during the pandemic, click here.
Here's how the day is unfolding. Please refresh for updates.
Markets rally Friday
U.S. financial markets rallied Friday on hopes the U.S. economy could reopen for business soon.
The Dow Jones Industrial Average was up approximately 700 points, or 3%, when markets closed Friday. The S&P 500 was also up 2.7% and the Nasdaq rose 1.4%.
On Thursday, Trump touted plans to reopen the American economy in phases. The president said some states could enter phase one of reopening "literally tomorrow."
Medical authorities have warned, however, that more widespread testing and contact tracing would be necessary in order for the nation to safely reopen.
The best performers Friday were Boeing, which spiked more than 13%, and JPMorgan Chase, which gained nearly 9%. Energy giants Exxon Mobil and Chevron also saw gains of approximately 9% and 8%, respectively.
The worst performers were United Health Group (which shed nearly 3%) and Apple (which lost a little over 1%).
For the week, the Dow gained 2.2%. The S&P 500 was up 3% and the Nasdaq rose 1.4%.
Walmart hiring an additional 50,000 associates amid pandemic
Walmart announced Friday that it has fulfilled its commitment to hire 150,000 new employees amid the pandemic and pledged to hire an additional 50,000 employees.
The retail giant said it has received over 1 million applications and hired an average of 5,000 people per day even as unemployment rates soar across the country.
The new jobs will be at stores, clubs and fulfillment/distribution centers.
"To hire these 150,000 new associates, we've worked with more than 70 companies that have furloughed workers," the company said in a statement. "We're seeing these associates come to us from restaurant and hospitality industries and other retailers."
"While many of these associates want temporary employment that serves as a bridge during this time, we also expect others to convert to permanent roles," the statement added.
Comic-Con canceled for the first time in 50 years
The 2020 San Diego Comic-Con has officially been canceled due to the COVID-19 pandemic, marking the first time the event has been scrapped in its 50-year history.
The event, which was set to take place from July 23 to 26, will instead return to the San Diego Convention Center from July 22 -25, 2021.
"Extraordinary times require extraordinary measures and while we are saddened to take this action, we know it is the right decision," David Glanzer, a spokesperson for the organization, said in a statement. "We eagerly look forward to the time when we can all meet again and share in the community we all love and enjoy."
Anyone who purchased badges for SDCC this year will have the option to request a refund or transfer their badges to next year's Comic-Con. All badge holders will receive an email within the next week with instructions on how to request a refund.
Treasury says it distributed '14 years' worth of loans in less than 14 days'
Treasury Secretary Steven Mnuchin and Small Business Administrator Jovita Carranza said their Paycheck Protection Program, which has courted controversy for weeks, has "processed more than 14 years' worth of loans in less than 14 days, which will protect a vast number of American jobs" in a new statement Friday.
The majority of the loans, or 74%, were for under $150,000, the two added in a joint statement, saying this demonstrates "the accessibility of this program to even the smallest of small businesses."
Moreover, they said the PPP has provided payroll assistance to more than 1.6 million small businesses since its inception on April 3.
"Nearly 5,000 lenders participated in this critical program, including significant lending by community banks and credit unions," they said. "Nearly 20% of the amount approved was processed by lenders with less than $1 billion in assets, and approximately 60% of the loans were approved by banks with $10 billion of assets or less. No lender accounted for more than 5% of the total dollar amount of the program."
Mnuchin and Carranza went on to call for more funding from Congress for the PPP.
Thousands of small business owners across the U.S. have been left in the lurch after the program officially ran out of money Thursday morning.
Mississippi allows 'safe sales' from non-essential businesses to help people cope 'mentally and financially'
Mississippi Gov. Tate Reeves announced that nonessential businesses can reopen with curbside pickup, delivery or drive-thru sale options.
"Clothing stores, florists, or athletic goods can do safe sales. If a salon or other business wants to safely sell their excess supplies to stay afloat, they can do that," Reeves said in a statement. "Call ahead or order online, then safely pick it up. I wish I could open it all back up for everyone. I can't do it without harming even more people. But we believe that we can safely do this."
Reeves also extended a shelter-in-place order for an additional week.
He said his decision was made in order to help Mississippians stay afloat and to prevent overcrowding at bigger retailers.
"No business is non-essential to those who rely on its paycheck for food, supplies, and shelter. I cannot sit by while Mississippians are driven into poverty, without doing everything in my power to give them some greater ability to take care of themselves. It's not enough," Reeves said. "But it's a good faith step towards recovery, and I hope that you will take it as a lifeline and sign of hope."
China's economy shrunk by 6.8% in first three months of 2020
After years of uninterrupted growth, China reported Friday that its economy contracted by 6.8% in the first three months of the year compared to the same time last year as the a result of the novel coronavirus pandemic.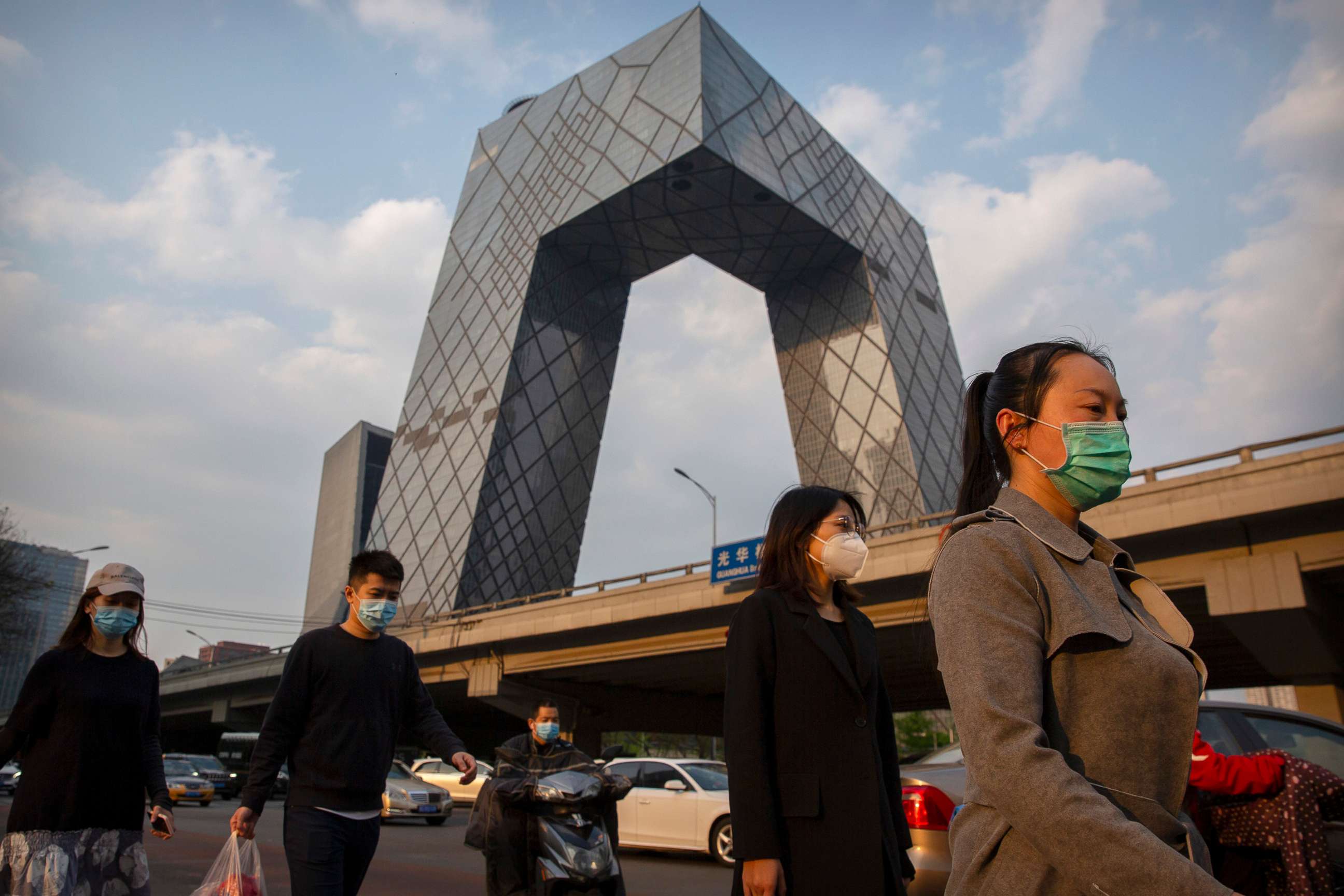 The sharp contraction for the world's second largest economy was released by China's National Bureau of Statistics on Friday, the same day that China revised its death toll for the epicenter of the outbreak in Wuhan up by 50%.
The country added 1,290 deaths for Wuhan, with a death toll that now stands at 3,869 in the city.
ABC News' Stephen Iervolino contributed to this report.