— -- "Fight Club" star and Academy Award-nominated actor Edward Norton is promoting the third annual Giving Tuesday with the hope that more people will volunteer their time or give money to philanthropic causes as an altruistic antidote to the shopping sprees of Black Friday and Cyber Monday.
"There was all this energy and attention on gearing up for the holiday shopping season, and some people got together and decided there should be reminder that the holiday season is also the season of giving back and that a day should be dedicated to rallying momentum around that idea," Norton told ABC News.
As part of Giving Tuesday today, thousands of charities, churches and schools are holdings events and encouraging people to participate, many through the website GivingTuesday.org. Organizations that can collect data are asked to report how many people volunteered or gave money. The campaign originated from Henry Timms, deputy executive director of the Jewish community center 92nd Street Y, and Kathy Calvin, CEO of the United Nations Foundation. The idea gained momentum for the 2012 holiday season.
"December also marks the beginning of what for most nonprofit organizations is a year-end fundraising push," Norton said. "I think the idea of creating one day where people can get excited to support their favorite causes and organizations before the end of the year is really smart."
With the generous spirit of the holidays, consumers can avoid being scammed by doing a little homework before investing in a cause.
Norton shared about his thoughts on how people can participate on Giving Tuesday and the for-profit charitable fundraising platform CrowdRise that he co-founded in 2009.
What is your involvement with Giving Tuesday? And how can others participate creatively?
"We're always trying to find innovative ways to rally people around giving back and make it fun. People like to see and feel that they've been a part of something big and so we wanted to create a campaign that shows the collective impact of giving on Giving Tuesday. So we decided to build a giant virtual reality Giving Tower that shows the donations literally stacking up. Kind of a 21st century version of the old fundraising thermometer."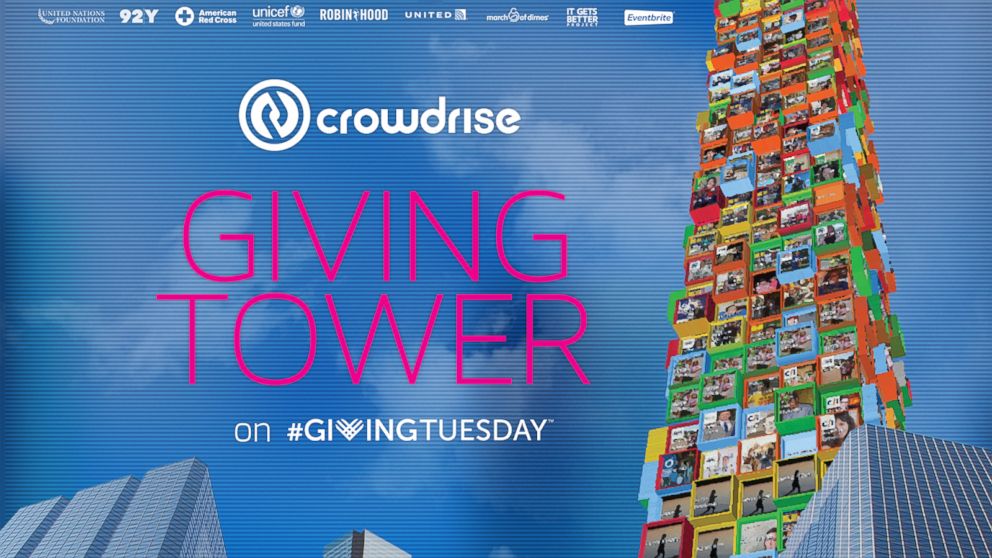 "We partnered up with big charities like U.S. Fund for UNICEF, March of Dimes, the U.N. Foundation and companies like United Airlines and Eventbrite, and worked with an augmented reality company to build an app, so that anyone can see the Tower wherever they are by downloading the free app and pointing their phone or tablet at a dollar bill. The campaign has been live since last Tuesday, and the building is already taller than the Great Pyramid of Giza. It's raised over $415,000. We're pretty psyched about it all, because it's just been tremendous for so many charitable organizations," Norton said.
"People should check it out," he added. "Download the app and point it at a dollar bill. It's really cool."
What's your latest work with CrowdRise?
"Well, first and foremost we're always continually working to make sure that CrowdRise is the easiest and most effective and most fun platform for passionate people to support the causes they care about. Most people have a Facebook account for socializing, an Instagram account for sharing photos, a LinkedIn account for business networking. ... We want everyone to have their own permanent CrowdRise account to stage their personal activism from. Our most recent expansion that I'm excited about is that we've decided to let our CrowdRise users mount fundraisers to help other people directly ... like a family member or a friend in need. We've seen an amazing response -- people are fundraising for friends with crushing medical bills, or neighbors who lost a home in a fire or the college tuition of a kid that inspires them ... all sorts of amazing stories. We love that kind of 'direct assistance' expression of philanthropy ... person to person, people helping other people," Norton said.
"And, we just launched our annual CrowdRise Holiday Challenge, a $250,000 fundraising competition for charities to rally their supporters around."