— -- On the brink of a major default on its loans before Tuesday's deadline, Greece shut down its banks today and created financial chaos among its citizens.
Greeks are limited to cash withdrawals of just 60 euros a day, worth about $60 as the value of the euro against the dollar has plummeted in recent hours. This afternoon, credit ratings agency S&P cut Greece's long-term credit rating to "CCC-" from "CCC," saying that the probability of Greece exiting the eurozone is now about 50 percent.
At least 500 of Greece's 7,000 ATMs had run out of cash on Saturday morning, Bloomberg News reported.
Now the future of Greece's membership in the European Union is even shakier, with the fear of a Greece exit from the euro currency, or a "Grexit," even more imminent.
Douglas Elliott, a fellow in Economic Studies at the Brookings Institution, said he's not surprised by the photos that show Greeks waiting in long lines to take their money out of banks.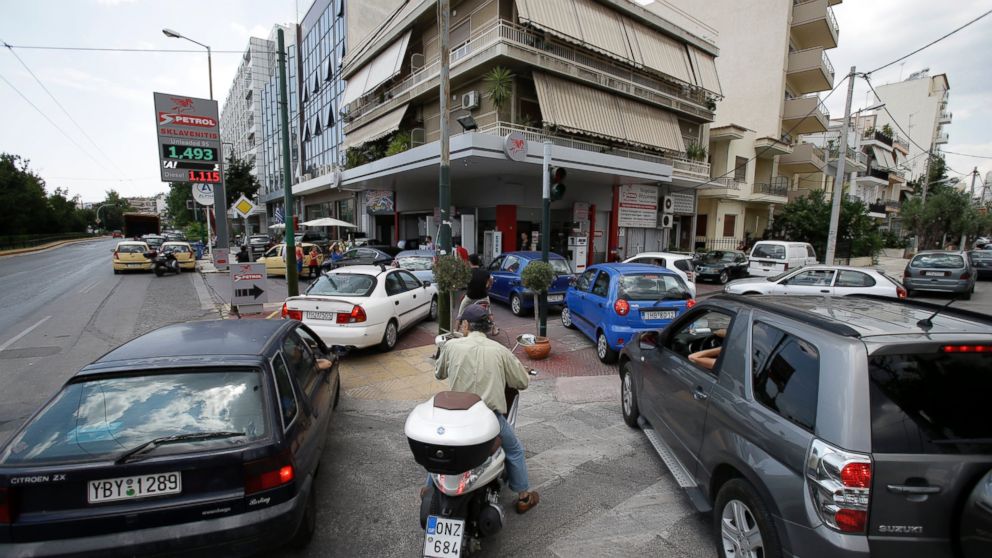 Greek drivers are also waiting in long car lines at gas stations, fearing that the country won't be able to secure its fuel supplies.
"People would certainly rather be safe than sorry in such an uncertain environment," Elliott said.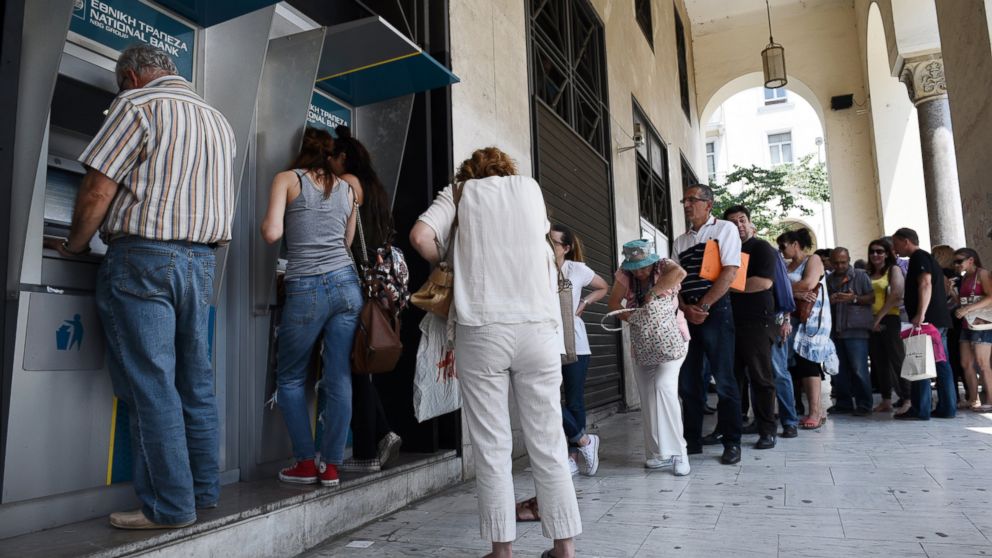 However, Elliott said that the odds of a "Grexit" are only 20 to 25 percent.
"That does not preclude quite a lot of pain before a deal is reached, though," he said.
Greece's creditors are calling for "austerity" measures that include deep spending cuts, following bailout loans of about 240 billion euros since 2010.
Greece's far-left prime minister since January, Alexis Tsipras, threw what some are calling a wrench in the European Central Bank's plans by announcing on Saturday that the country will hold a referendum on July 5 on whether to accept its creditors' terms for a continued bailout.
Banks may remain closed until then, leaving Greek citizens in panic mode for the rest of the week.
Foreigners are reportedly able to withdraw their usual amounts of money as long as they use a foreign bank's debit or credit card, according to Greece's finance ministry.