Wildlife experts say tigers in the wild come together only to mate. They also report that tigers like to live in places where it is easy to hide and hunt. This certainly sounds like the Tiger Woods we know. But with the news that Tiger is stepping away from golf, just 4 short of Jack Nicklaus' major record to save his marriage, the golf world, sponsors and those who have been following this rapidly developing story have been caught flat-footed.
Real-life Tiger is not reacting the way we believed he would. He didn't come out and talk to the world. He didn't explain himself. He didn't blame the media or lash out at the world. He may not have even listened to his handlers. Instead by all appearances he seems to be desperately trying to deal with his inexcusable behavior and repair the most important relationships -- those with his family.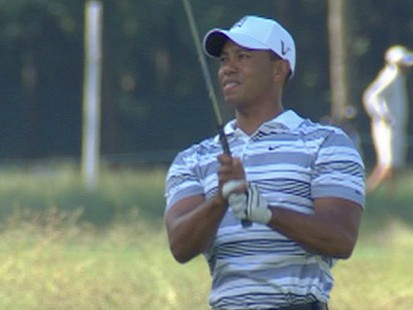 It has been an unbelievably rapid descent for Woods. From allegations of an
affair
with one woman reported by tabloid newspaper The National Enquirer a little over two weeks ago, to an early morning single auto car crash with Tiger at the wheel last week, to the discovery of a Pandora's box, engraved with Eldrick Tiger Woods' full name and filled with cocktail waitresses, escorts and even a prostitute; by early in the week, it was obvious this was not a nightmare but a straight up, wide awake
public relations disaster
.
Nothing Tiger has done in his career to date has been the easy or expected. When we were introduced to his prodigious talent as an amateur, we expected him to win. But as he become a professional and easily continued his winning ways, we began to understand he was truly special. After he won the 1997 Masters at the tender age of 21 by an unprecedented 12 strokes, we knew he was not just special but a true phenom. More than 80 worldwide wins later we now know we have been witness to the type of athlete who comes along maybe once a generation. At times, it seemed, he simply willed himself to victories.
Tiger Woods May Be Able to Reinvent His Game
Now as he takes this unexpected hiatus from the game he reinvented, we are left with many questions. When will he be back? How will the business of golf air without its star? What will sponsors do? What part did the media play, and did it overstep its bounds?
Advertisers will forge ahead bravely and try to see what they can salvage of their sales forecasts without the help of their main engine. Golf will take a big hit in interest and for the time being go back to being the elitist niche sport of the pre-Tiger era. The media will point fingers at itself until the next ambulance comes flying down the street with its sirens blaring and a barefooted celebrity hanging out the back. The public will be split between those who are growing increasingly ravenous to eat its celebrities and those who had had enough the day after the crash.
Tiger on the golf course has shown an unmatched ability to take a game where many things can't be controlled such as the weather and the lie of the ball and somehow make everything work to his advantage. Golfers the world over believe golf mirrors life. Tiger can only hope so. Advertisers hope so. Many golf fans do as well.
I predict Tiger will be back. New Tiger will be changed like Moses after the mountain experience. He will better understand his mortality and his place in the world. He will savor his time on the field of play and recognize it is a blessing and a privilege. He will be a better endorser because he will no longer be invincible, and that will make his success even more appreciated and revered.
The work is the opinion of the columnist and in no way reflects the opinion of ABC News.
Larry Woodard is president and CEO of Vigilante, a New York-based advertising agency that develops consumer-centric advertising campaigns. He is also chairman of the American Association of Advertising Agencies New York Council and the recipient of many prestigious industry awards, including two O'Toole Awards for Agency of the Year, the London International Award, Gold Effie, Telly, Mobius, Addy's and the Cannes Gold Lion. A blogger and a frequent public speaker, Woodard enjoys discussing the intersection of media, politics, entertainment and technology.