For 27 years, the Ford F-150 has been America's best-selling vehicle, averaging only 14 to 21 miles per gallon. The average for all cars is about 25 miles per gallon.
Yet with President Obama's call for new vehicles to average more than 35 miles per gallon within the next seven years, automobile experts say car design will inevitably conform to fit the new energy-efficient standards.
"You're going to see more small cars," says Joe Wiesenfelder, senior editor of Cars.com. "You're gonna see more roominess inside and smaller on the outside. You're going to see more hybrids, you're going to see electrics."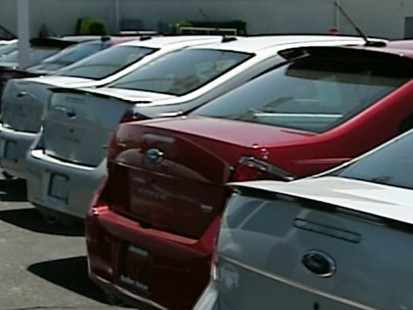 Many Americans equate high-mileage with small cars. For example, the Ford Focus already meets the president's new mileage standards of 35 miles per gallon -- but with its smaller size, is a tight fit for some.
However, comfort and economy are not necessarily mutually exclusive concepts. Hybrid sport utility vehicles, sedans and crossovers -- vehicles that blur the traditional lines between cars, minivans and SUVs -- are already on the road.
"You probably get more bang for the buck on the bigger cars in terms of mileage savings than you do on the smaller ones," said Joe Bredemann, president of the Bredemann Ford dealership in Glennview, Ill.
Nonetheless, American car companies are already retooling. On Tuesday, Ford opened a plant in Cleveland making new V-6 engines that produce V-8 power with even less gas.
Gary Dilts, vice president of J.D. Power and Associates, predicts that over the next few years, automakers will build more compacts, and fewer pick-up trucks and SUVs.
"The technical equation for the automakers is going to be find lighter-weight materials, find higher-efficiency engines, get the aerodynamics in place," Dilts said.
Meeting the new standards within seven years will cost automakers more. The White House estimates it will cost an estimated extra $1,300 per vehicle.
"If you are an automaker, you can spend a billion dollars plus, sometimes $2 billion on a new model. That's a lot of money to spend at a time when you are losing money," said Dave Sedgwick, editor of Automotive News.
Energy-Efficient Cars' Cost Likely to Be Passed On to Consumers
The additional expense is expected to be passed on to the consumer.
"Consumers will pay more for cars. There is no doubt about it. The money has to come from somewhere," Wiesenfelder said.
The Environmental Protection Agency, however, estimates savings from higher gas mileage vehicles will allow consumers to break even in 3.2 years.
Still, automakers embracing the stricter standards after years of fighting them now have to convince their customers to do the same.