For Bob Fitzgerald, finding a job with multiple DUI convictions on his record and no driver's license was no easy task.
Then in July, the 56-year-old recovering alcoholic found employment—his first job since his last conviction in 2003—at a newly opened hot dog stand in Chicago.
"I spent the last three years in and out of institutions, living in public housing," the Chicago resident said. "This is the first time I'm able to pay for anything."
Fitzgerald is an employee at the aptly-named Felony Franks, a local business that employs rehabilitated ex-felons looking for a chance to improve their lives. Most of Fitzgerald's co-workers have been convicted in the past of drug-related crimes, including dealing and illegal activities to support drug habits, such as theft and armed robbery.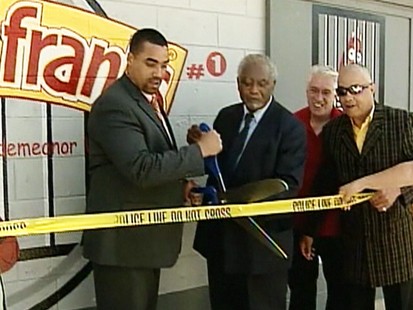 The business is the brainchild of Chicago businessman Jim Andrews, who has hired ex-offenders at his local paper company for the past eight years. In 2003, Andrews created the Rescue Foundation to help ex-offenders.
But unlike Andrews' other business, the hot dog stand operates under a jail-theme with a slogan, "Food so good, it's criminal."
"The biggest thing I'm trying to do, I'm trying to take the stigma off ex-offenders," Andrews said. "Society will not look at them as rehabilitated people, but will look at them as a felon for the rest of their life."
In addition to the signature felony frank—a 1/6 lb. all-beef dog with a garlic finish—the menu boasts the misdemeanor wiener, pardon burgers, burglar beef, handcuffed tamales and freedom fries. To order, a customer must answer to an employee's greeting of "Are you ready to plead your case?" The customer can then tell the cashier if they'd like to take their food "out on good behavior" or sit down and "serve time."
At the stand's official opening last Monday, 2,000 hot dogs were given away to the hundreds of guests. Among the attendees was Congressman Danny Davis, D-Ill., who assisted in the ribbon-cutting ceremony.
"Individuals can begin working here and maybe they develop a work ethic. Maybe they get an opportunity to move up and move out," Davis told WLS-TV, ABC's Chicago affiliate station.
Many community members applaud Andrews' initiative to employ ex-offenders, but not everyone is a fan of the restaurant's jail theme, including Chicago alderman Bob Fioretti, whose ward includes Felony Franks.
"There's a victim from a felony. A felony means time behind bars and a felony means lost resources," Fioretti told WLS-TV. "We shouldn't be glorifying felonies here in this day and age."
However, Andrews has no plans to change his business' name.
"I didn't open it to be offensive," Andrews said. "I used the name in a cute manner. I am trying to show society that ex-felons are good people and can run a clean business."
The business received approximately 600 applications. About a dozen of the applicants were hired to clean, cook and serve as cashiers, with the possibility of earning more responsibilities in the future. They're paid $8 an hour.
"I shoot from the gut," Andrews said of hiring ex-offenders. "When you work with a person for long enough, you get to know their character. When their character changes is when you really need to take a hard look at them."
Andrews looks for applicants with good personalities and educational achievements like a food certification or computer class; the crime doesn't matter, though it is discussed during the applicant interview.
"I have great experiences working with my guys," said Andrews, who is legally blind.
Ex-felons have a better chance of finding employment at local businesses like Felony Franks than at large corporations where formal background checks are needed to protect liabilities, said Eric Mayo, author of "From Jail to a Job." Every state and company has its own criteria, but most background checks only scan the last 10 years.
"There's a cultural bias against people with felony records," Mayo said. "It's just like any handicap, you just have to work harder to overcome it."
Job seekers with felony records should look at opportunities with smaller businesses, companies that have a history of hiring previously incarcerated individuals and personal contacts. And if asked about the crime, applicants should always be honest, Mayo said.
But most businesses that hire ex-felons do not use that detail as a marketing strategy.
"Will consumers be uncomfortable? Will that be a turnoff? To some, maybe," said Ron Paul, president of Technomic, a Chicago-based food supplier consulting company. "A lot of it is going to come down to how the restaurant looks, how clean and attractive the employees are, what the condiments are like."
Aside from the theme, Felony Franks faces a competitive market. Chicago, considered the country's hot dog capital and home of the famous all-beef style dog, has 1,800 hot dog stands in the metropolitan area, exceeding the number of Chicagoland McDonald's, Burger King, and Wendy's stores put together, the Chicago Tribune estimated.
"I'd give it an A for creativity and for the rest of it, we'll have to see in three to six months," Paul said.
Since Felony Franks' grand opening, Andrews said business has been good. He hopes to open a chain of stands in other cities.
In his first week on the job, Fitzgerald said the customers have been "fine."
"I've been through a lot and I don't expect much," he said. "I have an opportunity to get some things back on track. I'm just grateful for this job."