After closing hundreds of dealerships, General Motors, the troubled car maker that emerged from bankruptcy last month today opened a virtual car lot, selling cars online through eBay.
Bidding for up to 20,000 new GM vehicles started at 12:01 a.m. PT today, a GM spokesman said. Through the trial eBay program, consumers can negotiate the prices of new vehicles with California dealerships.
About 225 of GM's 250 dealerships in California will participate in the test, which is set to run through Sept. 8. The dealerships will sell new Buick, Chevrolet, GMC and Pontiac vehicles on co-branded Web sites, including gm.ebay.com, Chevrolet.ebay.com and gmc.ebay.com.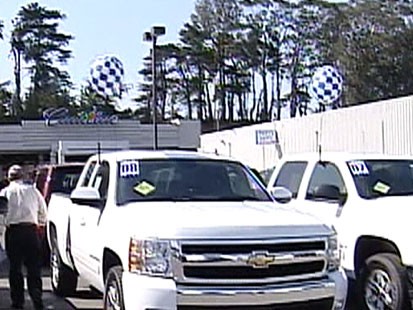 If the program, which boasts the slogan "Our Best Cars. Your Best Offer," is successful, it could be launched nationally, the company said.
The troubled automaker emerged from Chapter 11 bankruptcy in July, thanks to a government bailout. The leaner, new GM now focuses on four brands -- Chevrolet, Cadillac, Buick and GMC-- in hopes return to profitability.
As part of its restructuring, GM announced earlier this year the discontinuation of the Pontiac brand, the layoffs of 21,000 U.S. factory employees and a 40 percent decrease in dealerships.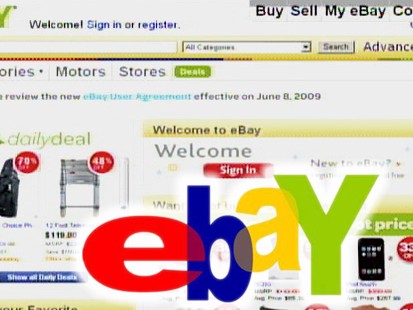 California was chosen for the trial program because of the number of consumers there who are comfortable with technology, GM spokesman John McDonald said.
The move is also an attempt to improve market share in the Golden State-- the nation's number one auto market, McDonald said. GM's market share in California is approximately 13.5 percent, below its national average of 19.5 percent.
With the new program, customers outside of California can arrange to purchase a car with a California dealer, but they would need to work directly with the individual dealer to make arrangements for vehicle pick-up or shipping.
eBay Sales Could Boost GM, Analysts Say
In eBay fashion, customers will have a "Buy It Now" option to pay a fixed price equal to the supplier's price, as well as a "Best Offer" option to bid and negotiate a price on the vehicle.
Customers can propose a price lower than the fixed price, which can then be rejected or approved by the dealer. GM representatives said they hope the trial program will trigger the negotiating process between customers and dealers. Once a deal is finalized, buyers can pick up their cars at the dealership.
GM CEO Fritz Henderson first announced the possibility of an "innovative new partnership" with eBay in July, before a deal was finalized.
"It's something we've not done, it's something we're excited about," Henderson said on Monday.
McDonald said he could not comment on how much the company hopes to improve its sales.
Analysts said the move online could be a smart one for GM.
"While not groundbreaking, GM aggressively facilitating the placement of dealer inventory on eBay can only help sell more vehicles," said Jeremy Anwyl, CEO of Edmunds.com, a car sale Web site. "The most intriguing aspect is the 'But It Now' pricing. It will be interesting to see how this feature is used by dealers."
Currently, 70 percent to 80 percent of customers who make a purchase in GM showrooms have previously done online research about the car, McDonald said.
"Clearly, the Internet is where consumers are," McDonald said. "This is one more way we can extend our showroom from the blacktop to the laptop, at their convenience."
Up to 20,000 vehicles will be listed on the site today, with dealers offering most 2008 and 2009 cars, trucks and crossover vehicles, in addition to select 2010 models.
The sites allow consumers to compare pricing at other dealerships, arrange financing and ask dealers questions. In addition, the sites provide information to help customers determine if their current car qualifies for the Cash for Clunkers program, a government incentive for drivers to trade in old gas guzzlers for a rebate towards the purchase of a more fuel-efficient car.
Cash for Clunkers in its first two weeks has already boosted car sales -- something GM hopes to further improve upon.
Several of GM's new models are eligible for purchase under the cash-for-clunkers program, including the Buick Enclave, the Chrevolet Colorado and the GMC Canyon.
GM Gets to 'Extend Physical Showroom' on eBay
"With 12 million individual car shoppers visiting our site every month, eBay Motors has unique insight into how people prefer to buy their cars," said Rob Chesney, vice president of eBay Motors, in a statement. "Through this program, we are helping GM dealers to extend their physical showroom while at the same time delivering to our buyers the great deals and broad selection they expect from eBay."
GM is the first automaker to sell new vehicles on eBay, but nearly all GM dealers nationwide have been using eBay Motors to sell certified pre-owned vehicles since the launch of a listing program for used GM vehicles on the Web site site in February 2008, Chesney said.
A current eBay Motors listing by a dealer for a previously owned 2009 Chevrolet Colorado lists $21,989 as a fixed price, with the highest bidder at $14,900. The manufacturer's suggested retail price for this model is $21,335, according to Edmunds.com.
EBay, the online auction and shopping site, lets individuals sell or bid on a myriad of items, from used books to new electronics. One mother even used the site to auction off her unborn baby's name.
But, everyday customers aren't the only ones using the site. According to the Wall Street Journal, more than 30,000 independent car dealers use eBay as an alternative sales outlet. EBay Motors lists cars from many automakers including Toyota, Chrysler and Mercedes-Benz, offered by private sellers and dealers. More than 3 million vehicles, mostly used, have been sold through eBay Motors, according to the company's site.
Some GM dealers in California welcomed the company's move to the Web.
"It's a step in the right direction," said David Greiner, owner of Greiner Pontiac Buick GMC.
Greiner said his dealerships in Victorville and Poway, Calif., will participate in the program to better help customers. He has previously used Internet sites like Craigslist.com and Autotrader.com to upload lists of his dealerships' inventory.
"It's silly for dealerships to be thought of as individual businesses. We're more like distributors," he said. "This is part of a necessary transformation to make dealerships more of a distribution center where we maintain service, trade-ins and customer satisfaction."
ABC News' Tahman Bradley contributed to this report.