It's like something out of "Ocean's 11." A house in a wealthy, gated and guarded community is hit by thieves in the middle of the day. The burglars make off with at least 16 pieces of art by some of the world's great masters -- Renoir, Rembrandt, Pollock and Van Gogh to name a few. No one sees a thing.
The owners estimate their loss at more than $27 million, though they've been qouted in press acounts as saying that single pieces of the collection might be worth up to $60 million.
The art works were owned by Dr. Ralph Kennaugh, 62, a former faculty member at Harvard Medical School who had recently retired from his oncology practice and moved to California with his roommate and business partner 31-year-old Angelo Amadio. The men rented a house in the exclusive enclave of Pebble Beach, Calif., where neighbors include Clint Eastwood.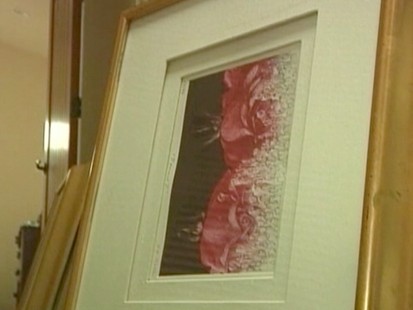 Last Friday, the two men arrived home just before 7 p.m. "My business partner went into the house first; we had been out all day looking at real estate. I dropped him off by the garage and I parked the car and when I got into the house he said we have been robbed," said Amadio.
Amadio said at least 16 pieces of art work are missing including a Matisse and a Jackson Pollock that Amadio believes is worth $20 million. Several other pieces of lesser value are also gone. A 2002 appraisal indicated the entire collection was worth $27 million.
"We have been working on this constantly and aggressively since we learned of it," said Commander Mike Richards of the Monterey County Sherriff's Office. Richards said he has "found evidence that a window may have been forced" although other windows were "unsecured." There are security guards posted at the entrance to the housing complex. In addition, numerous surveillance cameras line the area so police are hopeful these will yield some clues.
Although it wasn't found in the original search, Richards said one of the victims handed the police an extortion note that turned up on the property. It is a typewritten note demanding money in exchange for the return of the paintings. It also conveyed death threats to the victims should they contact law enforcement.
Was Art Theft and Inside Job?
Amadio is convinced the theft was an inside job. "There are very few people who knew we had these pieces. Very few people knew where they had been stored," said Amadio. And he added that because of the death threat he is "not so much concerned with the art right now…we don't think we're ever going to see the artwork again. Now we have to concentrate on not getting killed over artwork," said Amadio. He declined to provide the titles of any of the stolen works.
How are they coping with the loss? "We both meditate a couple of times a day. It's important not to panic," said Amadio.
Meanwhile, some in the art world expressed shock that such a seemingly important collection could have gone unnoticed. Farhad Radfar, a senior appraiser with Mir Appraisal Services in Chicago, said the art world is very small and that works by great masters tend to be tracked quite closely.
Legitimate works of art are sold with a provenance -- a history or resume of the work -- so that sellers and buyers can prove where it came from. "I haven't heard anything about this collection," said Radfar. "At the same time people who would have such a great collection, they must have insurance, and if you have insurance you must have proof of ownership and a provenance."
Details surrounding the heist seem to defy logic, however.
Amadio said that because the two men had recently moved from Boston, they were in a "funny transition period" with their insurance. Although the works were insured in Boston, Amadio said he had yet to activate a policy in California.
And they claim they were not allowed to put a security system in the rental house.
Amadio said the thieves took "the back up provenance on the hard drive" which will likely make it even more difficult to prove the works' authenticity.
Detective Donald Hrycyk of the Los Angeles Police Department's art theft unit has been tracking art thefts for 15 years. "Unlike TV dramas, we usually have very little to identify who the crook is. We focus on trying to find the unique property and then work our way back," said Hrycyk.
He recently found two high-value pieces for sale at a N.Y. auction that had been stolen in 1989. Finding the property, led Hrycyk to the thieves some 20 years after the crime had been committed. But thefts involving more than a dozen works of art like the one reported in Pebble Beach are rare, said Hrycyk.
"Fine art and paintings tend to be bulky you have to pull up a van or a pick-up truck and load up these big objects. Still, any crook if he has the means will take anything he thinks is of value," he said.
Amadio said he never set out to be an art collector -- his previous business efforts included selling purebred puppies and an asset allocation company.
"I have always said I know nothing about art. I just have it around me," said Amadio.
But Ralph Kennaugh did know art, according to Amadio, and had been collecting for over 30 years. "Ralph's credibility gave us access to an exclusive market" where the two men would track "substantial pieces" and buy them at probate or divorce sales, said Amadio. "We just got very lucky in business."
But that luck may have now run out. The pair are offering a $1 million reward for the return of the art.