Whenever one of those television commercials comes on that shows a "fatty" that has become a "hottie" with no effort while eating a ton of marvelous food like fettuccini and chocolate cake, I stop to watch. I'm not immune to vanity. I want to look like a movie star, and if someone promises me I can look this way without giving up my day job or selling my soul, I'm listening. But is harm done if the ads are misleading?
Critics argue that some diet companies and their ad agencies seek to promote economic activity more than they desire to provide the objective information necessary for consumers to evaluate products and services on their merits. They argue Jenny Craig has been one of the worst offenders.
Jenny Craig wants overweight customers enough to spend more on advertising than Weight Watchers, the market leader, and take it on in a comparative ad, but enough to mislead consumers? That's the claim of Weight Watchers, whose lawsuit thrust the battle into the headlines.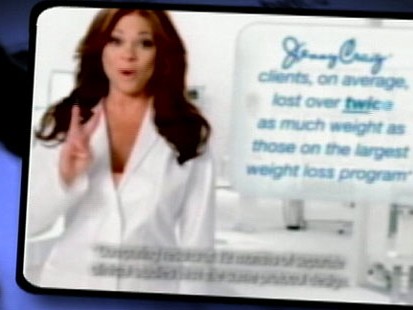 The dispute is over a TV spot for Jenny Craig in which spokeswoman Valerie Bertinelli states a "major clinical trial" has shown that Jenny Craig clients lost, on average, twice as much weight as those on the largest weight-loss program. Weight Watchers, countered that the ads are false and Jenny Craig did not conduct a "major clinical trial." Last week, a federal judge issued a temporary restraining order prohibiting Jenny Craig from running the ads.
Jenny Craig has grown its business through aggressive advertising and the use of celebrities. Last year, from January through November, the company spent a category-leading $65 million on ads. This has been an effective strategy, though some of its claims have been disputed by lawsuits and questioned by federal regulators.
Since incorporating in 1983, Jenny Craig has used celebrity endorsers such as Elliot Gould, Queen Latifah, Kirstie Alley, Monica Lewinsky, in addition to Bertinelli. The corporation spends heavily on advertising, and franchises have long been required to spend 10 percent of their receipts on advertising. In 1990, Jenny Craig (along with competitor Nutrisystem) was named in a class action that alleged that weight loss programs like theirs contributed to gall bladder disease. The claims were settled -- the companies did not admit wrongdoing -- but they prompted the Federal Trade Commission to begin investigating the companies.
In 1993, ongoing investigations by the FTC into the advertising and promotional practices of the diet industry prompted the government to question whether clients could maintain weight loss after dieting, and doctors started to talk about the harmful effects of yo-yo dieting. In 1997, the government began requiring Jenny Craig to stipulate in its advertising that "for many dieters, weight loss is temporary." Testimonials had to be accompanied by a disclaimer: "Results not typical. You may be less successful." Also, Jenny Craig was forced to publish the average weight loss its customers experienced and to provide scientific data supporting future claims.
By contrast, Weight Watchers has been successful, but its message of calorie and portion control while eating regular food, exercise and behavior modification is less sexy than Jenny Craig's promise of being able to eat the food you love and look like the celebrity you admire.
Obesity has steadily increased over the past 30 years. About one-third of American adults are considered obese. The diet industry, which doubled in size between 1990 and 2000, has been projected to take in almost $70 billion in 2010. The most telling statistic is that two-thirds of people who lose weight on a diet gain it back within one year. This suggests behavior modification is necessary and that the lure of losing weight easily should be avoided.
There is an ongoing debate about whether advertising agencies carry the responsibility to walk away from questionable advertising. Some diet services are expensive and don't result in sustainable weight loss for the majority of people who use them, while they directly compete against programs that are more upfront about the challenges and the path to long-term weight loss. A couple of weeks ago, "Seinfeld" star Jason Alexander signed on as the latest Jenny Craig spokesman. As we watch this urban everyman shrink while he assures the public it was painless and he ate the food he loves; I can't help but think of the famous Yogi Berra line that it's going to be "déjà vu all over again."
The work is the opinion of the columnist and does not reflect the opinion of ABC News.
Larry D. Woodard is president and CEO of Vigilante, a New York advertising agency that develops consumer-centric advertising campaigns. He is also chairman of the American Association of Advertising Agencies New York Council and the recipient of many prestigious industry awards, including two O'Toole Awards for Agency of the Year, the London International Award, Gold Effie, Telly, Mobius, Addy's and the Cannes Gold Lion. A blogger and a frequent public speaker, Woodard enjoys discussing the intersection of media, politics, entertainment and technology.