Lifetime, NBC Universal and the producers of the "Project Runway" TV show are finally making it work.
After months of legal limbo the Lifetime network announced Wednesday that it will air the sixth season of the fashion design competition featuring super model Heidi Klum this summer.
The deal ends a five-year run of the show on Bravo, the cable channel owned by NBC.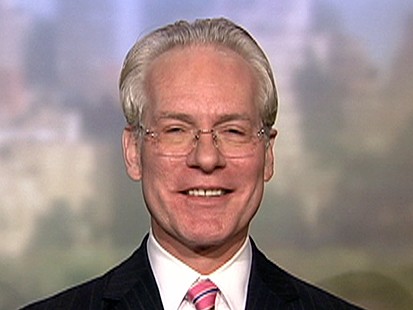 In a statement, Lifetime CEO Andrea Wong called her network "the perfect home" for the series. She said the network was "thrilled" to proceed with Klum, mentor Tim Gunn, and judges Nina Garcia and Michael Kors.
"Project Runway," created by former Miramax Films head Harvey Weinstein, had aired on Bravo since 2004. But, last April, Weinstein announced that he had sold the show to Lifetime, which has been trying to make over its image as a station best known -- as one "Project Runway" fan derisively wrote -- for airing "Golden Girls" reruns. Lifetime agreed to pay a reported $150 million for a five-year deal for "Runway" and spin-off shows.
The same day the deal was announced, NBC sued Weinstein. Now, a year later, the lawsuit has been settled, and in a statement issued Wednesday, NBC Universal said Weinstein will pay the media company "for the right to move 'Project Runway' to Lifetime. All parties are pleased with the outcome.'"
Weinstein expressed his relief that the legal drama is over.
"I want to personally congratulate Jeff Zucker and NBCU on their success in the litigation and thank Jeff for resolving this in a professional manner," he said in a statement.
Legal Drama Led to Odd 'Project Runway' Finale
As always, "Project Runway" shot its season finale on the final day of New York Fashion Week in February. All that was missing were the finalists.
Because the airdate of the show was in limbo, the three unknown designers were forced to remain hidden backstage after sending their collections down the runway. That didn't stop producers from shooting the entire season, including the finale.
"During the shooting, [the litigation] didn't impact anyone," Tim Gunn, the show's on-air mentor to the design competitors, told ABCNews.com. "What was unprecedented was when we reunited at New York Fashion Week and no one knew who these designers were. That's usually where they're greeted with the fans' support. But for everyone sitting and watching, it was an opportunity to really objectively evaluate the collections, and they were fantastic."
"Runway" host Heidi Klum told the Fashion Week audience the morning of Feb. 20 that she was "a little bit sad" the finalists couldn't have their moment in the spotlight.
"This year is gonna be a little bit different for us, for all of you, for our designers backstage," she said. "We're all in a bit of a limbo, and we hope that everything gets sorted out very soon."
The new season, under a new network and new producers, moved to Los Angeles from New York, its home for five seasons.
"Season 6 is really great," Gunn said. "It's stronger than Season 5. Our backdrop was L.A., which ended up being fabulous, and I was one of the skeptical ones who went."
Project Runway's Network Drama
The legal battle -- involving NBC, which owns Bravo; the Weinstein Co.; and the Lifetime Channel -- could have been the subject of a reality show about bickering television executives.
In court filings, NBC said it had the right to match any offers from other networks for subsequent seasons of the show, known as a right of first refusal. The network also claims Weinstein engaged in "sham negotiations," locking up the deal with Lifetime in February 2008 and hiding it for months while pretending to negotiate a new deal with NBC.
The Weinstein Co. denied the allegations and countersued Bravo, accusing it of "purposefully revealing spoilers" of "Runway" and stealing the show's format for other reality shows such as "Top Chef."
Then, Lifetime sued both NBC and Weinstein. Lifetime is partly owned by the Walt Disney Co., the parent company of ABC News.
The dispute was the product of long-simmering tension between Weinstein and Bravo. According to a September court decision, Weinstein had a "particular dislike" for Bravo president Lauren Zalaznick, whom he claimed in an affidavit "proved difficult to work with" and interfered with the creative development of the show and efforts to get product integration advertising.
"Harvey felt that NBC and Bravo were essentially trying to run him dry," said a person familiar with the case. "He felt they were unwilling to commit the resources to doing the kind of first-class show that he wanted to do. And, they were copying his shows -- and they were doing it without Harvey."
As tensions between Weinstein and Bravo mounted, Weinstein wanted to take the show elsewhere.
At a January 2008 meeting in a suite at the Four Seasons Hotel in Los Angeles, Weinstein, Jeff Zucker, the CEO of NBC Universal, and Marc Graboff, co-chairman of NBC Entertainment, tried to smooth things out.
NBC claims in its lawsuit that Weinstein promised not to sell "Runway," reportedly telling Zucker, "You can only have in your life five true friends and I consider you one of my five friends. And I'm telling you, I will not embarrass you."
NBC said it offered to put the show on USA or another NBC-owned station other than Bravo.
Weinstein claimed in an affidavit that he offered to come to NBC first "as a token of friendship and courtesy," but never gave it a legal right of refusal. According to a recent court decision he said he'd rather cut off his arm than do that.
And those five friends? According to court papers, Weinstein says he really has 15 friends in the business world.
In February 2008, NBC said, Weinstein called Zucker and told him he'd gotten an offer, later revealed to be from Lifetime, that was "so huge and stupid" it was not worth countering. He signed a deal with Lifetime on Feb. 7, 2008 and cashed a $20 million deposit, but according to a recent court ruling, did not tell NBC about the deal until it was announced in April.
In September, a New York state court judge granted NBC a preliminary injunction at least temporarily blocking Lifetime from airing or promoting the show, an unusual move in this type of entertainment dispute. Acknowledging that the order would leave the show "in limbo," Judge Richard Lowe said NBC was likely to win on the merits of the case. The Weinstein Co. then appealed the order.
'Project Runway' Fans Waiting for Months
It remains to be seen how "Project Runway's" absence from TV will affect its audience when it returns this summer.
"Generally, the longer you take a popular show off the air, the more it might tend to fade from memory and damage its equity," said Tim Brooks, a television historian and former executive at Lifetime, USA and NBC. He was not involved with the "Runway" deal.
Brooks said that "Runway" was a pioneering show with a strong enough fan base to survive a long delay, but if the lawsuit means several years off the air, "then something else could take its place."
Frustrated fans sounded off on EW.com, the Web site for Entertainment Weekly. A fan named Beverly wrote: "Do I miss 'Project Runway?' YES!!!...I can patiently wait until summer to see it, but after that, I'm going to be in PR withdrawal."
"Bravo, Lifetime: please work on SOME kind of deal already so we can watch the new season," another fan named dma69 wrote. "The longer this goes on, the less the audience will care when (if) PR finally airs."
Brooks said the battle over "Runway" was emblematic of what he called the new dynamics of television. With more options for viewers, there's more temptation to draw hit shows away from competing networks, he said.
"Because of the fragmentation of television, branded shows become more valuable," he said.