Dr. Conrad Murray, the cardiologist at the center of the investigation into Michael Jackson's death, has returned to work and is treating patients again in his Houston clinic.
"Because of a deteriorating financial condition and prompting by many of his beloved patients, on November 20, 2009, Dr. Conrad Murray resumed his cardiology practice in Houston Texas," his attorney Edward Chernoff said in a statement. "Doctor Murray plans to attend to patients in both Las Vegas and Houston."
Murray told congregants at a Houston church Sunday that he "wanted to go home and take his life back step by step."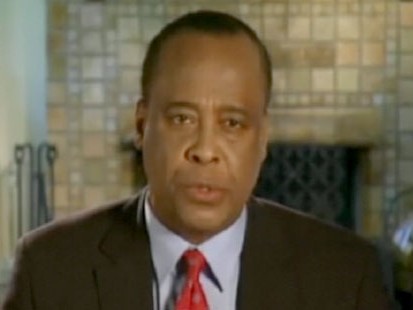 Wiping away tears, he asked parishoners to pray for him. "I know what trouble is," he told the congregation, according to
RadarOnline.com
. "I, with my compassion, was only trying to help my fellow man. But it appears I was at the wrong place at the wrong time."
Chernoff said Murray has not been paid by Jackson's estate and has effectively been out of work for seven months. Murray left his practice in April when he took the $150,000-a-month job as the pop star's personal physician.
Murray last addressed his patients in a YouTube video in August. "I have done all I could do. I told the truth and I have faith the truth will prevail," he said.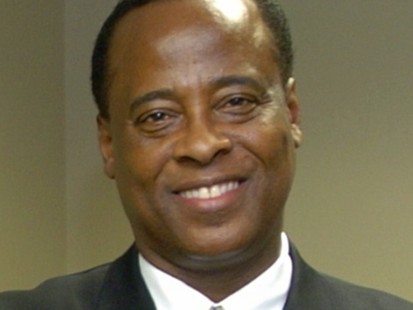 The 56-year-old Murray was at Jackson's bedside when he died on June 25. The doctor has admitted to giving the singer propofol, a powerful anesthetic Jackson had requested to help him sleep. It is not meant for use outside a hospital. Since then, Murray has been the focus of a homicide investigation.
Police searched Murray's Houston clinic on July 22 and served warrants at his home and office in Las Vegas and properties in California. Murray has not been charged with a crime.
Michael Jackson's Doctor Returns to Work
Since Jackson's death, Murray has not been able to work and has been the target of death threats, his lawyer said. He will have his own security at the clinic.
"He had been hiding in his home in Las Vegas, but he needs to earn a living," Chernoff told the Houston Chronicle. "He's under siege from creditors, has enormous legal fees and doesn't know whether he'll be able to support his family."
According to Chernoff, Murray was also thinking about his patients when he made his decision to return to work.
"His decision to first return to practice in Houston was made because of the greater need these low-income patients have for his services and the prohibitive cost of reopening his clinic in Las Vegas," Chernoff said in the statement.
Five years after his father's death, Murray opened his Houston practice, the Acres Home Heart and Vascular Institute, as a tribute to his father, Dr. Rawle Andrews, a Houston physician.
In July, ABCNews.com learned that Murray's father once ran afoul of the Texas Board of Medical Examiners for overprescribing pain medications. His medical license was restricted by the board in 1994 for prescribing "controlled substances and substances with addictive potential" to two patients for "extended periods of time without adequate indication," according to documents obtained by ABCNews.com.
At the time, Chernoff's spokeswoman, Miranda Sevcik, said that any wrongdoing of Murray's father has nothing to do with the son's predicament.
Rev. F. N. Williams, one of Andrews' long-time patients, defended him, and Murray as well.
He credited Murray with saving his life. While on a trip to Las Vegas, Williams said he experienced chest pain. He said Murray performed surgery, putting several stents in his heart.
Williams said he was surprised to see that Murray at the center of an investigation into Jackson's death.
Michael Jackson's Doctor Returns to Work
"Hell, he won't give me medicine," he said. "He doesn't believe in giving you a lot of pills. I don't believe he was raised to believe in that."
In August the Los Angeles County Coroner's office ruled Jackson's death a homicide. The office released a statement saying the late King of Pop died because of acute propofol intoxication. The office cited benzodiazepine effect as another condition contributing to his death.
Propofol and lorazepam, an anxiety medication, were cited as the primary drugs responsible for Jackson's death. The statement said other drugs detected in his system were midazolam, diazepam, lidocaine and ephedrine.
The coroner's announcement came after a newly unsealed search warrants revealed that police found marijuana and numerous empty drug bottles at Jackson's home shortly after he died.
During the search police said they found two bags of marijuana; a bottle of the drug temazepam, which is used to treat sleeplessness; and empty bottles of the sedatives lorzaepam and diazepam. Police also found four other empty pill bottles, though they could not say what they may have contained.
The warrants, which were served on June 29, also say that the day Jackson died, while investigators were at the house, "family members of the decedent notified Los Angeles County Coroner's Assistant Chief Ed Winter that they had located a quantity of tar heroin in [Jackson's] bedroom on the second floor of the residence. Winter notified LAPD detectives of the found evidence." The warrant does not say if the evidence really turned out to be heroin.
Drugs and Cell Phone Found
Among the items seized from Murray's Houston office back in July were a vial containing 27 tablets of the weight loss drug phentermine, a vial containing a tablet of the muscle relaxant clonazepam, a photocopy picture of Murray, Rolodex cards, public storage receipts, and a receipt for a "Cricket" cell phone, according to a receipt attached to the warrant.
Cricket phones essentially are untraceable, because the company requires no contracts, no credit checks and no set-up fees, according to a sales representative for the company. Cricket also offers a "PAYGo" option, which means someone can go to a store and pay for phone minutes with cash.
Other items seized from the storage unit, according to the court records, included two computer hard drives and a "Texas Department of Public Safety controlled substance registration." Authorities also obtained a suspension notice from a Houston hospital.
An administrative assistant at Doctors Hospital in Houston confirmed to the Los Angeles Times that Murray had been suspended from practicing at the hospital. The offense was "very much" routine and minor, she told the newspaper.
Click on the following links to see the search warrant for Murray's office and a list of what was seized and the search warrant for his storage facility and what was seized there. The documents were obtained by ABC News Houston affiliate KTRK.